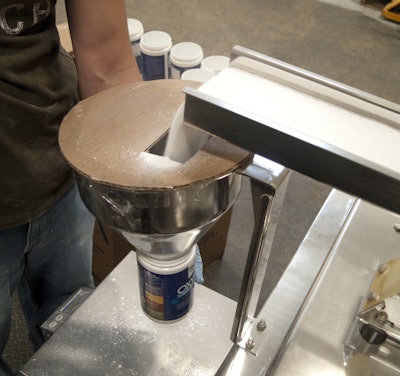 Airmax Ecosystems, a Romeo, MI-based supplier of aeration technologies and natural treatments to maintain ponds and lakes, has slashed its package filling times and labor requirements with an automated feeding system. The company transitioned from manual filling of roughly 1 rigid pack/min to filling and weighing as many as 6/min. The equipment has allowed the packaging operation to significantly reduce labor costs and expand capacity, improving its potential for growth.
Airmax Ecosystems, launched 10 years ago with a hand-filling operation, now occupies a new, 57,000-sq-ft facility in northern Michigan. "We used to need five of our people on the plant floor for months at a time during the busy season," says Airmax warehouse manager Mike Kroll. "Now we can do the same volumes with three people in a matter of weeks."
The company has been using the Martin® E-ZTM Auto-Scoop filling system from Martin Vibration Systems & Solutions (MVSS) for several months to package a variety of dry products, including natural pond treatments, fish foods, and pond salts. "In the past, workers used to scoop these products from 40- to 60-pound bulk containers and fill retail-size containers on a scale," Kroll explains. "Now we use the keypad to set up our fill and establish the tare weight, and operators use a foot switch to automatically fill and weigh each package. Even the five-pound units only take about 15 seconds each. It's almost faster than the operator can seal the bags and box them up."
Kroll estimates that the company has packaged about 24,000 lb of materials over the last three months.
The E-Z Auto-Scoop Filling System incorporates a precision digital scale with programmable logic and a high-performance vibratory feed system that assures fast and consistent flow of material. The system was developed for small to medium-sized packagers, but has proven capable of 750 fills/hr (depending on the material and package size)—an average of more than 12/min.
According to MVSS, the electro-polished stainless-steel construction of the unit is well suited to chemical, food, powdered beverage, and spice operations. "Cleaning is very easy on these models," says Mike Lindbeck of MVSS. "The live storage hoppers lift off easily, and because they're mounted without fasteners, no tools are required." MVSS supplies both loss-in-weight feeders and volumetric feed/weigh systems, equipped with industry-standard components and nonproprietary software.
Kroll says that the productivity increase has been substantial, eliminating the need to hire temporary help to manage the spikes in activity. He estimates payback on the system will be between six to 12 months, depending on order volumes. "It's incredibly easy to set up and run," Kroll concludes. "It's made a big difference in our output, and has also reduced spillage and cleanup time. Overfills are pretty much a thing of the past."
Companies in this article