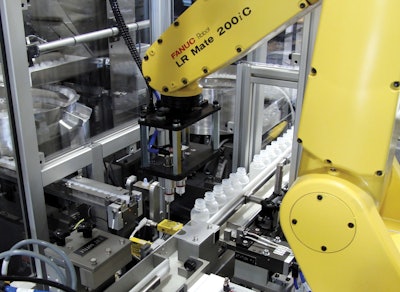 Flexibility and fast changeover were top-of-the-list requirements for a robotic pick-and-place unit for a liquid packaging line at Actavis Mid Atlantic LLC, located in Lincolnton, NC.

In 2011, Actavis approached ESS Technologies to develop an automated system to insert dropper tips and bottle reducers into filled pharmaceutical bottles in 15-mL and 1-, 2-, and 4-oz bottle sizes—at that time a manual process requiring two operators. The system needed to integrate into Actavis' existing multipurpose packaging line.

Very specific fitments are applied to each bottle to ensure proper application of the product, as well as facilitate safety. One product uses a 20-mm fitment/dispensing tip to control the product flow and direct the medicine into the patient's ear. Another product uses a 20-mm Press-in Bottle Adapter (PIBA) fitment/flow restrictor used in conjunction with a side-packed syringe to draw the correct dosage of medicine. The flow restrictor is also a safety feature that reduces the flow of product in the event a child attempts to ingest the medicine.

To accommodate all the package and fitment variations at the required speed, ESS Technologies recommended its TaskMate™ robotic pick-and-place assembly and inspection system. Installed in July 2011, the system includes a FANUC LR Mate 200iC robot arm, ESS custom-designed quick-change robot end-of-arm tooling (EOAT), and an infeed system that can pick and place dropper tips or reducers into bottles at the designated line speed. The TaskMate requires only two bowl feeders to handle three sizes, resulting in a system with a compact footprint that requires only 15 to 20 minutes for size changeovers.

Operation begins when filled bottles convey into the robotic cell. The operator uses an Allen-Bradley PanelView Plus 600 touchscreen HMI to select either the dropper tip-style plugs or the reducers. In the first application, dropper tips are manually loaded into one vibratory bowl feeder, which orients the plugs onto a track. In the second application, a second vibratory bowl feeder and track handles two sizes of PIBA bottle reducers (20 mm and 24 mm). The robot EOAT picks two dropper tips or bottle reducers at one time. Bottles are stopped in the plugging position and secured in place by holding fixtures. The robot then places the plugs on two bottles, which next move to a tamping station that presses the plugs firmly into the necks of the bottles. Two Keyence PZ-V12P series automatic calibration red LED photoelectric sensors then inspect the plugs and bottles for missing or improperly seated plugs. Bottles with these issues are automatically and positively rejected from the system onto a reject tray using a pneumatic slide while holding the bottles with vacuum to ensure product spillage does not occur.

Each plug configuration requires a separate EOAT. Dropper tips need only a vacuum-style EOAT, but the bottle reducers, which feature a hole in the center, require a guidepost in addition to the vacuum to ensure they do not fall off the robot head before being seated in the bottle neck. Quick-release and tool-less connections are incorporated into the EOAT, allowing them to be changed in less than five minutes. Other size parts include spacers, machined holding fixtures, and tamping fixtures for each bottle size. The infeed conveyor and bottle reducer bowl-feeder tracks adjust for different widths. Changeover parts are identified by size with laser engraving.

According to Jason Grai, senior manufacturing engineer at Actavis, the pick-and-place unit was a "cost savings, plus an ergonomic benefit, reducing repetitive packaging operator motions, and above all a quality improvement because the automation provides 100-percent confidence that the bottle fitments are all present and seated correctly."

He adds, "Overall, ESS Technologies has been an above-average equipment supplier. Actavis Mid Atlantic LLC has had a 10-plus-year relationship with ESS and often seeks ESS's expertise in robotic soft automation for many cost-savings and ergonomic/safety improvement projects. ESS has a strong background in clean and line clearance-friendly cGMP equipment/machine designs, which is a necessity for Actavis Mid Atlantic LLC. Actavis Mid Atlantic LLC utilizes several other ESS-integrated FANUC robots for automation projects such as high-speed dosage cup placing, case packing, and palletizing." 
Companies in this article