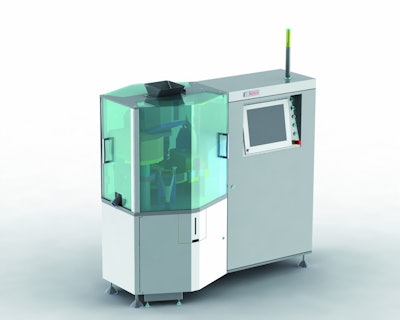 What has 4,000 exhibitors from 50 countries, 180,000 participants from 100 countries, more than 1.5 million sq' of net exhibition space, and a congress with 900 lectures? This story's headline reveals the answer: ACHEMA 2012, June 18 to 22 at the Exhibition grounds of Messe Frankfurt GmbH, Frankfurt am Main, Frankfurt, Germany.
The 30th edition of the event, which takes place every three years, is touted as a "trend-setting technology summit for chemical engineering, environmental protection, and biotechnology." Exhibition halls will be open from 9 a.m. to 6 p.m. every day during the show.
ACHEMA 2012's congress program includes more than 900 diverse, up-to-date lectures reflecting a wide variety of technologies in process industries.
Two months before the start of the flagship event for chemical engineering and biotechnology, show organizers expected slight attendance growth compared to the last event in 2009, which counted 3,767 exhibitors and more than 173,000 participants.
The fastest-growing exhibition groups are measurement, control, and automation, and pharmaceutical, packaging, and storage techniques. China and India show strong growth rates, as do Turkey, South Korea, and some Eastern European countries.
The growth of ACHEMA is driven by the positive development of industries such as chemical, automation, laboratory, and analytical technology, and plant engineering. A second driver for innovation is the gradual shift from fossil to renewable resources. The virtual platform, "BiobasedWorld at ACHEMA" offers a global forum where new scientific findings will be discussed as well as the development of appropriate processing technologies where biotechnology plays a special role. Here is a look at some of the packaging machinery and systems suppliers that will exhibit at the event:
• Bosch Packaging Technology (see photo) will show its new packaging system that integrates a stick-pack machine and a flow-wrapping machine. The system is suitable for a range of granulates, powders and pellets, particularly for the pharmaceutical industry.The new system's primary packaging consists of the 10-lane vertical Sigpack RA tick-pack machine, which provides precise dosing through its patented servo-controlled filling augers. An in-line weighing system ensures that each processed stick pack contains the precise amount of product and provides feedback to controls that regulate and adjust dosing levels. In the new system, the filled and sealed stick packs are counted and grouped before being moved through a seamless interface to the secondary packaging unit, the Sigpack HCM horizontal flow wrapper. This machine is capable of wrapping up to 1,000 stick-packs/min, and provides manufacturers with flexibility, as the secondary packaging can be easily modified to contain varying numbers of packs.
• Optima will show equipment for filling, closing, and packaging of pharmaceutical products. Isolators, freeze dryers, flexible and compact machines, as well as equipment for diagnostics are all included in the product range. Also, a
complete line for vials encompasses all process steps from unpacking to tray loading of processed vials. Isolators and the freeze-drying process are also components of the line. Additionally, the Medicon ImmuCoat® unit will be displayed. The modular and scalable system consists of different units for fully automated coating of microtitre plates.
• GEA Pharma Systems will demonstrate its solid dosage innovation in the areas of compression, containment, and continuous processing. Exhibits will include the new bilayer conversion system for the high-volume Performa™ P tablet press; the range of Buck® valves including the MC valve and Hicoflex®; the FlexStream™ fluid bed technology; and the ConsiGma™ for direct compression that economically enables the production of tablets direct from powders. Also exhibiting will be GEA Lyophil, GEA's pharmaceutical freeze-drying specialist.
• Krones AG will showcase its own series of valves, the EvoGuard range, plus its Hydroclassic water treatment system. EvoGuard valves premiered in the beverage industry. With design enhancement in the aseptic category, EvoGuard is also an option for the chemical, pharmaceutical, and biotech industries.
• The BEUMER Group will exhibit products and system solutions aimed at the complex requirements of manufacturers in the chemical industry. The product range offered extends from bagging, palletizing, and load securing equipment to warehouse management systems for chemical and petrochemical products. One example to be presented is the paletpac high-capacity layer palletizer. This flexible unit stacks polyethylene and polypropylene bags, layer-by-layer, on pallets of all common sizes up to a stack height of 2,400 mm, with geometrical accuracy and extreme stability.
• The Marchesini Group will exhibit 17 machines for all types of pharmaceutical products. For liquids, there will be a sterile vial line made up of a WR24 washing machine, DEPYR601 tunnel, and a STERIL filler; for ampules, a RSF3PL filling and sealing machine. Also shown will be an OPTO150 filling and capping machine for small vials designed according to the specific requirements of ophthalmic products; an FSP05 syringe filling machine, with a new integrated weight control system, as well as a Unica robotic line. For solids, a preview of a new Inspection12 unit will be presented. Also, a counting machine equipped with a new patented counting and control system that measures the mass of tablets and capsules, and what the company says is its fastest blister line, which includes thermoforming, cartoning, and labeling with Track&Trace control and bundle wrapping, all to process 720 blisters/min.
• Werum Software & Systems AG will present its new PAS-X Manufacturing IT Business Platform, demonstrating electronic production documentation. Details will also be provided regarding the cooperation between Werum and the Glatt Group, a leading manufacturer of process technology equipment, based on a number of new joint projects.