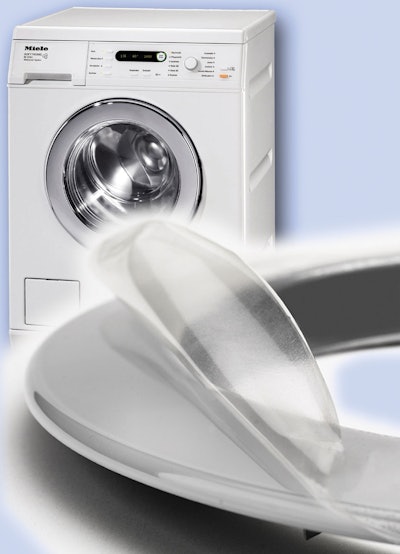 Renowned appliance manufacturer Miele is among the first to capture the energy- and waste-saving benefits of a new process and film technology developed collaboratively with a leading machinery manufacturer, a film producer, and DuPont.

DuPont™ Surlyn, a highly-transparent packaging polymer, and specially-modified vacuum skin packaging equipment from Zappe Verpackungsmaschinen form the basis of this new technology, which is designed to protect susceptible, three-dimensional component surfaces. The third key contributor was film producer jura-plast.

Early-adopter Miele embraced the technology at its plant in Warendorf, Germany, to prevent the high-gloss, thermoplastic bezel from becoming scratched as the machines make their way through the fully-automated assembly line to retail and, ultimately, to the end-user's home. The bezel is the round rim surrounding and holding the clear window in the door of the washing machine. The tailored skin packaging process helps prevent rejects and the corresponding raw-material waste.

Surlyn also enables savings in terms of energy and raw material in the skin film process, compared to converting polyethylene, which was the material used in an early development stage. The skin-film itself, and its production residue, can be recycled in the polyethylene waste stream.

While DuPont is reluctant to reveal the precise material specification on the bezel-protecting film, it's a multilayer blown coextrusion with a core layer of Surlyn.

"The development of this film has resolved two issues," says Jurgen Muller, manager director at jura-plast. "First, the special formulation of the base layer made from Surlyn ensures that there is no formation of air bubbles between the bezel surface and the film, which would otherwise spoil the high quality appearance of the bezel. Moreover, thanks to its combination with a modified adhesive resin from DuPont, adhesion between the bezel and the film is sufficiently high for the fully-assembled washing machine door, weighing around 5 kg (11 lb), to be transported using vacuum grippers. Yet the consumer is still able to easily peel off the film without leaving any residue behind. Last but not least: As the Surlyn based film weighs about one third less than an alternative polyethylene film, we can summarize by saying that we have gained substantial optical, mechanical, and economic benefits with this innovative and sustainable joint development."

Machinery producer Zappe Verpackungs-maschinen appreciates the mechanical properties of Surlyn. "Thanks to its chemical structure, Surlyn remains very melt-stable and tough even when heated," said managing director Ulrich Zappe. "This is particularly important for three-dimensional components, as it enables very high draw ratios without the risk of the film tearing at the edges. It was only by switching to Surlyn that we could deliver the high process reliability required by Miele.

"Also, the good heat absorption of Surlyn makes the film stretchable after only 10 seconds of heating, compared to about 15 seconds required for polyethylene, when working with our SKVA-5050 3D skin-packaging machine. This means that we can save a reasonable amount of process energy and on top of that achieve very short cycle times. This is particularly important when the machine—as is the case at the Miele plant in Warendorf—is an integral part of the overall production process and is required to fit a specific cycle rate. This time-, material-, and energy-saving technology is highly suitable for the protection of almost all three-dimensional molded parts with susceptible surfaces—regardless of the substrate material."
Companies in this article