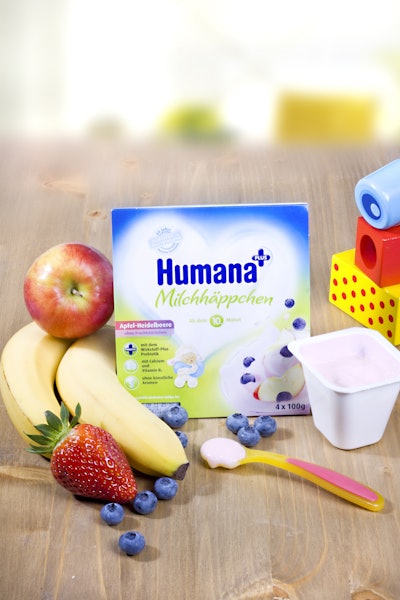 For 60 years, DMK Deutsches Milchkontor has developed and produced high-quality baby food and is a leading company in the German dairy sector. In 1950, DMK first introduced infant formula to the German market, similar to breast milk. The product portfolio has developed continuously since then, and today the company operates 12 manufacturing plants, which process a total of two billion kilograms of milk per year for a range of dairy products.
At DMK's Erfurt plant, the company produces baby food, fresh milk, long-shelf life milk and fromage frais, as well as various desserts. In 2010, DMK began using a Bosch TFM 8030 PS aseptic thermoforming unit to DMK. This aseptic forming, filling, and sealing machine fills baby food into thermoformed cups. The machine allows product-friendly, energy-saving filling operations as part of an automated process.
As a result of its high hygiene level, and in conjunction with the upstream process technology, the TFM 8030 PS delivers product shelf lives of up to 12 months without refrigeration. Products filled with the unit include fruit yogurts and dairy-based desserts, as well as special baby food recipes.
High output and product safety
The TFM achieves output levels of 57,000 cups per hour, which amounts to a maximum daily production volume of 100 tons. The plastic cups are formed from reel material, which is much more cost-efficient in the production of baby food compared to prefabricated cups. A barrier of EVOH (ethylene vinyl alcohol) material is integrated within the film and protects the filled product against oxidation and water vapor diffusion, even over long storage periods and without refrigeration. The multilayer protective film also prevents mechanical damage to the product. Integrated gas flushing of the cup's headspace reduces the residual oxygen content, further increasing product safety.
Klaus Birker, plant manager at DMK in Erfurt, explains that he and his colleagues had a clear preference for the Bosch concept: "Bosch is a reliable producer of machines. In the aseptic field, we are familiar with these machines and are convinced by their technology. Investment and maintenance costs, a perfect service provision, and the line's high efficiency were the deciding factors for us in awarding this contract to Bosch."
Maximum filling accuracy
An integrated piston filler ensures highly accurate filling. For viscous products, such as desserts, the filling accuracy for a 4x100-g pack is approximately ±1 g. That accuracy generates cost savings for the user. With four supply tanks and a direct product feed into the filling nozzles, the piston filler also offers the flexibility to filling many different products.
Recipe management is a key
The TFM system allows DMK to manageme all of its 100 or so product recipes. That includes an automatic transfer of alterations in technical parameters in case of recipe changes. The control unit completes the automated system. A camera, fitted with automatic image recognition, checks that the correct lidding film has been applied to the product. The control system then provides the product-specific print parameters for ink-jet coding.
For DMK, high line efficiency is of paramount importance. That's why Bosch added a packer unit to its supply of machinery. Direct interlocking and safe transfer of cups from the cutting station to the packer, and insertion in trays are prerequisites for optimum line efficiency.
The system follows the principle that reliable and field-tested features must be kept ,but details should be improved. For instance, despite a number of innovations, the unit sterilizes the packaging material for maximum effect using the already proven procedure with H2O2.
Companies in this article