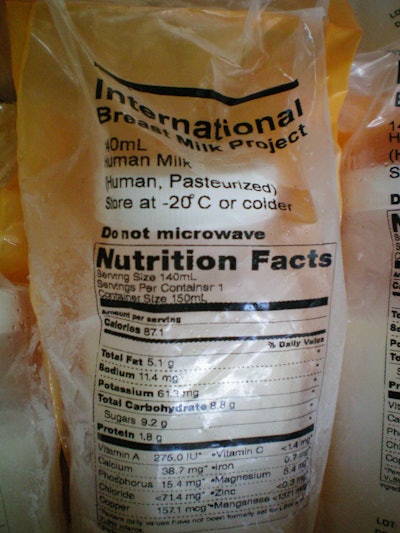 Talk about giving an incredible holiday gift, in December 2011, the U.S.-based International Breast Milk Project (IBMP), Prolacta Bioscience, and Quick International Courier cooperated in a joint humanitarian effort that delivered upwards of 267,000 (nearly 67,000 bottles) of donor breast milk for premature, sick, and orphaned infants in Cape Town and Durban, South Africa.
Cape Town and Durban-based nonprofit firms Milk Matters and iThemba Lethu Milk Bank distributed the donor breast milk to hospitals and orphan homes for children affected by AIDS. Penny Reimer, director of iThemba Lethu, explains, "Breast milk provides optimal nutrition for babies orphaned as a result of HIV. It substantially improves their quality of life, and reduces infections for those who are HIV-infected. These babies grow and thrive on breast milk."
Emphasizing the need for continued supply of donor breast milk, Cape Town's Mowbray Maternity Hospital Dr. Max Kroon says, "In the developing world, breast-feeding and breast-milk feeding are key interventions to promote child health and survival. These benefits are greater in preterm babies and are undermined if they get any nonhuman milk. With up to 200 HIV-exposed babies born at Mowbray Maternity Hospital every month, donor milk is critical to ensuring that these babies only get human milk, which reduces the risk of HIV transmission while retaining the benefits of breast milk."
Quick International Courier, a global medical transportation and logistics specialist, donated its services to provide the fastest and most secure cold chain transportation services from Prolacta in Monrovia, CA, to South Africa.
According to Quick's Web site, "Since Quick has expertise in temperature-sensitive shipping, we provided the cold chain logistics planning and transportation to safely deliver the frozen milk. To maintain the integrity of the milk, it is crucial to maintain a specific temperature throughout transit. In such situations, we use dry ice, a frozen carbon dioxide, with a surface temperature of -109.3 degrees Fahrenheit [-78.5 degrees C], and monitor the temperature at all checkpoints."
Processing to packaging
Prolacta Bioscience, a life science company that creates specialty formulations made exclusively from human milk for the nutritional needs of critically ill premature infants, partnered with IBMP by processing and packaging the donated breast milk to ensure its quality and safety.
Joe Fournell, the company's vp of operations, explains the process: "All of our milk is frozen from the time the mother expresses her milk. We give the mother instructions on how to store her milk once she pumps for donation [including] what temperatures must be maintained and what is shelf life. We follow the CDC guidelines for storage of milk, which recommends -20 degrees Centigrade or colder. At this temperature, the shelf life is one year from the time of expressions.
"The challenge at this point is transporting the precious donation from the mother to Prolacta. This is done through the use of soy-based, polyurethane-insulated coolers with glycol-based gel brick supplied by Ernest Paper."
For the IBMP, he says the donor must go through a full qualification process before she can ship her milk to Prolacta and have it processed for IBMP. "The management and manufacturing personnel all come directly from the plasma and blood industry," says Fournell. "We have taken our experience in processing biologics and applied it to processing human milk into fortifier and whole milk products. During the processing of product, we do mix different donors. It is not uncommon to have over 100 different donors make up a production batch."
The milk is filled into high-density polyethylene bottles from Nalgene or polypropylene bottles from Plascor (951-328-1010). Bottles have the same neck size as standard baby bottles, but are produced for Prolacta and are not for sale at retail outlets. PP screw caps serve as closures for the bottles.
Fournell says the process is completed on a peristaltic filling machine made by Watson-Marlow. "Once the product is filled into bottles, it is stored in a walk-in freezer while samples are being tested to ensure all our specification for nutrients and bioburden were met," he says.
Afterwards, labels are printed on a Zebra printer with information that includes nutrients, lot number, fill size, and a use-by date. Bottles are labeled using an ST-400 from So. California Packaging Equipment. "Last," Fournell relates, "the bottles are sealed in a plastic bag using a bagger produced by Automated Packaging." Fournell says Prolacta Bioscience produces for IBMP twice a year.
Companies in this article