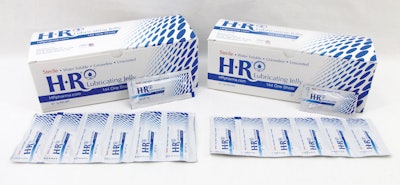 Think of iconic packaging brands and the likes of Coca-Cola and Campbell's Soup may come to mind. But in the world of personal and medical lubricants, there's a rich history in the blue-and-white tube of H-R® Lubricating Jelly that dates back to 1925. That's when Margaret Sanger and J. Noah Slee imported the product from Germany and started Holland & Rantos. HR Pharmaceuticals, Inc. still sells the 4-oz product in the venerable tube, but as of late August, the company gave the tube a partner—a sachet—available in 3-g and 5-g versions.

HR's product launch was made possible due to a packaging materials and machinery purchasing arrangement with supplier Winpak Ltd. (www.winpak.com).

The design concept of the sachets are patent-pending and thus will allow HR to build sales of this specific design while expanding the H-R brand and/or private-label offerings. The sachets meet a growing trend for unit-of-use sizes, while also offering customers a pack that helps prevent pilferage of the larger tubes in physician offices, hospitals, and healthcare facilities.

Jon P. Wiesman, president and CEO of York, PA-based HR Pharmaceuticals, says the company decided to invest in packet production late last year. "With only a four-ounce tube offering, we were considered a one-trick pony in the industry. When I went into the big distributors, I realized that they would not change an entire line of SKUs for one product, no matter how storied. We desperately needed to offer a three-gram pouch, a five-gram pouch, and a four-ounce tube."

'Systems' approach speeds sachets to market
The firm employs a contract manufacturer to package its 4-oz tube in Florida, but adding the sachet products initiated a search for another contract packager since its CP lacked the necessary packaging equipment.

"We examined what companies would charge, and considered the risk of contamination moving product from the manufacturing point in Florida to the contract packager," Wiesman recalls. Most of the contract packagers that handled packets were located in New Jersey or New York; Wiesman turned his attention to film selection. "We learned that films used for condoms are also a Class-2 medical device, and we discovered through Internet research that the material was provided by Winpak Heat Seal Packaging."

Enter Bill Sharpless, Winpak's business development manager-healthcare packaging, who helped HR Pharmaceuticals move the process to what Wiesman describes as the second stage. "We had not worked with Winpak previously, and we were in the process of securing some major multiyear accounts; Winpak became an integral financial partner to achieve success."

Winpak manufactures and distributes packaging materials and related packaging machines, therefore was able to offer HR Pharmaceuticals what Sharpless refers to as a "systems sale." He explains that Winpak Heat Seal Corp. purchased a Winpak Lane W-12 vertical form/fill/seal pouch/sachet packaging machine and leased it to HR Pharmaceuticals, which purchases the pouch materials from Winpak. Under this creative arrangement, HR was able to launch the product to market and stretch out the capital equipment cost over a longer period of time.

Market timing for launching the sachets was especially important, Wiesman says, because another company that controlled about 80% of the market had a full-blown recall by the FDA in early 2011. He says, "We blew into the market right when there was a huge demand. The quality of our manufacturing process and the history of the 80-year-old brand helped pull us to where we are, and we give credit to Winpak."

Easy-opening, convenient sleeves
As important as the line of sachets is to HR Pharmaceuticals, Wiesman sought further product differentiation. "Our competitors offer sachets as well," he notes, "but they are all individual pouches packed loosely into boxes." Wiesman designed three specific points of differentiation for the sachets, and says, "Winpak put it to fruition."

The first is the "Connected Strip™" of six sachets, along with a "Quick Tear/EZ Open™" with an incorporated "Directional Spout™" that allows the easy opening and applied integrity of the lubricant. "When you tear open other lubricant pouches they rip down the side and create a mess," says Wiesman. "Working in conjunction with Winpak, we designed a sachet that will be a unique industry changer. We also made it ambidextrous, even though it is primarily a right-handed-compatible sachet because about 80 percent of the U.S. population is right-handed."

The other key differentiator is that instead of individual pouches, HR Pharmaceuticals offers sachets in strips of six. "That gives users a nice, neat configuration to place on a cart compared to having several thrown about the cart," says Wiesman. "The way they come out of the box is just a straight strip of six and they're well presented and convenient. I think this concept will change the concept of how people expect a surgical lubricant sachet to be presented."

Machine process
The multilane W-12 machine is capable of running a variety of pumpable products at rates of up to 650 pouches/min, although the Florida CP runs HR Pharmaceutical's sachets at about 350/min at this point.

Winpak Heat Seal's Montreal plant supplies the PET/foil/polyethylene extrusion-laminated structure. The outer polyester layer is reverse gravure-printed in one or two colors.

Mark Griffin, Winpak's director of sales and marketing, discusses some of the challenges in developing the custom machine for HR Pharmaceuticals: "Supplying the sachets in a tear-off fashion posed a challenge because we depend on slitting the film into individual packages to allow it to relax and create relatively pleat-free production of the packages. But when you do not slit them into individual packs, but leave them connected and perforate them as we do here, the packaging material cannot relax. So the amount of material that you have around the filling tube becomes pleated, and in the medical industry, that is unacceptable."

To alleviate the potential pleating, Griffin says Winpak created special fill nozzles for each of the six lanes on the machine. "At the end of the fill nozzle, the package is very flat, but you still have to be able to fill product in, so we open the pack just enough to get the proper dose in each sachet," he explains.

Another complication was keeping the front and back film webs in register for package graphics. Griffin explains: "There is a front and back web that start as a single web of material split in the middle and get presented to the machine as a front and rear web. The packaging material travels the same distance through the machine so when the front and back webs come back together, the front and back graphics are registered. There's not a forming collar on this machine."

HR Pharmaceutical's Wiesman says, "The Winpak machine produces a package that is going to change the way people are going to look at these pouches, and I think it's going to change the way packaging is done for some of these medical devices."
Once case-packed and palletized, the packaged products are kept at HR for 90 days prior to shipping, adhering to a practice the company has used since about 1931. "We run it through multiple sets of product integrity and testing protocol for sterility," says Wiesman. "No other lubricant on the market goes through this extent of testing protocol prior to being released."

Promising future
Could HR Pharmaceuticals eventually sell the pouches over the counter? "Not yet," Wiesman says. "But we probably will be able to when we convert the tubes over into an SBS box format The uniqueness about this strip of six package design is that we will be able to xylophone it and package it in a nice little sleeve as well. At that point, we will be able to sell it at retail." For now, he says six cartons will be sold in an 864-ct outer case.

Weisman notes that as of this fall, HR Pharma-ceuticals is an approved vendor in the top five major U.S. pharmaceutical medical device distributors. That will require an additional machine, perhaps a larger version, that can produce 10-g and 20-g units as well as the 3-g and 5-g units. "This will allow HR Pharmaceuticals to offer a full compliment of products making our future much brighter thanks to Winpak."
Companies in this article