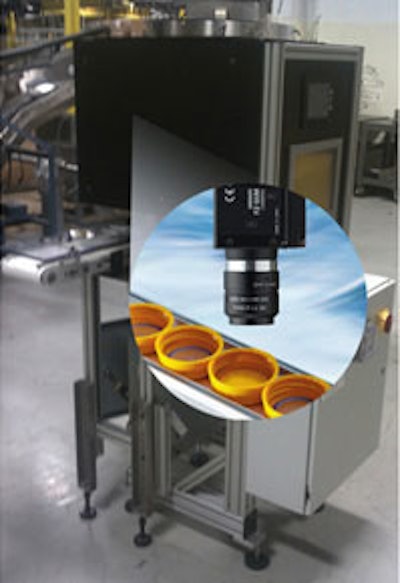 Phoenix Closures is a full-service manufacturing firm specializing in injection-molded closures. Headquartered in Naperville, Ill., with additional facilities in Davenport, Iowa, and Newport, Tenn., the company serves both domestic and foreign customers. When it became difficult to identify and remedy defects in its closure liners, Phoenix embarked on a major project to address the issue by identifying the most competent industrial automation supplier that could provide them a turn-key vision inspection solution to eventually be integrated into their day-to-day operations.
"We had been working with vision for several years, and we'd tried several manufacturers and vision systems," says Merle Smith, senior projects engineer at Phoenix. These efforts had met with limited success.
So Phoenix assembled a Corporate Vision Team comprised of technical and production personnel from all the company's locations. The team was charged with identifying which automation/vision supplier Phoenix should work with moving forward.
"We did an analysis of eight or nine different vision suppliers, then boiled it down to who we thought was best," says Smith. "With all factors considered—service, sales, depth and strength of the company, as well as technical considerations—Omron came out clearly on top."
At this point, Phoenix hadn't decided which Omron vision system would solve their major inspection challenges: detecting defects in cap molding and liners. Many of these gasket/cap assemblies are white on white, making it difficult to detect defects. Another challenge was foil liners, used on many caps, which have reflective properties that make it difficult to see imperfections.
"We worked with Omron and determined that the FZ3 color vision system could solve our most difficult applications," says Smith. "Now the FZ3 is our standard—we use it on all applications—to detect all kinds of defects."
Focused Results
Smith says the first thing he noticed was a significant drop in customer complaints. "We don't see the number of customer complaints that we had on those lines before installing the FZ3 vision system," he says.
Downtime has also diminished since the new vision systems were installed. At Phoenix, caps are molded then lined. Molded caps go to a lining machine; if there are no errors, caps continue to be molded and lined. If errors are caught early, Phoenix can shut down the molding process, make whatever adjustments are needed, and then go back into production quickly.
"Downtime was killing us in terms of costs," says Smith. "Now we know in advance if something is going wrong in the molding process. Rather than waiting until we get complaints and then having to shut the line down to determine what happened, we know immediately."
"With the Omron vision system, we've been able to identify defects on the liners—things that we didn't even know were there until the system started highlighting them for us," says Smith.
The color discrimination capabilities of the FZ3 systems at Phoenix pick up small nuances in the liners that were previously undetectable. "Not only can we diagnose what is happening, we can go back to our raw material suppliers based on the information being gathered."
According to Smith, in addition to this added capability, programming the system is easier, as is training employees to work with it.
Elgin, Ill.-based Automation Solutions of America (ASA) served as a key consultant during the building and integration of the new system. "With ASA and Omron, we were able to have one-stop shopping," says Smith. "Not only did we use the FZ3 vision inspection system, but also used Omron for programmable controllers and HMI solutions. Having a single source for all the technology used was a considerable benefit in terms of time saved and simplified communications. We told Omron what we wanted, and ASA built it. We did some acceptance testing to ensure that everything was running as planned, and then we were ready to go. We're not going to purchase another piece of automation equipment without an online FZ3 vision inspection system."
Smith gives a telling example of why Phoenix feels so strongly about its new vision system choice: "We recently built an FZ3 system on a portable carriage that we can roll up to a line for quality inspections on an as-needed basis. We had a complaint traced back to the line that had been running without vision inspection. We had 1.6 million caps to inspect. With the vision system, we were able to check those caps in just a few days. It would have taken us three months of labor, 24 hours a day, to inspect that many caps manually."
Companies in this article