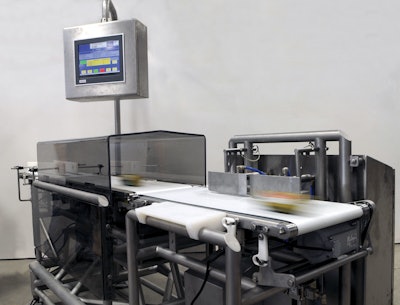 Friesen's, Inc. is a major provider of material handling, check weigher, and fluid power systems. Based in Detroit Lakes, MN, Friesen's has been serving customers in food and packaging with innovative weighing solutions since 1939. While the company's customers are primarily in the meat processing industry, their systems can be applied to a wide variety of check weigher applications, and their equipment can be used for weighing either individual products or cases of products.

Friesen's offers wash-down-capable solutions that can be deployed across the entire food production line, from processing to packaging to the end of the line. Friesen's IP69K-rated systems are ideal for applications in USDA-regulated plants. Wash-down requirements are naturally a major challenge in food industry applications, since any food production area where contamination is possible faces the highest levels of scrutiny.

According to Kari McAllister, director of product development at Friesen's, customers are increasingly asking for check weighers that can be implemented further back in the processing area. Traditionally, check weighers were installed closer to the end of the line at the packaging level, but today more are implementing them at the product processing and manufacturing level to better evaluate and control losses of product. According to Derek Hanson, director of engineering at Friesen's, there's another reason for this move. "Food manufacturers are moving equipment further upstream to find potential savings earlier in the line," says Hanson. "Through wash-down-capable check weighers, we're able to help them realize those savings."

The Mach-Series and F-Series machines from Friesen's were designed to make check weigher technology highly adaptable to a wide range of end-user requirements just about anywhere in food processing or packaging.The 100+ parts-per-minute Mach-Series includes the Electro Magnetic Scale (EMS) and Dual Electro Magnetic Scale (DEMS) high-speed precision check weighers, as well as the Digital Product Scale (DPS) high speed in-motion check weigher. The sub-100 parts-per-minute F-Series lineup features the Analog Product Scale (APS) in-motion product check weigher, Analog Case Scale (ACS) in-motion check weigher, and the Static Scale. Friesen's strives to be flexible for customers because no two applications are the same--the company can quickly adapt their various check weighers and customize them for raw pork, chicken, cheese, baked goods, or even ground coffee.

Flexibility is key for the automation system to adjust to a wide variety of industrial devices with minimal impact on the control system itself. "Historically, customizing and scaling the control solution has been a relatively difficult process," McAllister explains. "In my view, some of the major controls vendors in this space are too proprietary in nature. They often don't communicate as well with technologies from other vendors without saddling machine builders like us with added costs required to connect beyond the strict confines of their world." An open controls architecture is Friesen's preference, says McAllister, and that's why the firm is specifying Beckhoff Automation with greater and greater frequency.

Beckhoff controls have also helped the Friesen's engineering team eliminate system components. "With fewer components we have improved machine reliability and a lower chance of failures overall," says Hanson. "In addition, we avoid larger cabinets. In some cases, we eliminate extra cabinets altogether."

PC-based automation
Friesen's began testing Beckhoff components in October, 2010, and moved quickly to upgrade the wash-down check weigher lines. "We went from first contact to having an engineer on-site helping us implement our new hardware and software platforms within three days," McAllister recalls. "Within two and a half weeks, we had the first of our new check weighers up and running."

For check weigher automation, today Friesen's utilizes CX1020 embedded PCs with 1 GHz Intel® Celeron® M CPU running TwinCAT PLC software from Beckhoff. The DIN rail-mounted and solid state CX1020s are connected to Beckhoff CP69x2 Control Panels for machine visualization. A critical design requirement for Friesen's was flexibility and support for modular controls programming. TwinCAT PLC and its supplemental libraries were key to rapid application development using proven software building blocks. "TwinCAT communication drivers support a wide range of fieldbuses and made the integration of various components and devices quick and easy," says Hanson.

Friesen's uses Indusoft and Microsoft Visual Studio for the HMI software displayed on the Beckhoff touch screens. With these technologies, Friesen's can create improved, application-specific HMI screens and ensure a "Friesen's look" throughout the user interface.


The Beckhoff system also manages data acquisition from various weighing functions on the Mach-Series and F-Series machines, validates and logs product weight, deals with reject products, and runs all the conveyors. By using CX1020 embedded PCs, Friesen's can run the application software, HMI software, and MES/ERP interface all on one CPU, which greatly reduces the number of hardware components, panel space, and cost.

Industrial Ethernet technology is also a major factor for the check weighers in the form of EtherCAT I/O Terminals and EtherCAT servo drives from Beckhoff. "Through EtherCAT, we have industry-leading performance and the ability to communicate with a wide range of industrial devices," says McAllister. "TwinCAT software as well as communication terminals available from Beckhoff's EtherCAT I/O system permit simple connection to essentially any Ethernet TCP/IP, Serial RS232, or CANopen device, for example, simplifying our designs and machine build efforts."

Friesen's connectivity improvements extend beyond the physical Ethernet connector and I/O terminals into the software. "EtherCAT is essentially plug-and-play, so when adding a new terminal, TwinCAT System Manager can automatically recognize it," McAllister added. "Considering these hardware and software tools, adding devices with TwinCAT and EtherCAT is a breeze. It can be a time-consuming activity with other systems."

Speed and performance
In addition to providing connectivity solutions, EtherCAT also brought a boost to system speed and performance. "Revamping our check weigher speed was another considerable challenge—we sought to process product weights faster and communicate to our reject systems at higher speeds," McAllister explains. EtherCAT can achieve update times for the data from 1,000 distributed I/Os in only 30 microseconds—including terminal cycle time. Up to 1,486 bytes of process data can be exchanged with a single Ethernet frame—this is equivalent to almost 12,000 digital inputs and outputs. The transfer of this quantity of data only takes 300 microseconds.


Utilizing fewer controls components means fewer points of failure for Friesen's. "On the new and improved Mach-Series and F-Series, we've reduced check weigher downtime by 22% and reduced system startup time by 30% through the reliability and time-saving aspects of TwinCAT and PC-based control," McAllister reports. "Since we began using EtherCAT and Embedded PCs, check weigher system speed has increased by 31%; this means we can offer our customers much higher throughput numbers and really differentiate ourselves in the market."

Savings also translated into cost and commissioning improvements for the Mach-Series and F-Series. "On average, we decreased installation time by 50%, decreased technical support requirements by 35%, decreased machine build time by 25%, and reduced build cost by 17%," says Hanson. "In addition, data storage and data streaming flexibility is nearly limitless for Friesen's today since we're using standard, PC-, and Ethernet-based technologies."

Automated troubleshooting has also been drastically improved for Friesen's and the company's electrical technicians have reported impressive improvements. "It's much easier to see the functional status of our machines, it's not a guessing game," Hanson explains. "Technicians no longer have to walk all the way around the machine for as many traditional maintenance checks."

Looking to the future, Friesen's plans to standardize on IP69K versions of CP69xx stainless steel Control Panels from Beckhoff, which are designed for wash-down applications. Friesen's also plans to move the majority of their machines' axes to the dynamic AX5000 EtherCAT servo drives from Beckhoff.

"With open technologies, improved connectivity, and higher controls performance assured, 100% of Friesen's check weighers will be fitted with Beckhoff controls going forward," says McAllister. "The timing for Friesen's and Beckhoff is perfect, because now more than ever, our customers are opening their minds to new, truly innovative solutions that can be applied in more areas of food manufacturing lines."
Companies in this article