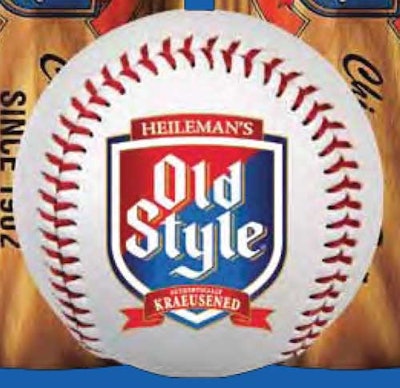 A glass beer bottle made to look like a baseball bat is at the foundation of a fun promotional campaign now underway through July from Pabst Brewing Co. It's all about Chicago's beloved Cubs baseball team.
"Our partnership with the Cubs is 61 years old," says Rohith Reddy, Pabst brand director for the Old Style brand. "It's the longest-running sports sponsorship deal in the world. Centered on two icons as it is, Old Style and the Cubs, it's a huge source of passion and pride for Pabst. As part of our partnership, we do a commemorative package each year. This year the design brief was intentionally wide open. We just wanted to be authentic to our home town, to Old Style, and to the Chicago Cubs. The design team came back with a phenomenal concept, and we're getting confirmation from our partners in operation that the bottles coming off the line look even better than we had imagined."
Spearheading the design team was Scott & Victor. The two-man design shop came up with a collector's edition bottle in a full-body shrink label that makes the bottle look like a wooden baseball bat. Included in the design are the Cubs and Old Style logos and the phrase "Chicago's Beer Since 1902." Early signs of the campaign's success are clear, with a 58 percent year-over-year increase in distributor orders for the package over the last two months.
"It came to us as a comprehensive assignment, a complete marketing and communications package," says Victor Laporte of Scott & Victor. "We knew the bottle itself was going to be the main element, but we had to think through the package design, secondary packaging, POS, and advertising in and around Wrigley. When I look back I'm surprised we were able to do what we did with just four people. We contracted two outside people for the project."
"We focused on communicating Old Style's soul and voice at every touch point, from the 'passion point' of Wrigley to the purchase point of the store and bars," says Laporte's parner, Scott English. "All of the bottle's components reflect the staying power of Old Style and the Cubs while embracing not only the spirit of the city of Chicago but also the fun and entertainment of sports and beer."
LABEL APPLIED BY A 3PL
The full-body shrink label is supplied by Multi-Color Corp. (). The PET labels are printed FLEXO in six colors. But it's not actually Pabst that applies them. That's because Pabst, based in Woodridge, IL, neither brews nor bottles any of its 50 or so brands. All of its manufacturing is contracted out.
In this particular case, a number of players are involved, says Pabst manager POS/packaging procurement Gary Galecke. First, of course, comes bottle-making at the Owens-Illinois plant. The next stop is Verst Group Logistics, a leading Third-Party Logistics supplier that provides warehousing, transportation, packaging, sorting, and supply chain solutions to a wide variety of leading manufacturers. At Verst the heat shrink labels are applied by a machine supplied by Fuji Seal.
At this point the bottles are shipped for filling to a Miller Coors plant in Trenton, Ohio. Galecke explains why.
"Putting a sleeve-labeled bottle like this through a bottling line is no walk in the park. There's a tackiness to such a bottle compared to an unlabeled glass finish, and this keeps them from flowing as smoothly. These labeled bottles don't twirl as well as they move along a conveyor belt, for example, so labels can get damaged. Fortunately the printing is reverse-printed, so that helps protect the printing. But Miller's Trenton plant also has some Teflon-coated parts along the conveyor paths that help considerably."
Another issue to be overcome as this project unfolded revolved around secondary packaging, which Pabst and its design firm decided would be a 12-count paperboard carton. However, the automated cartoning equipment at Miller's Trenton plant was incompatible with the shrink-labeled bottles. "They're fine for regular glass, but they damaged too many labels when we tried them on these labeled bottles," says Galecke. "So Miller runs the bottles through a 24-count corrugated case packer that has gentler handling characteristics."
These 24-count cases are then sent to another 3PL called Annex, which is in Hebron, KY. Here the bottles are removed manually from their corrugated cases and fed to a 12-packer that has gentle enough handling characteristics to pack the shrink-labeled bottles without damaging the labels. Supplied by Graphic Packaging, the 21-pt paperboard cartons that hold the bat bottles are printed offset in six colors.
Galecke is the first to admit that putting 12 oz of Old Style into this exclusive bottle comes with an upcharge. But its promotional value makes it worth the investment.
He also notes that while the bottles will be abundantly available in Chicagoland retail and on-premise channels, they won't actually enter the Cubs' Wrigley Field. Only cans and plastic bottles are used there.
In a March 31 phone interview, the day before opening day at Wrigley, Galecke summed up the bat bottle project this way.
"Sure there were surprises, like there are with every promotional package. But the bottom line is that the bottles are reaching the market just in time for opening day."
Go Cubbies!
Companies in this article
Videos from Graphic Packaging Intl.