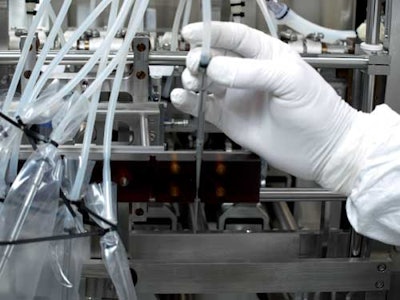 GlaxoSmithKline (GSK) is a global research-based pharmaceutical and healthcare company committed to improving the quality of human life by enabling people to do more, feel better, and live longer.
GSK's manufacturing plant in Barnard Castle, U.K. manufactures a range of medicines including sterile liquids in vials and syringes, as well as antibiotics and topical products like Zovirax. The site also plays a key role in new product launches. To support a product introduction, GSK needed a new filling solution that could eliminate cross-contamination while ensuring operational efficiency. In addition to advanced line equipment, the company required a partner to provide expertise and support services throughout the life of the project as well as to help extend its line capacity for future products.
With a long-term relationship already established, GSK turned to Bosch Packaging Technology. The two companies have partnered for years, with proven success in the installation and service of several filling lines. GSK chose to work with Bosch for its technology, support, and maintenance services.
To meet GSK's specific needs, Bosch provided a single-use dosing system with peristaltic pumps for biopharma products and for processing highly active substances. Bosch worked closely with GSK to customize a system to meet the global firm's performance requirements. From installation through commissioning, support was provided by Bosch's Service Team to ensure GSK's requirements for operational efficiency and line optimization. Following and documenting a robust qualification process were also key aspects in meeting stringent pharmaceutical industry standards, and to get the line up and running quickly.
GSK project manager Graeme Wilson says: "We were very satisfied with the rapid response we received from Bosch. As a reliable service partner, they handled the design, installation, and qualification of the system successfully in a very short period of time and provided support throughout the project."
Achieving efficiency
An important goal for GSK was to guarantee product safety for sensitive drugs, along with achieving efficient production. Those goals were reached through Bosch's single-use dosing system. For GSK, the core benefit of the disposable system is the elimination of the need for cleaning and sterilizing of the product paths during batch or product changes.
To further advance this technology, Bosch incorporated its PreVAS concept (PreValidated, PreAssembled, PreSterilized). Designed to enable all product-contact parts—including hoses, product bags, and filling needles—to be delivered both preassembled and sterilized, the system eliminates risk of cross-contamination and speeds production start-up.

In addition, at the end of a production cycle, these parts are simply disposed of without requiring the time-consuming and costly cleaning then revalidation process. This improves efficiency while ensuring safety. The Bosch-PreVAS system also uses stainless-steel filling needles with a plastic coating. Normally, single-use dosing systems use molded plastic needles, which allow significantly higher reproducibility of filling volumes.
The peristaltic pumps are an integral part of the PreVAS system. When integrated with a disposable filling system, peristaltic pumps offer simple operation and safety for filling of sensitive drugs and biotech products. The peristaltic pump design also enables GSK's products to be filled with higher precision and accuracy while lengthening production cycles. Also, an offset arrangement of rollers is used where one tube is always less compressed. Stress on the tubing is decreased, reducing flow pulsations and ensuring continuous liquid flow.
"The level of dosing accuracy of the peristaltic pumps is quite impressive and we were able to prove this over various production batches," adds Wilson.
The peristaltic pump offers quick tubing changes with only one hand. The system features a pivoting pump head cover that allows the pump to be opened without tools and without removing the cover parts. The operator can easily open the pump to change the tubing then simply close the pump again, decreasing the set-up time. The pump also features stainless-steel housing, rotor, and rollers for ease of cleaning.
Flexibility and speed-to-market
A differentiating feature is the mobility of the dosing system, which offers GSK the flexibility to use it whenever and wherever required. Mounted on a movable trolley, the peristaltic pump acts as an autonomous filling station with a built-in control system and servo drives. This enables the pump to be positioned next to any filling line whenever required, thereby allowing GSK to extend the performance and flexibility of its filling machine.
By choosing between its current dosing system and the movable peristaltic pumps, GSK can prepare new products for production more quickly, releasing them into the market more swiftly, and with less effort. And GSK can meet its rigorous production demands without the need for an additional filling line, bringing more production capacity to the Barnard Castle site.
Companies in this article