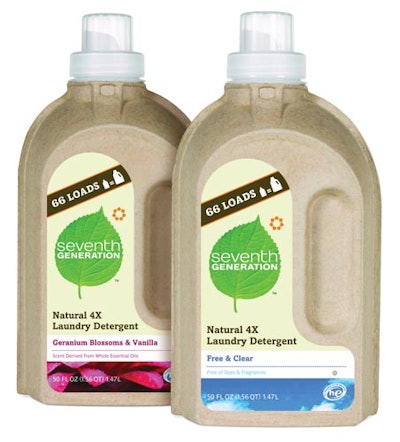 It's made in much the same way and looks a whole lot like a molded-pulp egg carton. So it's little wonder the 50-oz bottle for concentrated laundry detergent from Seventh Generation turned lots of heads when it debuted March 11 at Natural Products Expo West in Anaheim, CA. The 4x concentrated product handles 66 loads of laundry, the same number as the 2x concentrated version that the company sells in a 100-oz bottle that is extrusion blown of high-density polyethylene.
"We knew that a molded fiber shell would advance the work we're doing to reduce our packaging footprint," says Peter Swaine, director of packaging at Burlington, VT-based Seventh Generation. "The new bottle uses 66 percent less plastic than a typical 100-oz laundry container and is completely recyclable. To recycle it, you pop open the fiber shell by pressing on the side seam with your thumbs. Remove the liner and cap system and set them aside, and then flatten the shell and include it with your newsprint and paperboard for recycling in your curbside service. Or you can compost the bottle by removing the label and either following your local composting facility's directions or throwing it directly into your home compost system."
As for the low-density polyethylene liner and injection-molded LDPE cap fitment, these can be recycled at any local retailer offering plastic bag recycling bins, says Swaine.
The maker of the bottle, a recent startup called Ecologic Brands, claims that the high-density polyethylene bottles used almost universally in the laundry detergent category are only recycled 29% of the time. Corrugated and paper, on the other hand, have a much better track record where recycling is concerned, and the molded pulp bottle fits right into that recycle stream. Ecologic produces the bottles using 70% OCC (Old Corrugated Containers) and 30% ONP (Old Newsprint), both of which are in abundant supply. Using a 12-cavity system supplied by Taiwanese Pulp Molding, Ecologic makes flat open shells that are hinged in the center and are shipped nested. According to Swaine, nine nested shells occupy the same space as a single blow-molded plastic bottle. So considerable cost savings and environmental advantages are gained in shipping the nested shells compared to shipping blown bottles.
"We're setting up a manufacturing infrastructure in North America that we hope to have near completion by October," says Ecologic CEO Julie Corbett. "We think molded fiber is an emerging packaging option. The source material is abundant, the molding technology is improving, and consumers really like it. It's like blow molding with paper instead of plastic resin."
Formerly an investment manager who launched Ecologic three years ago, Corbett is reluctant to quantify cycle times achieved on the 12-cavity TPM molding machine. "We've done some fairly significant work with TPM, and I think we're reaching speeds that are among the best in the industry," she says. "To some extent, our bottle-making expertise is our secret weapon."
Familiar look and feel
Corbett and Swaine say that the container was made to resemble the laundry detergent container consumers are accustomed to. So the neck finish is a very familiar 51 mm and the threaded drain-back cap also gives consumers a familiar look and feel. If you make the package too incredibly different, says Corbett, you wind up scaring consumers away.
Also perfectly conventional is the manner in which the bottle is filled, labeled, and capped, all of which is done by contract packager Genlabs". Anything but conventional are the bottle assembly steps that precede filling. It's a work in progress, says Swaine." One day, he hopes, it will be more automated. For now, he says, the important thing is that the bottle is making it onto store shelves so that consumer acceptance can be gauged.
The package consists of six parts: bottle, inner liner, neck finish fitment, threaded closure, and front and back labels. The injection-molded LDPE neck finish fitment is welded to the bag by the bag-maker, whom Swaine chooses not to identify. At Genlabs, the first step in filling is placement of the inner liner into the molded fiber shell. Then an adhesive is applied along the perimeter of the shell and the two halves are folded together so that what was a shell is now a bottle. At that point, Genlabs sends the bottles through its conventional plastic bottle filling, capping, labeling line. Pressure-sensitive labels are supplied by AC Label.
Six bottles are placed in a corrugated shipper that, says Swaine, is a little more robust than needed. The firm didn't want top-load issues to cloud market-place reaction to the novel container. Some lightweighting of the case will likely occur soon.
In the meantime, Swaine and colleagues at Seventh Generation are pretty excited about the paper bottle's future. "This is the bottle that holds everything we believe in," notes a March 9 entry in 7GenBlog. "And you won't believe it when you finally hold it yourself."

Companies in this article