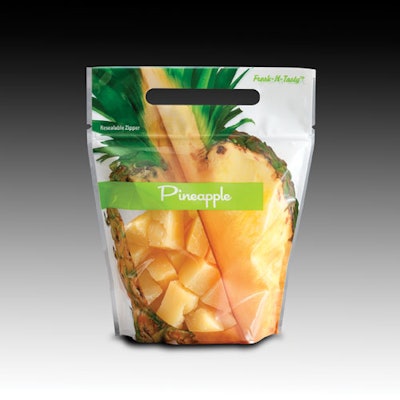 This pre-made pouch also won Gold for Packaging Excellence and Gold for Technical Innovation.
About all Robbie Flexibles is saying about the standup pouch is that it's a lamination of two coextruded substrates, it has a convenient carrying handle, it has a see-through window, and it has a zipper reclosure feature. The Robbie Web site also mentions that more consistent product quality throughout the entire shelf life of the pineapple, watermelon, cantaloupe, peppers, or other produce packed in the pouch results from modified-atmosphere packaging and laser micro perforation. Robbie acknowledges that it has been working with PerfoTec on the Fresh-N-Tasty pouch project. So a look at PerfoTec's technology seems warranted here.
Based in the Netherlands, PerfoTec offers Automatic OTR Control®, which it describes as a "breakthrough" in MAP for fresh produce. It's a micro-laser perforation system with online camera inspection. It calculates the amount of oxygen that can permeate a given surface area of film that has just been micro-perforated. If permeability is too great or too little, the laser-perforated holes made on subsequent packages are immediately made smaller or larger, and this adjustment is made at line speeds up to 600 ft/min. When asked why the microperfs would ever need to be changed on the fly, PerfoTec president Bas Groeneweg explained.
"The film used in fresh-cut produce has a nominal thickness that is supposed to be consistent. But in fact there are always variations in film thickness, so when a thin section of film passes through the laser perforation station, the laser energy creates a hole larger than what's specified, which in turn shortens shelf life. Our vision system detects when laser-perforations are not the right size and signals the laser perforator to modify the amount of energy it emits. That way, the microperfs are immediately right-sized and the film quickly returns to the permeability rate that was specified."