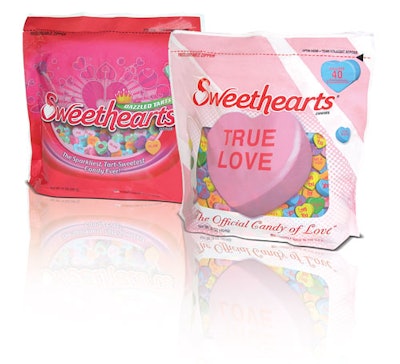 In the multi-serve 16-oz category, the switch from a lay-flat pillow-style pouch to a stand-up pouch with a reclosable zipper is giving an iconic American candy a whole new shelf presence.
The candy is Sweethearts, made by the Boston-based New England Confectionery Co., better known as Necco.
"Through 2009 and 2010 we reformulated the product itself to give it brighter colors, softer texture, bolder flavors, and new consumer-driven expressions like LOL, BFF, and so on," says Necco brand manager Aimee Scott. "We then realized that with all these great new brand developments to talk about, the lay-flat package we were in offered no real opportunity for brand exposure. We needed a package format that would let us emphasize the Sweethearts brand. That brand identification had never been a communications priority. We wanted to raise the awareness of the Sweethearts brand, which had gotten overshadowed over the years as people tended to think more in terms of Necco Conversation Hearts than the Sweethearts brand. Think about Pepperidge Farm Goldfish. Everyone knows the Goldfish brand. We want the same kind of recognition for the Sweethearts brand."
Brigandi + Associates was tapped for the design of the new package, a task that was handled "brilliantly," says Scott. Iris Alicea, executive vice president and creative director at Brigandi, says it was a fun project to work on because it triggered a lot of childhood memories. The challenge was to balance the integrity of the brand that consumers know and love from their childhood while giving the new package a fresh, high-impact look.
"The new package facilitates ease of storage, distribution, and resealability while creating a billboard effect on shelf," says Alicea. "The brand logos are clearly visible and shopper friendly."
The big, smooth "landscape" on the back of the pouch also provided an opportunity for Brigandi to create an engaging and interactive game on the back panel (see photo below).
The pouch material comes from FM Packaging. It's a two-layer adhesive lamination of reverse-printed 48-ga polyester and 3-mil white polyethylene. Flexo printing is done in eight colors. Rollstock is transformed into stand-up pouches on a horizontal form/fill/seal system.
Contract packaging
Like many consumer packaged goods manufacturers with a new package format to try, Necco elected to go the contract packager route rather than install pouch filling equipment of its own. Ryt-way Industries, LLC produces both 16-oz pouches of Sweethearts and 14-oz pouches of Sweetheart Dazzle Tarts. "The Tarts have a slightly sassy quality that speaks to 'tweens,'" says Scott. "These are consumers who want to share sweet expressions similar to what are found on regular Sweethearts. But the expressions they favor have a little more punch and are borrowed from what you'd expect to find in text messages or tweets. The flavors, too, are more tart than sweet."
Ryt-way uses a Bartelt RPM hf/f/f system to produce the Necco pouches. Applied on line, the zipper material is from Zip-Pack.
The suggested retail price for the 16-oz stand-up pouch of Sweethearts is $2.67. Scott says the stand-up pouch with its re-closeable zipper feature permits a 15 to 25% premium in on-shelf pricing compared to a lay-flat pillow pouch holding the same 16 oz. "Consumers are willing to pay more for a package that communicates value the way this package does," says Scott.
Mass merchandisers like Target and Walmart were the first retailers to jump on the Sweethearts stand-up pouch bandwagon. "Target was among the biggest supporters," says Scott. But she also notes that a number of grocery store chains are on the list of retailers who are taking shipment of the new package.
"One thing the grocery chains are trying to do is capture purchase occasions from the mass merchandisers," says Scott. "A package like this that generates impulse purchases can help them do that."
Companies in this article