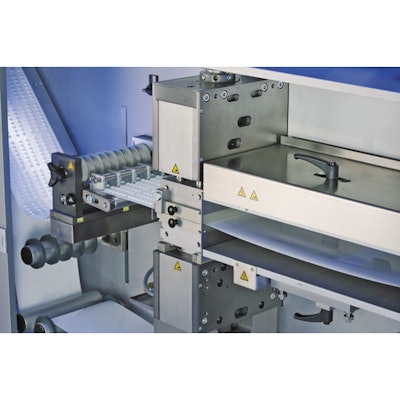 Incoming orders have to be processed promptly and efficiently for contract packager KLOCKE Verpackungs-Service GmbH to meet the requirements of its pharmaceutical industry customers. With that in mind, the Weingarten, Germany-based contract packager must be able to rely on its packaging machinery.
In the contract packaging business, a high degree of segmentation in the international markets has led to a growing demand for ever-smaller batch sizes. The smaller the batch, the more often the product needs to be changed. That lends an advantage to flexible machine concepts that combine versatile use with fast retooling. Those factors helped KLOCKE move to Noack blister equipment from Romaco.
"We have trusted in the high quality of Romaco Noack blister lines for a number of years now," explains Christian Reitze, KLOCKE's production technology manager. "The machines are reliable, efficient, and easy to operate. Thanks to the Noack technology, we have managed to reduce the downtime during product changes to a minimum. The systems are flexible and can be adapted to changing production conditions in no time at all." The company now employs 17 Noack blister lines.
Packaging line downtimes can be significantly reduced by integrating servo technology and robotic systems. Up to 15 servo motors are installed on the modular Noack blister lines. Formats can be utilized flexibly, while process parameters may be defined once and can be read in or called up across any number of production lines.
No tools are required to fit the new parts during format changeovers. The lines are designed ergonomically to make it easier for operators to clean and set up the systems. Also, new size parts can be procured within four to six weeks.
Companies in this article