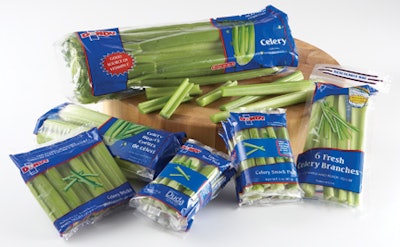 Duda Farms, Oxnard, CA, processes and packages fresh celery products for marketing to retail customers, foodservice establishments, and further processing operations. To meet accelerating demand for Duda's celery stick products, the company needed to re-evaluate its packaging operations.
Plant manager Greg Tirado notes, "We had moved from hand-filling pre-made bags to automatic flow-wrap bagging several years ago. But as our volumes increased, we concluded that Delta 3000 LDR flow-wrap equipment from Ilapak had the engineering features we needed to better meet our increased capacity demand, reduce our labor costs, and improve our sealing consistency."
Some of those features include long-dwell-time sealing heads; four AC motors to control infeed, rollers, jaws, and film feed; user-friendly 10-inch color touch screen; and 64-program memory.
Easy installation
In September 2009, Duda Farms installed two Delta 3000 LDR machines. Tirado recalls, "Ilapak sent out one technician to help with installation, training, and start-up. The machines arrived very nearly turnkey, so the Ilapak technician didn't have to do much in terms of installation. The final installation of both machines took a little more than a day. Training was given for a day and a half. By the end of day three, the machines were fully operational. It really was quite painless."
In conjunction with the Deltas, Duda also installed an Ilapak 7M stainless steel infeed system. Tirado says, "The 7M infeed system was the best option for us, given the throughput demands we asked of Ilapak. The Delta bagging system had the speed and quality output we needed, and the extended (22.75-feet) infeed was the best way to ensure adequate and consistent product flow to the bagging section. Compared to our previous flow-wrap machines, Ilapak has doubled our throughput on all three of the celery products we run on the Deltas. Packaging speeds now are about 85 to 120 celery sticks per minute on each Delta, depending on the product. And our labor costs have been reduced by 15 to 20 percent, depending on the product being packaged. We were also able to avoid adding a second shift because the Deltas have lessened the number of line hours needed to produce our volumes.
"We also have decreased our film waste by approximately ten percent. We currently package 1.6-ounce, 3-ounce, and 8-ounce bags of celery sticks under Duda's Dandy brand label. The bags are sealed with top and bottom seals and a fin seal along the back. All our rollstock bag film is manufactured by Emerald Packaging. The film we use was developed in conjunction with Kuhlmann Packaging, Inc. I'm not at liberty to divulge the specific film structure or printing process. But we do use films that are printed in six to eight colors, depending on the product. And we use SmartDate coding equipment from Markem Corporation to apply 'Best If Used By' dates, lot numbers, time stamps, and production line numbers to the bags for trace-back purposes," explains Tirado.
Companies in this article