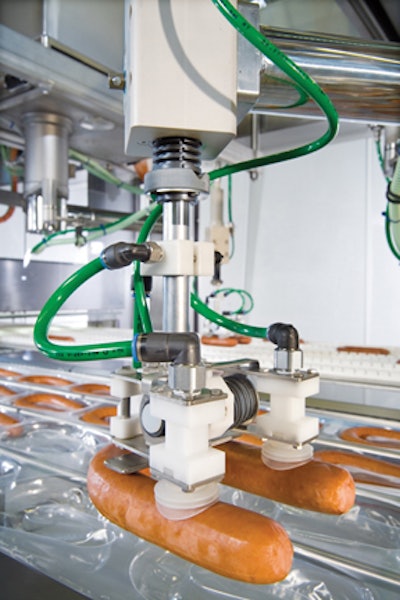 As the Robotic Industries Association (RIA) recently reported, North American-based robotics manufacturers emerged from nearly two years of declining sales to see new orders jump 16% in units and 30% in dollars in the first quarter of 2010 as compared with the same quarter in 2009. During that time, North American manufacturing companies ordered a total of 3,069 robots valued at $208.1 million. Further positive indicators show that the first quarter of 2010 was also 35% better in units and 45% ahead in dollars over the last quarter of 2009.
"Nearly every major user industry increased its purchases in the opening quarter of 2010," RIA reports. "Especially strong gains were seen in robot sales to the semiconductor/electronics/photonics industries as well as food and consumer goods." Recent installations in packaging plants worldwide—from food to pharmaceuticals—provide examples of the many ways in which automation is being employed to increase efficiency and productivity, reduce costs, and improve product quality.
Product handling put to the test at Twizzlers® Candy plant
Twizzlers® candy from Y&S Candies, Inc., a division of The Hershey Company, is an American candy favorite, known for its sticky, pliable consistency and sweet fruity flavors. However, some of the qualities that make it such a satisfying treat also make it a product packaging challenge.
Y&S produces and packs all conventional Twizzlers® candy varieties in a 290,000-sq-ft plant in Lancaster, PA. Since 2000, it has added automation capabilities to most of its nine packaging lines, replacing manual operations as product demand has dictated. Most recently, the company automated two of its packaging lines with MPK 50 robots from Motoman that transfer the candy products from processing to packaging, without losing a single soft, sticky strand.
Twizzlers® Twists are made through a process where the candy is extruded onto a flat board and then dried. In the past, up to eight operators were needed on each line to remove the boards from the drying racks, pull the strands of candy from the boards, and then place groups of candy into the infeed of a flow wrapper for packaging. "Before automation, those manual jobs were basically our highest-risk operations," says Jake Wildes, packaging systems engineer for Y&S. "Those positions required a lot of repetitive motion."
Y&S's directive for Motoman was to find a solution capable of taking candy from a discharge belt and placing it directly onto film feeding a Hayssen flow wrapper. Y&S required that the candy be placed precisely in position on the film, which is fed into the machine on a 16-ft infeed, at a rate of 30 boards/min.
In Wildes' opinion, the biggest challenge for the Motoman system would be to place the candy where it belonged on the film the first time. "When Twizzlers® Twists are made, they are kind of like ropes. They are flimsy, and at times they can be sticky or oily. So they tend to stick to one another when you pack them into a bag," he says. "The hardest part is transferring that group of candy onto the wrapper film without losing strands over a transfer or having them hang up. Or when they get dropped on the film, they might fall out of order.
"We were trying to get away from any kind of traditional infeed—like a bucket infeed or a metering system. The Motoman system sets the candy directly onto the film, which eliminates all transfer points, eliminates pieces getting lost in the transfer, and eliminates the transfer that causes groups to become misaligned."
In conjunction with the Motoman robots, Y&S added what it calls a Skiver system to the lines that automatically removes candy from the board. Used for some time on another Twizzler line, the Hershey-engineered Skiver takes the Twizzlers from the board and groups them on a discharge belt in the same orientation they held on the board.
To precisely pick the candy from the discharge belt, Motoman's MPK 50 four-axis, 50 kg-payload robots use an aluminum boom that measures approximately 55 in. and is fitted with a series of five, six, or seven grippers, depending on the Twizzler® candy variety being run. Delrin thermoplastic grippers pick the required amount of candy from the belt, move to the wrapper infeed, track the film at speed, and release the product onto the film when triggered by a photoeye at the infeed. The robots are equipped with the Motoman DX100 controller.
In the six months since the new robots were installed, Wildes says Y&S has seen greater efficiency and productivity, as well as less film waste, and "labor savings are huge." He notes that both lines are running at speeds well above those achieved when the lines used manual operations, with one of them at times running 150% of the previous standard. "We also have less rework and waste, and less product being lost at transfer points," he adds.
Robots replace octet of operators for sausage picking/placing
Unilever's production plant in Oss, The Netherlands, is equipped with state-of-the-art technology. Nevertheless, until recently, up to 230,000 smoked sausages were laid in the thermoforming machine by hand every day. For a long time the company searched for an automated process for this function that could offer reliability at a price that would quickly pay off. Ultimately Unilever chose a robotic solution from Gerhard Schubert GmbH that offers standard components to accomplish this complex operation.
The entire European market is supplied from the Oss facility. To achieve a daily production of up to 230,000 pieces, the high-performance line runs continuously. In the past, eight employees per shift were required to lay the sausages onto the film sheet of the Multivac deep-drawing machine. At a speed of 10 cycles/min, Unilever faced a real challenge in finding an automated replacement. The machine would have to, figuratively speaking, be able to see and have a delicate touch. It would also have to be fast, untiring, and make no mistakes. Unilever found that it would be very expensive to have a special machine designed for this high-tech application—too expensive for this purpose.
Schubert's TLM packaging lines consist of basic system components that have been proven in the field. The company's related VMS controller tackles highly complex tasks, offers a high degree of flexibility, and enables a reduction in the scope of the mechanical system used, Schubert says.
The reduction in the size of the mechanical system also enables a compact design, which was ideal for Unilever, as it had limited available space. To handle the smoked sausages, Schubert installed two TLM-F44 picker stations with two TLM-F4 robot units each, which easily fit into the approximately 16-ft extended product insertion section.
A reflected light scanner detects the position and condition of the products on the feeding belt. The scanner, developed especially for use in TLM lines, is said to provide distortion-free images and homogeneous lighting. On the image-processing level, it is equipped with mathematically robust algorithms that enable safe and correct decisions to be made.
One challenging situation at Unilever is that torn-open areas in the sausage skin are low-contrast and are therefore very difficult to detect. The software's texture operator functions can nevertheless find and quantify these characteristics, even at a belt speed of approximately 59 ft/min.
The end-of-arm tool is a lightweight suction gripper especially produced for the customer to accommodate the product's surface moisture, weight (up to 375 g), and U-shape, which is not always uniform. A mathematical morphology approach helps determine whether the two "legs" of the U-shaped sausage are of equal length. During the transfer process, the two vacuum suction cups move so that the legs are pulled together somewhat. This achieves the required horseshoe shape during placement. The controller coordinates the continuous movement of the feeding with the intermittent mode of operation of the thermoforming machine. A rotary encoder is integrated in the thermoforming machine, which detects the positions of the individual product placements. As a result, the picker can also insert products during film feed. This feed is not released until it is confirmed that complete packing patterns have been produced.
After using the robots for several months, Unilever is pleased with their performance and accuracy. The robots transfer up to 162 sausages/min or 2.7 pieces/sec, with a line efficiency that is consistently between 98% and 99.8%.
Robotic rotary palletizers turn the tide for fishery
The largest seafood production facility in North America, Seattle-based Trident Seafoods' remote Akutan, Alaska, plant sustains a year-round frozen seafood operation capable of processing more than 3 million pounds of multiple species per day. Akutan's precise daily production varies depending upon the season, with products that include Alaska king and snow crab, Pacific halibut, and Alaska pollock, including frozen fillets, blocks, and surimi, as well as fishmeal and oil.
Until 2008, the company relied upon operators working in a brutal, 20-degree below zero freezer environment to manually palletize cases of frozen product fed from five lines. Due to the harsh conditions and the moderate speed of the lines, the quality of the stacked pallets was sometimes low, as operators struggled to keep up.
One obstacle to automation, Trident believed, was the range of product SKUs coming off each line that needed to be identified for placement onto the right pallets.
Explains Richard Owens, western regional sales manager for FleetwoodGoldcoWyard, who helped Trident automate their palletizing operations, "Trident has multiple SKUs coming off of the lines simultaneously, a process which might have a 10-pound box of four-ounce fillets coming through, and the very next box could possibly be a 25-pound box of eight-ounce fillets. Each SKU has its own pallet, which needs to be designated accordingly. Therefore, not only were they bringing product through at a high rate of speed, but they were also bringing assorted products through."
In early 2008, Fleetwood installed on Trident's IQF flash-frozen fillet line a robotic rotary case palletizer equipped with a KUKA KR 180-2 PA Arctic frost-proof robot capable of handling up to eight different product SKUs at one time. The unique solution positions the robot in the middle of an eight-station turntable. After cases are identified at the conveyor infeed via two Accu-Sort bar-code readers, the robot places them in their specific zone on the turntable.
Once a pallet is complete, the turntable rotates until it is in-line with the discharge conveyor. Notes Owens, "The robot can continue to palletize while this is happening, even though everything has been realigned to a new position." The system is controlled by an Allen-Bradley CompactLogix PLC.
In May 2009, Trident added two more robotic rotary case palletizers. With the three systems, Trident can now automatically palletize up to 24 different product SKUs at one time. The first line installed accommodates 10- and 25-lb cases, while the second and third both handle 40- and 60-lb boxes. The IQF line runs at up to 8 packs/min; the block lines at a combined 15 packs/min.
Companies in this article
Videos from BW Flexible Systems