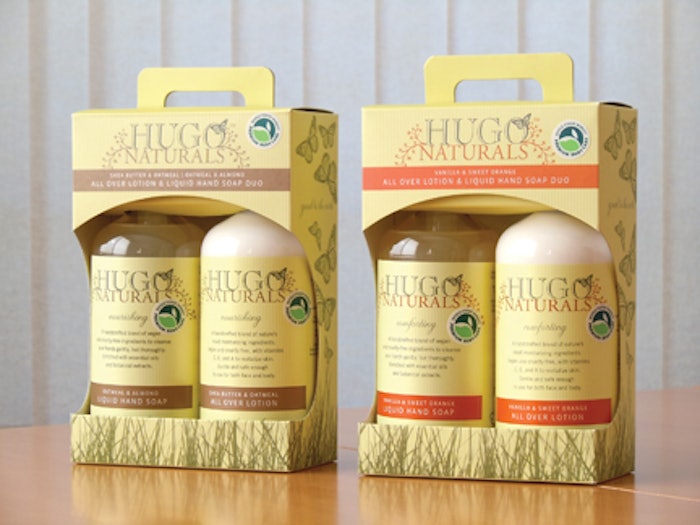 To say that Chatsworth, CA-based Hugo Naturals' organic bath and body products are good enough to eat is an understatement. The soaps, lotions, and other products fragrant with the scents of vanilla, orange, lavender, and honey, among other delicious aromas, in fact contain such a purity of natural ingredients, that they are actually edible. Now, with Hugo Naturals' latest launch, a two-bottle gift set packed in new "planet-friendly" carton material, the company's packaging is looking to nature for solutions, as well.
Launched last spring, Hugo Naturals' All Over Lotion & Liquid Hand Soap Duo gift set is among the first products to use new EarthBoard® from R&D company Smart Planet Technologies, Inc. (SPT). EarthBoard is a new packaging material made from 100% recycled fiberboard with a premium surface made from powdered natural minerals. The carton's limestone-based coating provides for a bright-white printing finish without the use of bleached virgin board and offers a barrier that is said to exceed that of polyethylene-coated cartons.
Says Hugo president Debra Saavedra, who co-founded the bath and body company with her husband, Hugo, "We have always used PET on the plastics side of our packaging, but when it came to the paper-carton side, it was challenging to find something that was green and sustainable that would also carry the quality standards that we needed for the line to look really top-end. Our line is pitched as an affordable, luxury product. So along with luxury, we need the colors to be very rich and vibrant, and that was not attainable before."
Disruptive carton technology developed
Hugo Naturals launched its first organic bath and body line in 2006 based on the couple's experiences in organic herb farming. "Our background and our roots are in herbs," says Debra. "As such, we are fanatical about the purity of our products. Everything is made from a food perspective.
"Having such an exquisite, pure line, we are also very concerned about the packaging. Our message to our consumers is that we are a sustainable and green line, and we don't use things in our packaging or our products that are going to harm people or the earth."
In 2009, when Hugo Naturals learned of EarthBoard at the Natural Products Expo West event, Debra says the company was intrigued. "We were looking to beef up our packaging from bleached virgin board, where trees have to be felled to make the packages. We were looking for an alternative that would be high-end enough for the product and also affordable enough for our startup budget."
EarthBoard was developed by SPT chief technology officer Chris Tilton, who has 30 patent filings as inventor of Earth Coating (EC) composite technology. The vision for the technology, he says, came from "investigating how abundant, low-cost, natural earth-based minerals might be productively used as a primary eco-component in packaging structures."
While already routinely used as an economical filler in resins for thermoplastic films and injection-molding applications, limestone—or Ground Calcium Carbonate (GCC)—has its limitations in these applications due to its density, explains Tilton. "Despite the low cost of minerals, they are inherently more dense. Thus, at some point, the weight of the mineral-containing structure diminishes the yield to the point that the cost-reduction benefit of the added mineral is mitigated because of the negative impact of per volume or per surface area yield," he says. "Therefore, used only as a filler, the value of mineral content is curtailed by cost considerations."
However, no such limitations exist with the use of minerals in fiber composites, Tilton discovered, as the total mineral weight in a fiber composite is much less than in a blend strictly made from resin. Thus, SPT patented GCC's use in composite packaging.
During its R&D with the material, SPT discovered that when GCC is used to replace a significant amount of PE in a coated fiberboard application, not only does it reduce the cost of the packaging versus traditional PE-coated board, but it also offers a number of other environmental and functional benefits, as well.
According to Tilton, mineral-based layers:
• Can be used as an inner or outer package surface, or both, when combined with a fiber composite.
• Can be applied using extrusion-coating and extrusion-lamination techniques to fiber/paperboard in calipers from about 0.25 mil to about 2.0 mil when used as coatings, allowing for custom applications.
• Improve Moisture Vapor Transmission Rate (MVTR)- and oil-barrier characteristics, with up to 60% or better MVTR performance per caliper versus unfilled PE, and they greatly reduce the amount of plastics in the structure.
• Offer deep, white, opaque, very high-quality printing surfaces without the use of bleaching agents.
• Reduce the amount of fiber required for a structure, potentially reducing energy and water use versus paper products.
• Can waterproof the surface of folding cartons.
• Add pliability and memory, as well as wrinkle-resistance, to folding cartons.
• Use ingredients that are 100% sustainable, since they originate from and are returned to the earth.
• Allow for the use of recycled fibers in a composite carton.
• Are fully FDA-compliant for food contact.

The hurdle for SPT since patenting the composite technology has been to implement an entirely new supply chain from the ground up to engineer and apply the coatings, as well as print and convert the material. "This included testing, pilot production runs, and partnerships," explains Tilton. "Since the scale is so large—a multi-billion dollar market—this long and technical process has been very challenging to complete successfully." Today, SPT licenses the EarthBoard technology to printers and converters, including Menasha Packaging Co.

First user a perfect fit
In 2009, Hugo Naturals was interested in launching a hand soap and lotion gift set for retail and saw new EarthBoard as a perfect means to green their packaging. "The carton needed to be sturdy enough to hold the weight of the lotion, which is almost a pound, as well as the weight of the soap," Saavedra explains. "It also needed to be moisture-resistant, not that the carton is meant to be in water, but because it is holding a product that could leak out, and we don't want spotting if that were to happen."
A premium, bright-white appearance was also essential. "Hugo desired a very high-quality print surface, yet wanted to use primarily recycled paperboard," recalls Tilton. "They also wanted to reduce the number of trees being cut [14 to 16 new trees are required per ton of virgin board], the energy used in the paper-milling process, and the use of water. The rich, natural texture of a mineral-based surface also greatly appealed to them."
At the Natural Products Expo in spring 2010, Hugo Naturals trialed two gift-pack varieties—Oatmeal & Almond and Vanilla & Sweet Orange in 12-oz PET bottles—packed in 20-pt EarthBoard cartons. The EarthBoard solution comprises two layers: a 16-pt 100%-recycled clay-coated newsback and a 4-mil-thick mineral layer. As Tilton explains, the mineral layer is made up of 70% GCC and 30% LDPE, which is used as a bonding agent. The two layers were roll-to-roll laminated by American Graphic Board. Originally sourced overseas, mineral films used in EarthBoard are now domestically available through ISO-Poly Films. The carton has a whiteness level of 86 and an opacity of 88.
Since then, SPT has advanced its coating-application technology to allow for extrusion coating and extrusion lamination of the mineral-based layer onto the fiberboard, reducing the amount of LDPE required to 2% or less by weight of the carton, while "greatly increasing capacity and lowering costs," Tilton says. Standridge Color Corp. supplies the mineral-based coating for the extrusion process, which will soon be used for the Hugo Naturals application.
Among the environmental advantages of the new Hugo Natural carton versus a standard SBS box, EarthBoard uses 20% less water during production, as well as 20% less fiber, and does not require any new trees to be felled. The carton is printed by Imperial Printing in four process and three spot colors using a seven-color, 40-in. offset press. As Saavedra confirms, not only were there no challenges during the printing process, but the resulting graphics also perfectly match Hugo Naturals' existing branding.
And finally, EarthBoard provides consumers with a palatable end-of-life solution. When EarthBoard is constructed with a mineral-based layer of approximately 1.5 mil or less in caliper, achieving a polymer content of 2% or less by weight, as is planned for Hugo Naturals, it qualifies as recyclable under the Institute of Scrap Recycling Industries, Inc.'s (ISRI) Scrap Specifications Circular in both the Specialty Paper Grade and Consumer Residential Mixed categories.
Packaging supports pure message
After its early debut in Spring 2010, the EarthBoard carton for Hugo Naturals' new gift set received "a fantastic response," says Saavedra. "I had some key buyers from Whole Foods who wanted to know who else might be using the packaging so they could support it," she adds.
In May, the products in EarthBoard officially launched in PCC Natural Markets and Marlene's Markets in Washington, and will appear on Whole Foods' store shelves in the fall. In addition, Saavedra says Hugo Naturals is now planning to use the new carton material for some of its other products, as well. "It has a really nice texture, a really smooth, tactile kind of feel to it," she says. "I think the message is going to come across even more when the consumer can feel the difference."
Saavedra hopes that prominent copy on the back panel of the gift-set package proclaiming the company's use of EarthBoard will further enhance Hugo Naturals' pure and natural position. "Consumers are demanding more from green products, and it's a good thing," she says. "Especially in stores like Whole Foods, you have people who are reading labels and checking out the packaging. It is an important part of the whole experience to be able to deliver something that's pure and wonderful that is also packaged in a pure and wonderful way, as well."
Companies in this article