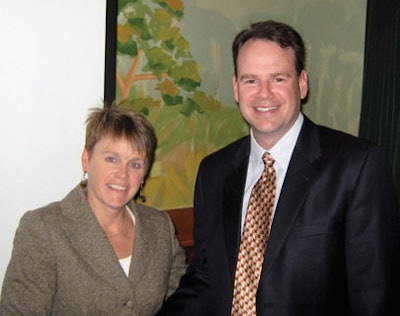 Given the fact that the Centers for Disease Control estimate that each year as many as 76 million Americans become ill from some type of food-borne pathogen or bacteria, it's also no surprise the issue is top of mind for brand owners and consumers alike.
Whether it was last year's massive peanut recall due to salmonella contamination or a more recent, albeit smaller-scale, ice cream recall due to a packaging error, the preparation, transportation, and packaging of America's food supply is under scrutiny. Unlike other industries, like pharmaceuticals, that are heavily regulated, the food industry by comparison has thus far avoided significant government intervention into its facilities and practices.
But the times, they are a changing. In March of 2009, the current administration announced the formation of a Food Safety Working Group tasked with upgrading our food safety laws for the 21st century. The administration has also requested $1 billion to be earmarked to hire additional inspectors and invest in modernizing laboratories.
If you're old enough (and I am...), you'll remember the Tylenol scare of the 1980s. What could have easily destroyed the iconic brand instead became an opportunity to re-examine the safety of the products we consume. From a tactical standpoint, we saw the packaging industry respond with tamper-evident features that have become the standard—not just for OTC pharma products, but a bevy of food and other consumables. Tamper-evident packaging has become something that consumers expect, a feature that engenders trust in the package, the product, and the brand.
From a strategic perspective, Tylenol taught any brand owners facing a massive recall a couple of valuable lessons: be proactive and remember it's all about trust. As soon as Johnson & Johnson realized the poisonings were the result of tampered Tylenol products, the company advised consumers to avoid all Tylenol pain relief capsules until the situation was better understood and under control. Nearly 30 years later, Tylenol remains one of the most popular, and trusted, OTC pain medications.
Recognizing an emerging need in its own back yard and armed with the vision that "packaging reduces, not creates, food safety issues," the Food Safety Alliance for Packaging was born about three years ago. Consisting of a coalition of consumer packaged goods companies like General Mills, Kraft, and Campbell's and packaging supplier companies like Alcan, Sonoco, and MWV, the association recently merged with the Institute of Packaging Professionals. IoPP will help FSAP continue its work to develop training tools to elevate food safety awareness throughout the industry.
This new IoPP/FSAP initiative was a featured topic at the November 17 Chicago Chapter meeting of IoPP. Wynn Wiksell, manager of packaging QRO at General Mills and chairman of FSAP, joined IoPP president Jane Chase to announce the merger of the two organizations.
At the meeting, Wiksell observed that FSAP has developed HACCP models for packaging materials in the categories of cartons, rigid plastics, cut-and-stack labels, and composite cans. He also shared a surprising statistic: When it comes to food industry recalls, 55% of them were caused by improper labeling involving, for example, food allergens. If more than half of food recalls today are labeling-related, it only makes sense that food manufacturers should want to engage packaging suppliers in elevating food safety awareness. "We must protect our brands," said Wiksell. "Complacency is the enemy."
When it comes to food safety, perception is reality and serious problems can reach beyond the brand to damage an entire category. A proactive approach sounds like just what the doctor ordered. For more information, visit www.iopp.org or www.foodsafetyallianceforpackaging.com.

Companies in this article