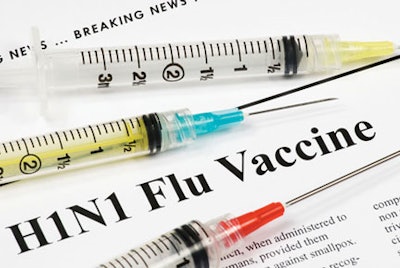 Johnson & Johnson's early-November announcement that its restructuring initiatives would eliminate 6% to 7% of its 117,000 global workforce makes it easy to doubt that the recession is over. The overall employment picture in the life sciences/healthcare industries is uneven, yet sales forecasts from market research firms such as Pira, BCC Research, URCH Publishing, and Euromonitor provide a beacon of hope for packagers of healthcare-related products.
Healthcare reform, industry consolidation, and H1N1 vaccine availability dominated the headlines during the past year. As the calendar turns to 2010, packagers of healthcare products will continue to operate in an environment of economic concerns, patent protection issues, and an evolving regulatory landscape.
"The continuing high price of medicines in the U.S. has major implications for the distribution system as price-conscious individuals and employers seek strategies to obtain cheaper products," notes Dr. Faiz Kermani, author of "Pharmaceutical Distribution in the U.S.—Current and Future Perspectives." It was published by URCH Publishing, publisher of market intelligence reports covering the global pharmaceutical and healthcare industry.
Among the findings of the report:
• In 2008, the U.S. pharmaceutical wholesale market was worth $275 billion.
• McKesson, AmerisourceBergen, and Cardinal Health, Inc., known as the "Big Three," account for between 90% to 95% of revenue within the U.S. pharmaceutical wholesale sector.
• The Big Three have been responsible for more than 100 buyouts since 1980, at least 57 of which have occurred over the past decade.
• It is estimated that U.S. chain drugstores currently account for 41% of all prescription sales, with the dominant players being Walgreens and CVS Caremark.
• A change from wholesale to direct distribution in the U.S. is unlikely. A U.S.-wide direct distribution model would cost the pharmaceutical industry $47.9 billion to operate. This would represent a 15.5% increase in current distribution costs.
Employment
During the darkest days of the recession, pharmaceutical and healthcare-related firms announced layoffs that numbered in the thousands, with packaging positions caught in the downsizing. Although several economic pundits have dubbed this, "a jobless recovery," that's not necessarily true in the healthcare sector.
"2010 will be very different from 2009 in the area of employment. While 2009 will be remembered for the recession and unemployment hovering near double digits, that trend is turning around fast in the healthcare packaging world," says Paul Sturgeon, certified personnel consultant and account manager, KLA Industries, a recruiting firm that specializes in plastics and packaging.
Sturgeon tells Packaging World, "We've had 21 recessions in the U.S. since 1900, including four since 1980, and the employment pattern is fairly predictable. The first couple of quarters, everyone focuses on cost cutting, which will include a hiring freeze and possibly layoffs. Then companies realize two things: First, that it is a reasonable survival plan but not a sustainable business model; and second, there will be an expansion phase [we've also had 21 of those since 1900], and there is nothing a CEO fears more than not being in position to capture market share during a recovery.
"Since the healthcare industry is less sensitive to economic cycles than the overall economy, this employment pattern is accelerated in areas such as pharmaceutical and MDM [medical device manufacturing] packaging.
Sturgeon says Dick Simmons, medical business manager at Sealed Air Medical Applications, "foresees adding sales, quality, and technical staff in the coming year. We see healthy growth across our product lines," he quotes Simmons as saying. Sturgeon adds that Rod Patch, worldwide packaging manager at J&J's DePuy Orthopaedics, agrees, assuming forecasts that show demand increasing in 2010 prove to be accurate. "2009 was a cautious year for resources," Sturgeon says, quoting Patch. "He says that experienced packaging design engineers will continue to be in demand, driven by increasingly customized designs, automated packaging processes, and the wide range of materials now being used in healthcare packaging.
"Universities are increasingly taking note of the need for skilled healthcare packaging professionals," says Sturgeon. "Several schools offer programs in Packaging Science and courses in medical packaging, including Michigan State and the Rochester Institute of Technology (RIT). Alison Tyler, technical director at Beacon Converters, is also an adjunct professor at RIT. Her course is centered on industry consensus standards ISO 11607 and TIR 22."
Sturgeon says that Tyler explains she "has a lot of fun teaching this course—Medical Products Packaging is a senior-level elective, so the students have an interest in learning about medical device packaging and many are heading to a co-op or full-time job at a medical device or pharmaceutical company. The students create a medical device—and the sky is the limit on complexity and creativity—then use the industry guidelines to establish device attributes, sterilization techniques, distribution and handling, etc., to select materials, design the package, and design the protocols for assessing their choices. Many of the students' final projects have been exceptional," adds Tyler.
Another bit of good employment news comes from Prestige Ameritech. The company is turning a 22,000-sq-ft vacant, former Kimberly-Clark surgical mask factory into a Global Pandemic Preparedness and Response Center in North Richland Hills, TX, that will open by January 31, 2010. The company hopes to create 200 jobs in the next few years. "Prestige Ameritech will provide U.S. healthcare systems with a secure, high-quality, American-made surgical mask and respirator supply that cannot be diverted by foreign health agencies during global emergencies," says Dan Reese, Prestige Ameritech's founder and CEO.
Rx-to-OTC switches
Beyond jobs, another hot-button issue in the healthcare packaging space concerns the growing number of drugs switching from prescription-only to over-the-counter products. As patents expire on successful drugs, private-label and generic competitors battle with original drug manufacturers for a piece of the economic pie. Such switches can push expiration dates further into the future and trigger innovation in product packaging as manufacturers address package design, labeling, validation, regulatory requirements, and other issues.
KlineBlog recently reported, "Rx-to-OTC switches continue to be an engine of growth for the OTC industry, adding new users to the OTC market from the prescription market. In fact, the top 10 Rx-to-OTC switch brands during 2008 have grown by 5.8 percent compared with a growth rate of 2.4 percent for the overall OTC industry over the same time frame. With all the competition from private labels and pressure from retailers for brands to offer more value, switches will remain a way for branded marketers to expand the price points, margins, and profitability of their OTC portfolios. Continued growth of the OTC market will be largely dependent on future Rx-to-OTC switches."
Procter & Gamble's Prilosec is a product whose move into the OTC market exemplifies how the packaging change can be executed successfully, be sustainable/environmentally friendly, and be sound from an economic perspective.
Global packaging growth
North America is the world's largest market for flexible packaging in pharmaceutical products, with France representing the most sizable market in Europe, followed by the U.K. and Germany. That's according to the pharmaceuticals and medical section of Pira's report, "The Future of Global Flexible Packaging—markets and forecasts for end-use sectors." The U.K.-based market research and consulting firm's report notes, "Most western European markets are continuing to grow, but the major growth opportunities lie in central and eastern Europe." Pira lists the following growth factors:
• Rising demand for child-resistant and tamper-evident packaging.
• In most advanced countries, safety concerns and changes in regulations have led to a growing requirement for better patient information and dose control (original pack dispensing).
• In the OTC market, competition between brands creates a requirement for eye-catching packaging, which tends to be more elaborate and expensive.
On the medical device side, the Pira report says that, "demand for single-use medical packaging has grown sharply during 2004–09." Some additional details from the report:
• Despite mounting resistance to polyvinyl chloride in Europe and North America, legislation and approval procedures frustrate the emergence of substitutes, and no other material equals PVC's optical clarity, flexibility, and low toxicity.
• Flexible packaging has a low share of the medical packaging market; the supply is highly specialized, and suppliers are slow to change packaging methods. Pack users and specifiers exercise great caution, as regulations stipulate lengthy and strict approval procedures for pack designs and materials.
Pira reports, "Consumer flexible packaging for pharmaceutical and medical products is 6.6 percent of all consumer flexible packaging volume in 2009 and is forecast to be 7 percent in 2014. Asia-Pacific is the largest market for flexible packaging of pharmaceutical and medical products, followed by North America." Western Europe and North America have the lowest forecast Compound Annual Growth Rates (CAGRs) for this period, with the highest in the developing regions of Asia-Pacific, central and eastern Europe, South America, and Central America.
Another Pira study, "The Future of Global Rigid Plastic Packaging—end-use markets," provides many similar market overview points as the flexibles report, but it refers to packages such as bottles, jars, and blisters. "Packaging developments in these markets tend to be slow because of the extended time required to gain approvals," says this report. "The original product license normally includes the packaging, and it is unusual for pharmaceutical companies to consider a change of packaging unless there is a change in product formulation (which would in any case require re-licensing), [or] a major marketing benefit in terms of on-shelf appeal or convenience for OTC medicines."
Pharmaceutical growth sectors
Three key pharmaceutical markets provide reason for optimism according to projections from market research firm BCC Research.
"This is a volatile time for the generic pharmaceutical sector," says BCC's report, "Generic Drugs: The Global Market." "The demand for generics is increasing steadily because of pressure to control healthcare costs. At the same time, fierce price competition is resulting in slashed profit margins for participating companies. A major growth driver for the generics sector is that several blockbuster pharmaceutical brands are coming off patent and are therefore open to generic competition.
"And the international landscape is changing for generics as for all pharmaceuticals. China, India, eastern European countries, and Brazil are among rising centers of generic activity." The report says the global market for generic drugs was worth $84 billion this year and is expected to reach $129.3 billion by 2014. That represents a 9% CAGR. Generics account for 6% of the market in Japan, 10% in the U.S., and almost 18% in Germany.
Meanwhile, BCC predicts the global market for advanced drug delivery systems will increase at a 7.2% CAGR to $196.4 billion by 2014, up from $134.3 billion last year. BCC's report, "Advanced Drug Delivery Systems: New Developments, New Technologies," says, "The drug-delivery market is now changing drastically due to the introduction of new techniques and routes of delivery." Monoclonal antibodies made up the largest market among all the drug-delivery products, with $35.9 billion in sales in 2008. Sustained-release, oral-dosage products were next with $35.1 billion in sales last year.
BCC's "The Global Market for Pain Management Drugs and Devices" report projects an 11.5% CAGR from last year's $19.1 billion market to $32.8 billion by 2013. The report notes, "The aging U.S. population is having a major impact on the pain management market as the baby-boom generation reaches the vulnerable state in which chronic diseases are common."
Sustainable packaging
Pharmaceutical and medical device packaging must not only protect product so it is safe and effective for patient use, but also meet a variety of regulations. And now, as consumers demand more environmentally friendly packaging, healthcare packagers are paying more attention to this growing challenge.
Pharmaceutical and medical device packaging fit into an industry association-sponsored educational effort, "The Responsible Package," that touts the benefits of paper, paperboard, and corrugated. It is estimated that more than 200,000 tons of paper-based packaging material, mostly solid bleached sulphate (SBS) paperboard, is utilized for individual packages of pharmaceutical and medical products.
With the October launch of The Responsible Package campaign, the Paperboard Packaging Alliance (PPA) and the Corrugated Packaging Alliance (CPA) want to spread the word that "paper, paperboard, and corrugated are sustainable packaging solutions made from a renewable material and recycled at very high levels," notes Peter Heist, vice president of Intl. Paper and chairman of the PPA, a joint initiative of the American Forest & Paper Assn. and the Paperboard Packaging Council. The CPA is a joint initiative of the AF&PA, the Assn. of Independent Corrugated Converters, and the Fibre Box Assn.
He notes that paper-based products are easy to open as well. But the primary push of this initiative focuses on paper's environmental benefits. "There is going to be more and more emphasis on sustainability," says Heist. "I think paperboard has a great story to tell in that it is sustainable and renewable. Across packaging in general there is a [drive for] both smaller and lighter-weight packaging. We are constantly moving down the path of offering products with similar stiffness and strength properties, but with thinner or lower calipers; 'down-calipering,' in our parlance."
E-pedigree, design, and innovation
E-Pedigree legislation continues to be a key issue in the healthcare packaging community. "What has happened in the last four years is there have been a lot of state regulations going into effect. California was going to require as of January 1 of this year that every product be serialized. Then they ended up moving that deadline back," explains Jim Stroud, CEO at Golden State Medical Supply, a specialty pharmaceutical contract packager in Camarillo, CA.
"We are hoping for a federal regulation to be enacted. There is a health bill—H. R. 5839—that we are hoping will be passed soon because it will create a uniform requirement for the whole country," he says.
Stroud believes that GSMS is at the forefront when it comes to implementing serialization and e-Pedigree in packaging. "We saw the laws coming into effect in California. We started working on this, and even when they postponed them, we opted to stay on track and stay ahead of everybody else," he says.
Package design and innovation
In his "Pharmaceutical Packaging Handbook," 2006 Packaging Hall of Fame inductee Edward J. Bauer adds compliance or adherence to drug regimens, unit-dose packaging, reimbursement for pharmaceuticals, and material advances as key pharmaceutical packaging issues.
In the book, Bauer concludes, "There are plenty of issues facing pharmaceutical packaging. They range from materials to delivery methods. They require packaging improvements and the development of new packaging. They are problems that will take years to solve."
Healthcare packagers can sometimes learn from their peers in the food and beverage space. In its Pack Expo Las Vegas press release, Silgan Containers says its "commitment to research has uncovered that investing in innovation and marketing during an economic downturn is an important factor in securing current and future growth."
The food can manufacturer's research references Martin Lindstrom's "Buy-ology," in the press release, saying the book "points out that brands investing in marketing during a recession tend to gain market share, even when the recession ends."

Companies in this article