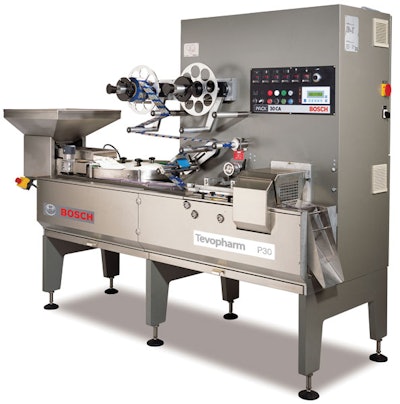 Piedmont Candy Co., Lexington, NC, specializes in puffed (air-injected), melt-in-your-mouth, soft mint candies. Marketed under the Red Bird brand, the individually film-wrapped candies are packaged in bags, jars, canisters, and cartons in volumes from 5 to 20 oz.
To meet growing product demand, Piedmont wanted to upgrade its film flow-wrapping equipment to achieve higher packaging speeds. The puffed candies present a special packaging challenge due to their irregular shapes. The company evaluated available wrapping systems and installed its first high-speed flow wrapper, the Tevopharm Pack-30CA from Bosch Packaging Technology , in 1999. Pleased with the performance of that system, Piedmont has phased in six additional Bosch flow wrappers over the past several years.
Bosch's Pack-30CA is a modular machine with a minimum of mechanical parts. Custom-built according to Piedmont's requirements, each machine delivers wrapping speeds of 1,000 parts/min, using polypropylene wrapping film supplied by Master Packaging Inc. The automated, servo-driven systems also offer the benefits of being easy to operate, to clean, and to change over to different products.
Piedmont Candy's president and CEO Chris Reid says, "We chose the Bosch equipment because it could deliver the speeds we needed, and because Bosch has a good reputation for offering some of the highest-quality candy wrappers on the market. Each time we have installed a new wrapper, a Bosch technician has come in to help us set it up. After that, we can handle the maintenance in-house. Maintenance on these machines is minimal."

Companies in this article