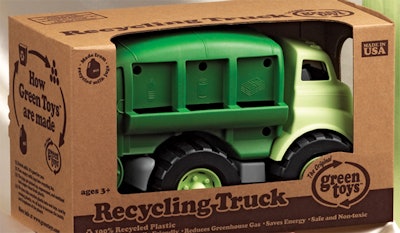 Green Toys, Inc., San Francisco, has worked with Unisource Worldwide, Inc. (www.unisourcelink.com and www.unisourcegreen.com) to create 100% recyclable corrugated box packaging for a range of toys. Their joint sustainable packaging efforts have earned a Greener Package Award.
The toys themselves—including tea sets, trucks, sandbox play sets, and jump ropes, to name a few—are made from 100% recycled milk containers. Unisource has created 100% recyclable corrugated boxes and plastic-free inserts to package the toys. Neither the toys nor the packaging contain traceable amounts of phthalates or external coatings.
Green Toy approached Unisource with five packaging criteria in mind:
1) Use 100% recyclable materials;
2) Enable consumers to see and touch the packaged toys within the packaging;
3) Use no plastics or cellophane in the packaging;
4) Secure packaging tamper evidence without the use of wires, screws, or twist ties; and
5) Enable the toys to be easily removed from the packaging once it's opened.
The package designs require a minimal material footprint and use recycled board and soy-based inks. By optimizing shipping-cube efficiencies and working with a local core packaging materials supplier, Unisource also was able to minimize shipping costs and distances, further reducing the overall carbon footprint. The easy-to assemble, easy-to-open packaging, made from 100% recyclable kraft corrugated e-flute board, is earth-friendly and recycling bin-ready.
Greener Package Awards judge Brad Rodgers, manager of packaging and sustainability for Frito-Lay, says, "This is a very good package for a very good product. I think this one is right on track for this type of award."
See other
Greener Package Award winners
Companies in this article