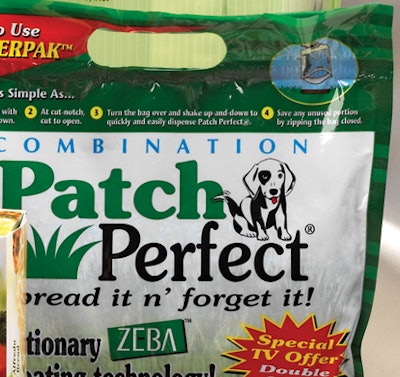 Foster Turf Products, San Marcos, CA, has partnered with Ampac Flexible Packaging (www.ampaconline.com) to develop and introduce the ShakerPAK™ pouch for Patch Perfect—a coated grass seed product. This development has garnered a Greener Package Award.
ShakerPAK is a flexible, stand-up pouch concept that improves product display, enhances end-user convenience, and replaces a heavier-weight, rigid HDPE plastic packaging option. It incorporates easy-carry handles, unique dispensing technology, and reclosable zippers—all helping consumers avoid direct contact with the chemically treated, fertilized grass seed.
The proprietary technology utilizes a separate, perforated-screen gusset in the bottom of the pouch with perforations sized to dispense product only when the bag is shaken. In order to achieve this perforated gusset inside the pouch, a separate web had to be sealed from the main outer panels of the pouch. Sealed into the bottom of the pouch, this separate web incorporates a tamper-evident, laser-scored tear strip and a press-to-close zipper below the perforated, grass seed-dispensing area.
The previously used HDPE containers required rigid plastic dispensing lids and printed paper labels, along with all the energy needed to produce the various packaging components. The new pouch packaging yields significant savings in shipping weights and requires 94% less storage space. Specifically, 230 empty pouches can be stored and shipped in the same amount of space that would accommodate only 12 of the rigid HDPE containers. And 7,104 pouches fit in the same space on a pallet as 300 of the thermoformed jugs.
See other
Greener Package Award winners
Companies in this article