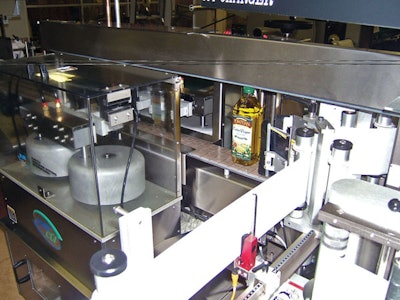 Liquid nitrogen dosing of PET bottles, two new "tri-block" filling machines, and new labeling equipment selected largely on the strength of how easy it is to change over—these are the highlights of what has been a very busy year at Baltimore-based Pompeian Inc., a leading maker of olive oil, vinegar, and cooking wine.
The need for liquid nitrogen dosing is, as vice president of operations Kevin Lydon puts it, "a bit of a mystery." Ordinarily it's used in PET bottles that, because they're hot-filled with non-carbonated products, develop an internal vacuum once they're capped and begin to cool. The liquid nitrogen turns to gas that prevents buildup of internal vacuum pressure and, consequently, prevents bottle sidewalls from collapsing inward.
The PET bottles of cooking wine filled by Pompeian are not hot-filled. But for reasons that aren't entirely clear, the normally round bottles were flattening inward, or panelling, due to the buildup of internal pressure. "Even though the product inside was fine, the shelf appeal was diminished," says Lydon. "Consumers equated a misshapen bottle with poor quality."
To remedy this problem, Lydon installed on its cooking wine packaging line an UltraDoser SC 350 liquid nitrogen doser from Cryotech International (www.vbsflex.com). It automatically adds less than a drop of liquid nitrogen to each bottle—at 70 bottles/min—and as the liquid nitrogen turns to gas, this internal pressure prevents the bottle sidewalls from paneling. Controls technology from Siemens (www.usa.siemens.com) makes the machine remarkably user friendly. Says Lydon, "We turn it on and forget about it."
At the filling station, operators select dosing options from presets programmed into a Simatic TD100 touch screen from Siemens. Immediately after filling, the proper amount of liquid nitrogen is injected into the center of the bottle at a preset PSI level. As the liquid nitrogen turns to inert gas, oxygen is expelled from the head space and the bottle is capped. "
An operator just scrolls down the screen, selects a number, and the control system does the rest," Lydon says. "It is a very complex machine that is easy to use."
Shortly after installing the nitrogen doser for its cooking wine bottles, Pompeian added another Ultradoser SC 350 to improve the container integrity and shelf life of its 32-oz olive oil and red vinegar products.
"Without the UltraDoser 350 we would have probably lost the cooking wine business because of the plastic bottle's poor shelf appearance," says Lydon. "Nobody is going to buy a product that's in a paneled bottle. We've not only improved the bottle quality, we've enhanced product longevity by eliminating the chance of oxidation in the headspace."
New fillers and cappers, too
Elsewhere in the Baltimore facility is a bottling line for vinegar and another one for olive oil. Both PET and glass are run on these lines, and sizes range from 8 to 32 oz. Since January of this year, each of these lines has received a new rinser/filler/capper and a new labeler. Both rinser/filler/capper units, supplied by WeightPack (www.weightpack-na.com), addressed a need for greater speed. The two new labelers, Model 334 Chargers from NJM/CLI (www.njmcli.com), bring considerable versatility and ease of changeover.
Each WeightPack cleaner/filler/capper is a Model WFT 24/24/8-141. The designation means there are 24 stations on the air rinse turret, 24 filling nozzles on the filling turret, and 8 capping heads on the capping turret. Filling is done by weight, so each filling station has a load cell that is controlled by an onboard controller. The filling valve stays open until a target weight is reached, at which point the valve is closed. Filling is accurate to within plus or minus 1g for every kilogram of product filled. All three turrets—air rinse, filling, capping—are mounted on a single base and controlled by a single Rockwell (www.rockwellautomation.com) controller.
"Speed and flexibility were what we were looking for with these filling systems," says Lydon. "Because changeover can be done quickly, we gain more uptime. There isn't a whole lot of tweaking."
WeightPack says the machines are rated at 225 16-oz bottles/min, though Pompeian doesn't go much past 100 bottles/min. As for changeover, the filler requires 20 to 30 minutes to go from one size to another.
The new pressure-sensitive in-line labelers on the two lines are replacements for rotary labelers.
"With the change in labelers we were looking for the ability to change from glass to plastic or from 8- to 32-oz without having to spend a lot of time and without having to pay $50,000 for each set of change parts," says Lydon. "We also wanted to make sure the labelers came from a company that was going to be around for the long haul."
Some of the bottles that run on the line have a tapered shape, where the diameter of the bottle narrows from bottom to top. Others are squared off with four flat panels and rounded corners. The oscillating pressure station on the NJM/CLI labelers is enormously helpful in executing front-and-back labeling of these varied and somewhat usual shapes.
"It's a bit like a walking beam function," says Joe Danyow, engineering manager at NJM/CLI. "Two brushes shoot out and wipe the labels down while traveling a snort distance with the bottle as it's conveyed forward. Then the brushes retract and stroke back to repeat their function on the next bottle."

Companies in this article