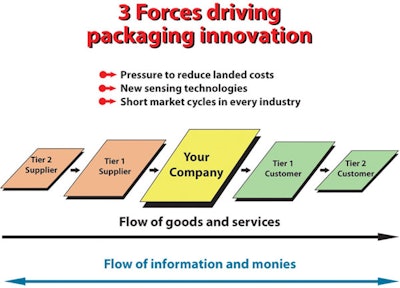 "Innovate or evaporate."
Most companies vying for a fighting chance in the current packaging market echo some version of this refrain.
But innovation should never be confused with proliferation. Innovation isn't about blindly cranking out more stuff. Companies must innovate in line with their customers' value chains. Understanding those value chains is an essential first step, and that gets complicated when packaging innovation is buffeted the way it is by three powerful forces.
• The pressure to reduce total landed costs
• The birth of new sensing technologies
• The ever-shortening market life cycles in every industry
These must be reckoned with if companies that participate in the packaging sector can expect to accomplish packaging innovation.
The pressure to reduce landed costs
Traditionally, the main cost components of any product are labor, material, and overhead. This is what's known as standard costing in accounting parlance. But the relentless race to stay competitive in a down global economy is challenging our view of these fundamental components. The pressure to protect profit margins is forcing companies to ask two very critical questions: What are our true total costs to serve our customers? Where else can we cut costs in our product delivery chain? With questions like these in mind, companies are trying to trim such things as scrap, rework, transportation, freight, storage, handling, after-sale customer care, and a host of other miscellaneous activities.
It's important to ask ourselves what impact this heightened awareness of cost has on innovation. It's bound to come up when we start to think about carton sizes, pallet configurations, transport loads, sustainability, sourcing, shelf dimensions, and other technical elements of packaging. These will now take on a business significance. What they cost the business will be carefully analyzed. This is why packaging innovation strategies must be critically reexamined.
The birth of new sensing technologies
The challenge of locating goods in transit was "solved" by RFID. But other problems have arisen as we track goods in transit. With the advent of global supply chains, things like counterfeiting, tampering, piracy, and pilferage have become pandemic.
Sensor technology is now emerging to address the twin problems of product integrity and business integrity to the consumer. What are these technologies? Synthetic DNA, intelligent infrared sensors, and satellite applications are just a few. As these and other sensing technologies emerge, they will dramatically alter packaging innovation as we used to view it.
As these sensing technologies are implemented, packages become intelligent information carriers. They capture data on chemical properties, structural integrity, expiration dates, contamination evidence, and freshness. With that being the case, packaging innovation has to focus on more than physical encasement. It must now begin to consider informational enrichment.
Short market life cycles due to mass customization
The fight to grow market share has led companies to customize their product offerings to an extent few would have predicted just a few years ago. Standardized fare fit for all just won't do.
Take the case of Frito-Lay. They've found countless ways of bringing corn and potato to the consumer. How can this product-side multiplicity not have profound implications on the packaging innovation side of things?
Pharmaceuticals is a similar story. Variations occur in potencies, dosages, and applications, which creates highly individualized prescriptions and container requirements—patches, oral doses, intravenous feeding. Those who are charged with the responsibility for packaging innovation must be aware of such things.
Where do companies go wrong?
Faced with the three forces described above, companies are doing their best to cope. But too often their effort at innovation is unsynchronized and patchy. It lacks at its core a compass for the customer's business trajectory. It really amounts to a pile of uncoordinated responses that are little more than glorified order taking. It ignores patterns and trends. It "manages" the customer as a series of orders as opposed to supporting an evolutionary sequence.
Unsynchronized innovation is ultimately bad for business. It commoditizes a company's value and leads to a domino effect that undermines the company at multiple points:
• Ill-timed or late product launches due to lack of teamwork
• Purchasing costs too high
• Fumbled product transitions
• Supplier changeovers too challenging or costly
• Unnecessary material write-offs, inventory waste, obsolescence
• Customer loyalty at stake because of logistical letdowns
• Disjointed and unsuccessful initiatives. How do we address some of these challenges? By harmonizing all activities to the point where they are in perfect alignment with the customer's value chain. It's important to ask three simple questions:
• What can we do to help our customers advance their businesses?
• What are the touch points within our company that we must link to the customer?
• How can we design systems to create a clear customer composite?
In a complex web of suppliers, manufacturers, distributors, and consumers, problems are no longer linear. They are cross-functional, cross-company, and curvilinear. You must master your upstream customer's world whether you're a manufacturer that packages product, a material supplier, an integrator, or any other intermediary in the delivery chain.
It's a matter of isolating cause and effect. From product design to sales, manufacturing to customer service, finance to strategy, virtually everyone affects a finished product before it reaches a customer. No longer is a design issue merely a design issue—it has ramifications at every level.
Given the array of touch points and transactions within a company, the following questions will clarify the larger dimensions of packaging innovation:
• What are the steps before our products get to our customers?
• What are the challenges along the way? How do these affect cost, time, value, viability, perception, and profits?

• What drives customer success? What determines our bottom line?
• What drives our total costs? • What are the core communicative flows?
• What are the decision points?
With these questions answered, management must go into educational mode. Enlighten your workforce on precisely how and why the marketplace has changed. Then tackle the essential question of how package design must adapt to this new reality.
Furthermore, teach your workforce the fundamental principles of innovation, which combine the left and right brain functions. And above all, remember two things. The cost of innovation is the cost of business. And the only successful way to innovate is by shifting your thinking to customer first.
Dan Balan is head of Intraqq, a Chicago-based consulting firm. His next book, HOW COMPANIES FAIL, is due out in December. He can be reached at dbalan@intraqq.com.