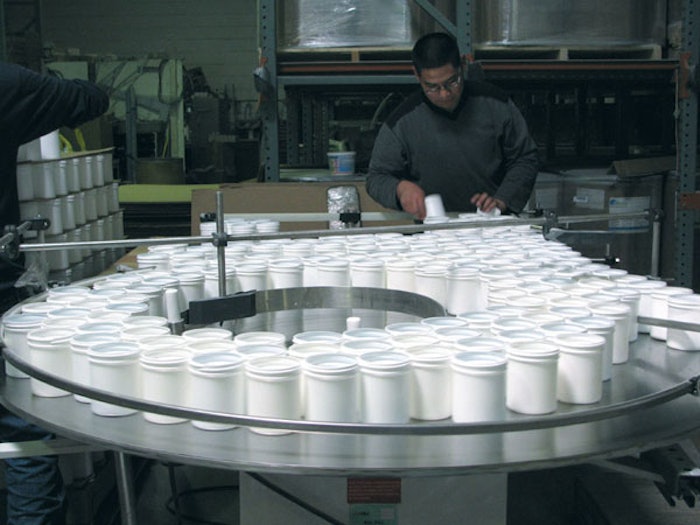 Quality assurance is paramount at APCO Packaging Inc. (www.apcopackaging.com), where turnkey services include procurement, product blending, packaging, and warehousing.
Customers control their product formulation and packaging, specifying both what and from where to procure raw product and packaging materials. From there, the Bridgeview, IL, contract packager takes over the complete job: manufacturing, packaging, and warehousing finished products.
APCO began business in 1980, providing oil-filtration products for food-service giant McDonald's Corp., Oak Brook, IL. Subsequently, the company has branched out into powdered and liquid-cleaning, personal care, and food-derived products for customers such as Orange Glo International, SunOpta, and ServiceMaster. The co-packer physically has spread out as well. It recently added an 80,000-sq-ft facility behind its original 40,000-sq-ft building. Each facility houses blending, packaging, palletizing, and warehousing operations.
According to Greg Hinton, president, warehousing of packaged and palletized product is an integral service that APCO offers. "Almost everyone takes advantage of it," he says. The company also can help route freight for its clients.
For most customers, however, the job begins with blending the powder or liquid formulation. During the past year, APCO installed a new peroxyacetic acid manufacturing system to blend environmentally compatible products (hydrogen-peroxide-based) that fill containers ranging in size from 275-gallon totes to quart-size spray bottles. The installation, which is currently serving a "green" cleaning product, includes bulk-tanker unloading facilities for concentrated hydrogen peroxide and acetic acid storage; a tank farm with additional storage capacity; automated formulation and batch control blending systems; and two separate filling lines, one for large containers and the other for smaller containers.
Because many of the powdered products that APCO handles are hygroscopic, the company installed temperature and humidity controls in its facilities in 2008 to maintain its strict quality controls.
Documenting quality
Adhering to those quality controls involves a lot of testing, analysis, and paperwork. APCO documents procedures for all critical processes, says Jeff Krucek, project manager. The company is fortifying its Quality System to be in compliance with customer ISO 9000 and National Sanitation Foundation system requirements.
The APCO Packaging Standard QA/QC Program includes batch control monitoring and traceability records, in-process inspection, and a weights-and-measures procedure. An on-site laboratory allows for various lab tests for both liquid and powder formulations. Two full-time quality assurance employees oversee the operation, from delivery of raw materials through finished and packaged product. APCO documents all testing and sends it to the customer.
"We hold to the quality standards set by our customers," Hinton says.
Bob Jewell, quality assurance manager-special projects, explains that raw product arriving at the plant is tested immediately to assure that it meets formulation standards. Not only is the material tested for available oxygen, for example, but it also is measured for bulk density and to ensure its machinability.
A certificate of analysis is issued on all deliveries of raw materials. If everything meets preset critical standards, then a certificate of conformance is written. If a material falls short of the standards, or a problem is occurring during blending or package filling, then a preventive action report or correction action report is filed. A similar procedure is applied to testing packaging materials as they are received at the plant.
What sounds like an alphabet soup of documents is really APCO's method for assuring its clients of its quality standards.
"We always involve the customer," Jewell says. "We keep them in the loop so they always have all the cards in front of them."
Lot numbers for all materials also are recorded, and the product is traced completely through manufacturing, packaging, and shipping.
On the line
On the day Contract Packaging visited the plant, APCO was running a powdered household cleanser for a well-known consumer products company. The U-shaped packaging line starts with manual depalletizing and unscrambling of plastic canisters. A premeasured scoop is inserted into each canister, which is then conveyed to the All-Fill (www.all-fill.com) inline filler. Just above the filler's infeed hopper, a Universal Industries flexible screw conveyor brings the blended powder to the line.
The first of three quality assurance stations stands between the filler and capper. A worker manually retrieves a filled container, at random, and weighs it on an offline scale. Properly filled canisters are then replaced on the conveyor entering the rotary capper. All capped and torqued containers then pass to an Alpha (www.alphacheckweighers.com) checkweigher.

Rounding the bend of the U-shaped line, filled and capped canisters receive an inkjet impression from a Videojet coder and then head into a PE Labelers rotary labeler. Printed rollstock labels are sourced from a local converter.
The third quality assurance process occurs as the labeled containers exit the labeler and are visually inspected for label placement and adhesion.
Next, containers are manually packed into erected cases and sealed by a taper. Workers then palletize the filled cases and send them to a Lantech (www.lantech.com) stretch-wrapper to be unitized. A forklift moves pallet loads that are not shipping immediately for warehousing elsewhere in the plant.
Consumer packaged goods companies are relying more and more on contract manufacturers and packagers in this down economy, Hinton says.
APCO has 25 full-time employees and can add as many as another 25 temporary workers through a hiring agency during busy seasons. Each temporary person must work alongside a full-time employee, one-on-one.
Consumer packaged goods companies also depend heavily upon their contract packagers in meeting corporate budgetary or sustainability goals.
"'We need less expensive packaging. What do you think we can do?' they may tell us," Hinton says. "We always listen and evaluate their situation. That decision is always theirs to make. But the process is ours. We are in complete control of the processes."
The author, Mary Ann Falkman, is a packaging industry veteran who is a respected writer and editor. Contact her at 630/653-5950 or maf184@aol.com.
Companies in this article