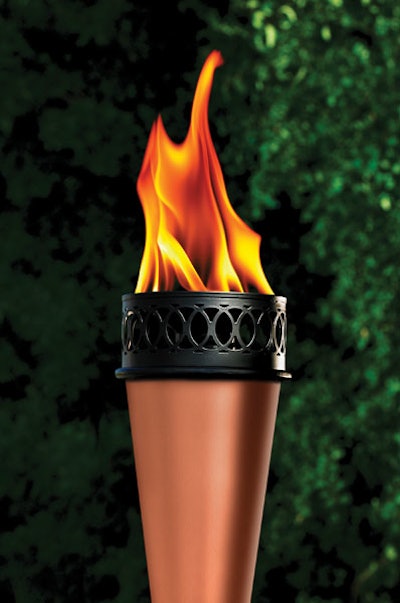 Lamplight Farms, Inc., Menomonee Falls, WI, is a market leader in outdoor torches, citronella fuel, indoor oil lamps, and lamp oil. One of the company's signature products is Tiki® Citronella Torch Fuel, which, until recently, was packaged in premade, 1-gal polyvinyl chloride jugs. But the PVC bottles were experiencing unacceptable levels of container breakage during transit. The 1-gal jugs also created handling challenges in terms of unloading and storing the containers, and then transporting and loading them onto the filling line.
In November 2007, Lamplight transitioned from buying the bulky premade PVC jugs to using PET preforms (from a proprietary supplier) to manufacture the bottles in-house on a bottle former from KHS Corpoplast North America (www.khscorpoplast.com). Lamplight considered the move to PET bottles an important sustainability improvement. PET is more universally recycled than PVC, offering a greater likelihood of being recovered and reused. In addition, the company achieved a 28% reduction in the amount of bottle packaging material used—going from 145 g to 105 g per jug.
After forming, the PET bottles are not touched by packaging personnel again until the case-packing stage. The bottles are routed to a 30-head filler from MRM/Elgin, a subsidiary of Cozzoli Machine Co. (www.cozzoli.com), then to a six-head capper from Fowler Products Co. (www.fowlerproducts.com), a division of Pro Mach.
The bottles also go through a Series 6000 labeling machine from Label-Aire (www.label-aire.com). The pressure-sensitive, four- and five-color process-printed labels are supplied by Flexo Graphics, Inc. (www.flexo-graphics.com).
For the case-packing operations, Lamplight uses a bliss box maker from Moen Industries (www.moenindustries.com), a drop packer from Climax Packaging Machinery (www.climaxpackaging.com), a palletizer from FKI Logistex (www.fkilogistex.com), and a stretch wrapper from Orion Packaging (www.orionpackag ing.com), a division of Pro Mach.
While the bottles experience normal flexing during transit, they resist breaking and cracking. Lamplight's quality manager, Bill Tobin, notes, "Damages were reduced by 90 percent from 2007 to 2008 across all plastic bottle skus. The switch to PET bottles was definitely the driver."
This container durability has resulted in an estimated 96% decrease in package damage during shipment. And about 90% fewer trucks are needed to transport the PET preforms compared to the number of trucks used to ship the premade PVC jugs to Lamplight. This means a significant reduction in fuel consumed and greenhouse gas emissions produced in the supply chain.
Getting a handle on it
Retail customers have applauded Lamplight's move to highly recyclable PET packaging and also consider the new packaging more consumer-attractive on the store shelves. In February 2008, a major retail customer asked Lamplight to add a carrying handle to the 1-gal fuel jugs to enhance consumer convenience. After investigating available options, Lamplight selected 100% high-density polyethylene handles and automatic application equipment—both supplied by Roberts PolyPro (www.robertspolypro.com), a division of Pro Mach.
The decision to go with Roberts PolyPro was based on the supplier company's ability to provide a sustainable solution for the new handle (HDPE is totally recyclable), as well as the application equipment's capacity to provide high-level packaging-line operation efficiencies. The Roberts PolyPro continuous-motion handle applicator offers a throughput of 140 bpm.
Roberts PolyPro orients and staples together the HDPE handles prior to shipment to Lamplight. Because the preoriented handles can be unloaded onto the machine magazine right out of the box, operators spend less time loading and tending the handle application equipment.
This preoriented-handle packing approach enables 40% more handles per pallet versus loose handles shipped in bulk. More units per pallet translates to improved cube utilization, reduced corrugated board requirements, lower over-the-road fuel consumption, and lower greenhouse gas emissions per shipment.
Companies in this article