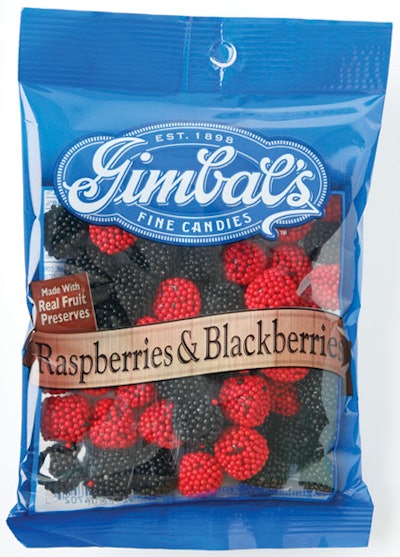 Gimbal's Fine Candies, South San Francisco, manufactures a broad range of candies and packages them in volumes from 4-oz private label packs to 5-lb bulk bags. In order to improve production efficiencies, Gimbal's was looking for a way to provide greater flexibility to quickly, reliably, and easily change printed variable information such as ingredients, nutrition facts, date codes, bar codes, and graphics on these packages.
After evaluating several options, Gimbal's decided to install Phaser vertical form/fill/seal machinery from Parsons-Eagle Packaging Systems (www.parsons-eagle.com), a division of Campbell Wrapper Corp. The machinery is outfitted with SmartDate® 3 and 3i thermal transfer coding systems with digital printing technology, supplied by Parsons' OEM partner Markem-Imaje (www.markem-imaje.com). The first system was installed in 1998, and the second in 2004.
With the Parsons-Eagle system, Gimbal's has been able to decrease film inventory requirements, reduce packaging material costs, and improve production speeds. And the SmartDate printing/coding system, with a user-friendly interface, allows one bagging film to be used for several products. Many of Gimbal's film packaging materials are oriented polypropylene (OPP) laminates supplied by Bemis/Curwood (www.curwood.com). Gimbal's president and CEO Lance Gimbal says, "This automated system gives us the flexibility to use the same film on multiple products. At the outset, we knew very little about thermal-transfer printing, but a number of people recommended Markem-Imaje to us. These low-maintenance coders deliver crisp, clear, consistently high-quality printing for both intermittent- and continuous-motion print applications on a variety of substrates. And, by switching to the fully automated approach, we have realized significant savings in labor costs and slashed potential for human-error coding mistakes. Changeover is as easy an inputting a product code. And we can produce customized labels and logos at will. The flexibility of the software allows us to meet varied and complex labeling needs.
"Technicians from both Parsons-Eagle and Markem-Imaje assisted in training our in-house packaging personnel on the new form/fill/seal/print system. These technicians were highly instrumental in our implementation and start-up of the system."
Companies in this article