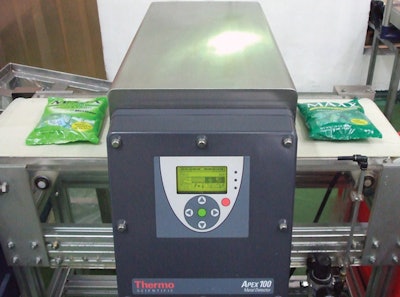 Based in the Philippines, Universal Robina Corp. (URC) makes a range of snack foods, candy, beverages, noodles, and tomato-based products. Recently, the company installed metal detectors at six of its 13 production plants in the Philippines to meet the U.S. Food & Drug Administration's HACCP (Hazard Analysis and Critical Control Point) food safety standards.
Richard Cabrillos is the manager of URC's Calamba facility, which makes confectionery products. "We had a filtering device to ensure contaminants didn't adhere to the product," he says, "but there were still some points after the filter where metal contaminants could be injected into the product." Prior to the metal detector installation, product was inspected manually, he says, but the method was unreliable because inspectors sometimes overlooked contaminants.
In preparation for HACCP certification, Cabrillos chose the Apex 100 digital signal process-based metal detector from Thermo Fisher Scientific (www.thermofisher.com). Thermo Fisher Scientific teamed up with Allen Packaging Systems (011/63.2.8750243) in the Philippines to install a conveyor rejection device for the metal detector.
Although Cabrillos' main reason for choosing the APEX was its low cost, he was also pleased with the unit's performance and ease of use. "The Apex is user-friendly," he says, "and we can easily stop the conveyor when metal is detected."
Heavy metal
Candies enter the wrapper, where they are individually wrapped in pillow packs. Next, a pouching machine packs the candies into bags in quantities of 50 and 400. Cabrillos declined to name the manufacturer of the wrapper or pouching machinery used. After the wrapped candies are packaged in secondary bags, the bags enter the metal detector.
"The Apex detects ferrous metal as low as one millimeter," says Cabrillos. For URC to meet HACCP standards, the company also follows sensitivity targets of 1.5 mm for nonferrous metal and 2.5 mm for stainless steel. The Calamba facility uses both metallized and nonmetallized film to package candy, which presented a challenge.
"URC did all their testing [of the metal detectors] on standard plastic packaging, and then suddenly had to run a metallized film," explains Bob Ries, head product manager in metal detection and x-ray systems for Thermo Fisher Scientific. "Typically a metal detector runs a radio frequency of around 150 to 300 kilohertz, but a metallized film will drive it crazy, and it will false-reject everything."
Thermo Fisher Scientific adjusted the radio frequency instrument to a lower setting (between 50 and 100 kHz) so that the machine was less sensitive to the metallized film. "We were still able to show a very good level of metal detection performance," says Ries.
After the bags of candy exit the metal detector, they are packed into cartons, sealed with a carton sealer from Siat (www.siat.com), and conveyed to a palletizer.
Peace of mind
Since installing the metal detector units, URC has passed several HACCP audits. Cabrillos now relies on the metal detector as a last line of defense and no longer has to place additional sorters on the line to ensure product quality. But more important than the reduction in labor is the increase in product reliability. "I'm now confident that my product is metal-free," he says.
Prior to using the metal detector, the plant received product complaints. Since installing the unit, there haven't been any. "If you ensure the product is of good quality, you increase the volume of sales," says Cabrillos. "Quality and productivity should go hand in hand."
Companies in this article