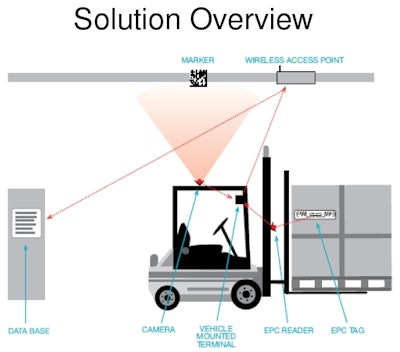 A unique and innovative RFID case study for pallets of kiwifruit was the final presentation at the EPC Connection gathering in October. For those who stayed, it was one of the highlights of the two-day event sponsored by RFID Journal magazine. The application involves RFID-tagged pallet loads of trayed kiwifruit and forklifts mounted with RFID readers as well as digital cameras. The upwards-pointed cameras read fixed 2-D bar codes from Sky-Trax Inc. (www.sky-trax.com) mounted in the ceilings of chilled warehouses, or coolstores. Applied in prefigured strips for ease of installation, the SkyMarkers provide precise real-time positioning—within 10 in. —when the forklift picks up or puts away an RFID-labeled pallet, according to presenter Erik Sundermann of GS1 New Zealand, and senior consultant for the project done for kiwifruit packer EastPack, Edgecumbe, NZ. Other vendors include RFID technology supplier Intermec (www.intermec.com). The project encompasses 6,600 stock-keeping units in 42 coolstores at three sites that can store about 600 pallets, yielding a throughput of eight million trays of Zespri brand kiwifruit yearly.
Penalties and rewards
Kiwifruit shipping orders are received 10 days in advance, but may be adjusted just two days in advance of shipment. Shipment penalties for the regulated industry are severe, up to $500 (all figures in NZ dollars) for wrong pallet on wrong truck at peak season. For example, four pallets switched on two trucks resulted in an eight-pallet fine in excess of $3000. Last season, before the RFID implementation, EastPack had such penalties of that totaled $280,000. EastPack can also earn up to $200 per pallet if flexible for impromptu shipments. The problems were finding specific pallets in the coolstores and eliminating supply chain mistakes, according to Sundemann. A bar code solution was found to be only 70% accurate.
A successful RFID pilot in fall 2007 was followed by full rollout into all 42 coolstores involved equipping 30 forklifts and 12,000 SkyMarkers in time for the pack and ship season in 2008. Most of the fruit is destined for Europe and Asia, Sundemann noted.
Key results versus the prior season:
• Penalties reduced from $280,000 to $90,000
• Penalties for noncompliance of on-time startup delivery was reduced from $250,000 to zero.
• Fruit loss reduced from 8% to 5% for Gold kiwifruit.
Sundermann notes that last number is highly significant, and includes the value-added costs of packaging, handling, and storage.
Time savings, too
Although RFID cannot be solely credited for all the above results and improvements, Sundermann noted, "RFID freed up people's time to help them do the things they were supposed to do instead of 'firefighting' or having three or four people rushing around the coolstores looking for pallets." He told of personnel lining up 10 deep outside managers' offices with problems relating to pallets of kiwifruit not being where they should be. "That is no longer a problem," Sundermann says.
Also relating to the new technology, the number of forklift drivers was reduced from 24 to 16 even as throughput increased by two million trays. Another benefit is real-time location of forklifts: Sundermann shared how archived data was used to pinpoint a driver who had damaged a door that had gone unreported.
Sundermann says the next step is to harvest the data. "There is loads of data from all of the pallet movements that, combined with other data, can improve the operations," he says. These include forklift pickups per shift per driver and capacity utilization studies; for example, how much of the coolerstore space is really used?
Companies in this article