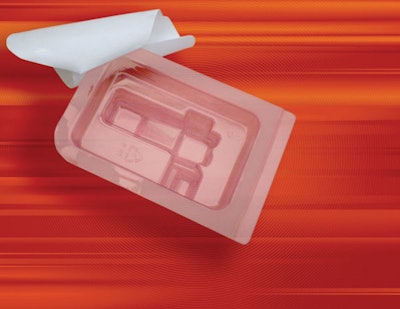 Chaired by Randall Troutman, CPP, Oliver Medical (www.olivermedical.com), the MD&M West Conference addressed the following medical device packaging issues:
• There exists a need to develop a task group to weed through the broad range of various association standards to determine the best test methods to simulate shipping medical devices to customers. For more information, visit www.iopp.org, and click the Medical Device Technical Committee tab.
• More phases must be completed in a $125,000 Michigan State University study to determine bacterial ingress from pinholes in the 10- to 100-micron size range. HealthPack program co-chairman Curt Larsen of Spartan Design Group, LLC (952/380-1458) refers to this as a "breakthrough study involving shipping and packaging materials that will help manufacturers with seal issues and pressure differentials with trays and flexible lidding." For more information, or to contribute to the study, visit www.packaging.msu.edu.
• E-labeling initiatives represent a topic nobody seems to be discussing. Dave Olson of Advanced Web (www.advancedweb.com/awtwebmain) is heading up a task group that focuses on various labeling issues and their impact on medical device packaging.
• A "Medical packaging 101" seminar is under consideration to bridge the gap among packaging professionals at different experience levels with a basic knowledge of the industry.
• The medical device community must address growth in combination products. As devices are paired with pharmaceuticals and/or biological products, packaging challenges will increase. For example, a supplier's change in a plastic resin could affect drug stability and shelf life, and could create "a whole new realm of challenges to be overcome," noted Troutman.
• Global standards must be developed that don't conflict in different countries. "It's challenging," said Larsen, yet "the medical device packaging community, driven by the United States and Europe, has done an impressive job harmonizing global requirements."
Working with consultants
Jan Gates, principal sterile barrier packaging engineer, Abbott Vascular, offered the following advice in working with consultants:
• Hire a consultant when temporary assistance is required—new business deadlines, short-term business problems, when independent advice is needed, searching for cost savings, etc.
• Packaging is often one of the last things that a company introducing a product thinks about. Also, many packaging engineers obtained their positions by accident. They may not know how a packaging system actually fits into the company, or understand compliance—industry standards. A consultant can help.
• Do not hire a consultant if your needs are unclear or if your needs are long-term. You may want to consider employing an expert on a retainer.
• Do not expect a consultant to fix a nonviable project.
• Do not use a consultant as a referee or to monitor employees.
• Determine the consultant's scope of work: Where will they work? On what specific project will they work? When can they start and finish? What resources do they need? What results do they need to deliver to you? Be as specific as possible.
• It is a good idea to write work exclusions into the consultant's contract to help prevent other company departments from taking a consultant away while he or she is working on your project. Write your contract as specific as possible.
• Pay your bills on time—consultants sometimes offer a "pay by x date to get a percentage discount."
• Keep consultants on track so they are doing what you need done, in the time frame you've both agreed upon.
• Know that consultants will not take a job for work they are weak in—they will often point you to someone else. However, be prepared to release the consultant if they are not doing the work as expected; a release clause should also be written into the contract.
• Expect to pay a consultant from $120 to $250/hr, plus expenses
• If you require global consultants, go to Europe or China or that specific country for specialists in those countries, or hire consultants that have experience in the other countries.
Accelerated aging test tips
On the topic of accelerated aging, Spartan Design's Larsen stated that there exists "a great deal of misinformation." He said, "One sample can't be used to test both aging of the sterile barrier system and design performance qualifications. One of the objectives of the sterile barrier is to make sure it will maintain the sterility of the contents for the package's stated shelf life. To support those dating claims, you do an aging study to see what happens over time. We look at what happens to the materials and the seals between those two materials after they have been sterilized; that is all that needs to be done. You can use the same information on aging that others have, including details from suppliers that can provide data on the aging of their material combinations sterilized in different ways."
Larsen recommended that device manufacturers pay attention to materials and adhesives, and keep samples below 55º C for their accelerated temperature. He added, "Humidity has nothing to do with aging—it confounds the entire process and can cause reaction between materials that would normally never happen. If there's a need for humidity in testing, the selection of the correct materials is critical." He recommended referencing the F1980-07's revision for guidance on humidity.
Other Larsen tips:
• Understand that seals may get stronger over time. Most of the packaging materials used today are very robust, and can readily maintain package integrity for many years.
• Know your distribution environment. Canned tests may be more severe than the actual distribution environment.
• Inspect your sample during testing if possible—before and after sterilization—to learn where a failure happened.
• Consider that sample sizes may open a can of worms. Ten boxes of one dozen are not 120 samples, they are 10 samples. A sample is what goes out the door, what is introduced into interstate commerce. If a single device is sold as one, or in a quantity of one dozen, as a 24-pack, as a gross, as a pallet, you have five different products and five different packaging systems. If you choose one of those as a "worst-case" design to test and not test the others, you must justify why.
• Understand what stresses your sample will be subjected to during distribution. A pallet doesn't withstand nearly the beating as one package going through small-parcel distribution on its own. A multipack package system has different stresses on the contents than a single pack does.
• Realize that sample sizes are a business decision because they can be quite expensive and tough to get. In general, 30 is a number that the FDA finds acceptable for accelerated aging, but if you sell 150 high-priced items a year, 12 might be a reasonable amount to sample in accelerated aging tests. Whatever your sample size is, you must document the rationale you used in selecting it.
Package failures
In her presentation, "Root cause package failure analysis," Lora Keena of Oliver Medical, a sterile-grade medical materials supplier, provided the following package failure insights:
• Seal breaches from broken seals allow for the potential to pass microorganisms on to patients, which may result in infection that can be fatal. Seal integrity affects all of us.
• Incorrect or uncontrolled tension, as well as temperature, dwell time, and pressure, can cause unwanted wrinkles in foil packages.
• Packages can fail during testing just by the way they're opened. They must be opened consistently.
• As a manufacturer, your company is ultimately responsible if something goes wrong with the package. You can't go back to the distributor from whom you've purchased your materials.
• As the medical device manufacturer, follow material supplier specifications. For example, don't apply a coating to one side of a film structure when the vendor recommends it go on the other side of the structure.
• Involve your company's purchasing department in specifying packaging materials. If they purchase materials from another supplier to save money, the films may differ and not meet engineering or validation requirements.
Compliance 'sweet spot'
Karen Greene, CPP, Technical Director, DDL Inc. (www.testedandproven.com), a provider of testing services, package design, prototyping, and consulting, noted that compliance with Intl. Standards Organization standard 11607 "is a must in this FDA-regulated industry." The 11607 standard is a harmonized, globally accepted industry standard for terminally sterilized medical devices. TIR (Technical Information Report) 22 is a guidance document to comply with ISO 11607, she explained. Greene recommended that device makers "see if their company's data can be leveraged and used in compliance. A thorough package compliance program is a competitive advantage for your company."
Greene advised that device makers follow 12 essentials for package compliance:
• Put quality systems in place to define processes to eliminate hazards in packaging. The number-one failure mode for a sterile medical-device package is the loss of physical package integrity, such as holes, tears, punctures, and open seals. Hazard analyses will assist in determining how the loss of physical integrity occurs in your package design.
• Develop design inputs. Create a document that defines product protection requirements, including fragility, light, temperature, oxygen, and moisture, before picking out packaging materials. Evaluate competitive devices to understand how they package their products—learn from the good and the bad examples.
• Consider distribution, storage, and handling. Perform a thorough analysis of distribution conditions for your medical device. With clinical trial packaging, you have low volumes of packages being sent to many distant sites. Conduct an environmental monitoring study of cold-chain packaging, understanding how a package may be exposed to extreme conditions.
• Understand that the selection and evaluation of materials and sterilization compatibility is critical.
• Use real-time aging to test package shelf life and stability. Companies conduct accelerated aging because they don't want to wait for data. Consult with the effect of time on seal integrity as discussed in Q10-2 in ASTM F1980-07 guidance document, "Accelerated aging for sterile barrier systems."
• Consider package design. Folding flexible packaging in different axes can lead to pinhole failures. Determine if the package will be aseptic, and whether it will require a single or double barrier. Leverage the qualifications of previous studies. When it comes to labeling, packaging engineers don't tend to take as much time with this. How will you label the package, and how will the label's print hold up during sterilization?
• Develop a prototype for the package design. Prototyping the package design provides a physical representation that allows for immediate package-design feedback, and is the stepping-stone for testing and evaluation of the package and design system. That is where you begin the process of refining the package design for sterile-barrier efficacy and device safety and efficacy.
• Make a packaging process evaluation. Determine if the package will be used for a clinical trial or for full-scale production. With clinical trials, you make do with existing packaging machinery. Make the same determinations for a contract packager's equipment. Plan equipment purchases two years ahead of your launch, then perform Factory Acceptance Tests at the supplier's facility before in-house qualification of the equipment.
• Develop the IQ of packaging equipment, using Part II of ISO 11607. Focus on the utilities for the equipment, make sure all parts of equipment perform as expected, and calibrate critical operating functions such as the heat-seal timer, temperature controller, pressure gauge, software validation for the PLC, data collection, and inspection.
• Develop your packaging process and the Operational Qualification of equipment. Determine the minimum and maximum process limits and the acceptable operating range of your packaging process, for example, sealing. Design of experiment tools (either manual or software programs) will provide assistance in defining process limits and identifying the "sweet spot" for your packaging process. The sweet spot is defined as the operating range where the process output is optimized (predetermined requirements) with minimal output variability. Perform multiple runs to make sure you have consistent seal integrity.
• Conduct Process Qualification evaluations. Conduct three consecutive production runs at normal operating conditions. Do these on different days, with different people, with the machine operating at different temperatures.
• Conduct final packaging system design validation. Use validated sterilization methods and incorporate the appropriate materials. Use Ref. Annex E within ISO 11607, Part II, for appropriate test methodologies. Again, use predetermined worst-case manufacturing conditions (OQ) to qualify the packaging design. Look for physical package integrity and package seal strength. Some appropriate test methods are dye penetration tests around the perimeter of the tray-pack for seal integrity, and bubble testing or submersion leak testing in water for whole-package integrity evaluation. Vacuum tests are used for rigid jars and packages.
Companies in this article