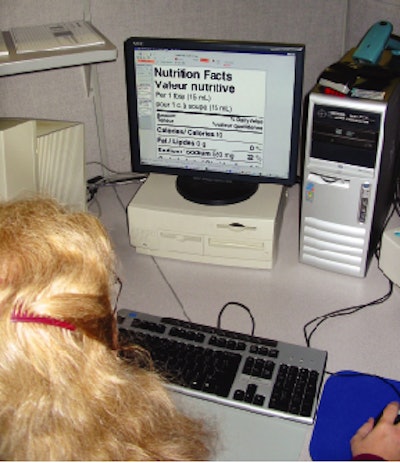 An independently owned company located in London, Ontario, Canada, Autumn Graphics Ltd. provides prepress, printing plate production, and graphics management services to a range of customers, including consumer packaged goods companies, converters, printers, and advertising agencies. As it illustrates on its Web site (www.autumngraphics.on.ca), the company has worked with artwork files for a variety of brand name products that depend upon accuracy and consistency for consumer acceptance and for product safety. Some examples include files for cartons, labels, paperboard sleeves, and other types of packaging for food and beverage, OTC, and pharmaceutical brands.
Established more than 25 years ago, Autumn Graphics was built on "a foundation of business integrity and production excellence," the company says. So when it found itself several years ago struggling to keep up with manual inspection of its final production workflow files, it changed course and made the investment in a faster, more accurate solution: the Scan-TVS™ electronic artwork comparator from Global Vision, Inc. (www.globalvisioninc.com).
"When it got to the point where we would have had to add staff to increase throughput without affecting quality, we decided to look at alternative processes," recalls Autumn Graphics president Ben Abray.
Manual inspection leaves room for error
In basic terms, Autumn Graphics is the middleman between those who create artwork and those who turn that artwork into a printed piece. Its job is to take a designer's digital artwork file—they arrive in all variations of graphics applications and workflow exports, says Abray—and perform various functions on the files to prepare them for printing. Most often, Abray relates, Autumn Graphics is responsible for artwork revisions, color management, creation of final production materials, and pressroom input.
When a customer supplies Autumn Graphics with a digital file, they also provide either a PDF or a hardcopy proof, showing the artwork as it has been approved. It is against this proof that Autumn Graphics compares the final production workflow file it has created, to ensure that nothing has been unintentionally altered.
"Whenever there is a transformation applied to a file, there is an opportunity for something to change," Abray says.
In the past, Autumn Graphics compared these files via manual visual inspection of hardcopy proofs by its quality control staff—an extremely labor-intensive and inconsistent process. "The accuracy with which you can verify text placement, font rendering, how traps affect your artwork, placement of elements, etc. is dependant upon the resolution of the physical material you are comparing, as well as the ability of the QC staff to visually detect these variables," explains Abray. "There are elements of human error involved as well, such as incomplete inspection due to interruption, fatigue, variation between staff members, etc.
"And, visual inspections are not repeatable. For example, if you gave six people a job to inspect that had five small variations, they would all detect some of the variations, but there is a good chance not all six people would detect all five variations." Though the company used skilled QC staff, Abray adds that "there was definitely an opportunity for improvement."
Expense was another issue, as not only was there a cost associated with the labor to inspect the files, but Autumn Graphics had additional costs when final files were found to have errors, and new materials had to be produced.
If mistakes are not caught, Abray relates, the end result is that the required marketing intent, nutrition information, product specifications, production data, etc., may not be conveyed accurately. "This could have varying impact, from simple customer rejection, to the potential for product recalls," he warns.
Automation speeds proofing
Autumn Graphics selected Global Vision's Scan-TVS electronic artwork comparator for a couple of reasons. First, it offered the flexibility to inspect both hardcopy and PDF proofs. For the former, a 13 x 19-in.
Common mistakes, Abray notes, include customer-supplied artwork that does not match the hardcopy or PDF proof right from the beginning, issues relating to font rendering and software versioning, and others. Among the errors able to be detected by the software are changes in color, missing or added elements, and registration errors.
Autumn Graphics also appreciated that some of its customers were already using the Global Vision system in their own facilities, "so it was a good fit," Abray says.
Installation of the system took two days, while training of the QC staff took only hours.
Epson (
http://www.epson.com
) scanner is used to create a digital copy of the customers' approved artwork. As Abray explains, if a hardcopy master is supplied, it is scanned in, cropped, tiled into pieces, and saved as the "Master" image. The same process is performed on the Autumn Graphics file, which is saved as the "Sample." Using Global Vision's TVS™ Pro software engine, the Scan-TVS system then compares the two images tile-by-tile, "pixel-by-pixel," according to Global Vision, and flags any defects it detects.
Change proves beneficial
Since Autumn Graphics began using the Scan-TVS system, Abray relates a number of positive results. Among them is greater customer confidence. "There is certainly an increased comfort level for them, knowing that a digital copy verification has been completed on their production files," he says.
The system has also greatly reduced the time it takes Autumn Graphics to perform inspections. But more importantly, Abray insists, "the accuracy and repeatability of inspections have been greatly increased."
Another benefit is economic, he says: "It has allowed us to catch any issues in the digital files before any materials are produced, therefore rework costs and rework time in the production cycle have dropped dramatically.
"As a prepress company responsible for the accuracy and quality of our customers' packaging materials, the Scan-TVS system has given us a greater level of confidence in knowing that the materials and files we release are as accurate as they can be."