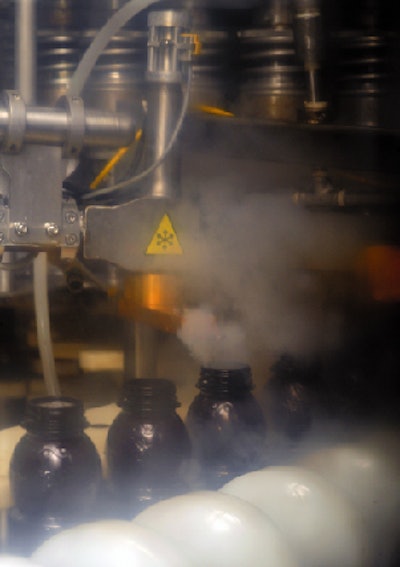 Based in Lake Success, NY, AriZona Beverage Co. contracts packaging facilities globally for the high-volume production of its extensive line of canned and bottled beverages (including iced teas, juices, sports drinks, flavored waters, and coffees). AriZona Beverage director of technical and manufacturing services Jim Dar notes, "In most cases, AriZona Beverage buys the equipment used for production and packaging of our products at the contract packaging facilities. We determine and provide direction to the contract packers as to which manufacturers' equipment works the best for maintaining our product quality standards and processing and packaging specifications."
The filling, seaming, capping, and labeling equipment and the packaging materials are manufactured by a range of world-class international suppliers, according to AriZona Beverage. But beginning in 2007, all new canning and bottling lines installed by the company have exclusively incorporated liquid nitrogen dosing systems manufactured by Cryotech Intl. (www.cryotechinternational.com).
The liquid nitrogen, which converts to a gaseous state within the packaging, serves to create internal container pressure. This process helps prevent container damage and collapse. But as Dar explains, "The liquid nitrogen dosing also serves to displace or minimize oxygen in the containers. The result is increased shelf life and improved preservation of beverage flavors and colors. Without the liquid nitrogen injection, we get about three to six months of shelf life, depending on product and package. The liquid nitrogen injection process increases that shelf life by 12 to 18 weeks."
The liquid nitrogen is introduced after filling and before bottle capping or can seaming. For inerting (oxygen flushing) applications, the dosing head typically is positioned closer to the filler than to the capper, allowing the LN2 (approximately 0.5-g dose per container) more time to convert to a gaseous state. As the liquid nitrogen turns into gas, it forces oxygen out of the container headspace. Along with the oxygen, some of the nitrogen is intentionally allowed to escape before capping.
For pressurization applications, the doser typically is positioned as close as possible to the seamer. The LN2 (approximately 0.1 g per container) is introduced immediately before container sealing, trapping an optimum amount of the nitrogen without creating excessive internal container pressure.
Uniform operation
To achieve uniformity and consistent efficiency in its LN2 injection operations, AriZona Beverage opted to use only Cryotech systems. Dar says, "These systems are designed specifically for high-volume, hot-fill lines such as ours, and they are very easy to operate and clean. And the dosing is extremely precise."
Cryotech has developed SoftDose spray technology specifically for hot-fill applications. The equipment is essentially the same as what's used for cold- and ambient-fill products. But because hot-fill products often are packaged in wider-mouth containers, there is more opportunity for the liquid nitrogen (administered at approximately minus 320ºF) to agitate and splash out of the hot-fill beverage (filled at approximately 185ºF) container during the dosing process. This splashing effect causes inconsistencies in both the inerting and pressurization applications. The Cryotech SoftDose spray system allows the LN2 injections to sit gently on top of the product surface, significantly decreasing potential for splashing.
Cryotech matches the SoftDose spray technology to the specific application and line speed and can accommodate hot-fill lines at 700+ bottles/minute or 1200 cans/minute.
Dar says, "The Cryotech personnel helped us to understand exactly how these systems work and greatly assisted us through installation, training, and start-up at each production facility. None of our facilities has had any problems with any aspects of these liquid nitrogen injection systems."