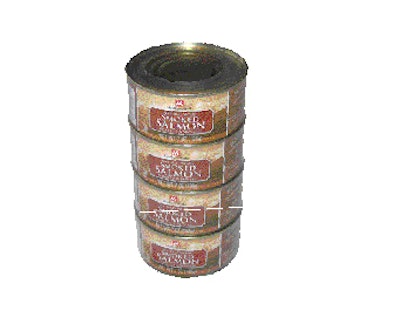 The term is bundle wrapping. Simply, it entails packaging multiple product units into combination, variety, or rainbow packs in film that is thicker and stronger than for other types of film-wrapped packages. Consumers can carry these heavier-duty packs without the risk of them breaking because of the product's weight. As a result, they can reduce packaging waste because they give product manufacturers the option of whether to include supportive trays, inserts, or pads.
Packagers in Europe embraced the bundle-wrap (also known as bull's-eye packaging, because of its distinctive open ends) advance about 20 years ago. Shelf presence long has been an essential requirement of packaging in Europe, and packagers there favor bundle wrapping as one way to achieve this objective. But U.S. product manufacturers have been much slower to adopt the trend.
In the U.S., examples of bundle wrapping most often are seen in club stores, but contract packagers believe it is the next frontier for other retailers.
"Bundle-wrapped packages will be the next packaging format to be prominent in retail stores after having first penetrated the warehouse store market," predicts Thomas Bacon, president at Aaron Thomas Co. (www.packaging.com).
Bundle wrapping is most often used in two-, three-, four-, six-, and 12-packs of plastic and glass bottles, cans, and jars. It is a viable option for food, beverage, and personal-care items, as well as for household chemical products. Consider a four pack of Green Giant Asparagus Spears in 15-oz cans. The top panel of the film displays nutritional information, in larger print than on the cans. Or, at Sam's Club, four bundled 7-oz cans of Member's Mark Natural Wood Smoked Salmon. Contract packagers do much of the bundle wrapping in the U.S. in part because their highly adaptable lines suit the requirements of short-run packaging.
Bundle wrapping is a cousin of shrink wrapping, a popular packaging format in the U.S. But there are some important differences between the two, and bundle wrapping's benefits might make this option worth a look, in the right situations, for those at consumer packaged goods (CPG) companies involved in purchasing and who manage outsourced packaging services.
First, bundle wrapping creates economies of scale. It primarily uses polyethylene film. The film walls' thickness, at 1 millimeter to 1.5 millimeter, compares to the .45 millimeter to .75 millimeter thickness for films common in shrink wrapping. The film's added strength gives bundle wrapping an important advantage by reducing secondary packaging costs by usually eliminating the need for block-and-brace and strengthening components such as corrugate and paperboard inserts, pads, and trays. The bundle-wrapped package keeps each product unit in place, although some CPG companies opt to include a tray for additional support. Shrink-wrapped multipacks often require the additional strength of extra secondary packaging components.
Second, bundle wraps benefit the marketing department. The print-registered film accepts exact placement of printed messages for point-of-purchase impact. Therefore, marketers can quickly change couponing and advertising messages on both the front and back of the package, printing in up to eight colors. Marketers need this flexibility—retailers are requiring it—to stimulate sales.
Customization is fast becoming one of retailers' preferred marketing tactics as they turn to promotional packaging that is specific to each chains' stores and makes them a destination. These packages are swapped out frequently, and bundle wraps provide the ideal "canvas" for changing marketing messages often.
However, Emmanuel Cerf, vice president of sales and marketing at Polypack Inc. (www.polypack.com), expresses a note of caution when selecting bundle wrapping for display appeal. Polypack manufactures bundle-wrapping machinery.
"It's not easy to design graphics for the distortion of the film as it shrinks," Cerf says. "You need the film designed with the extrusion in mind, and they must do a grid test to see where the distortion will be, so your graphics come out well."
Practicality must also be factored into the assessment of bundle wrapping as a multipacking option, and it is one reason why contract packagers present a cost-effective option for this packaging format. Bundle-wrapping equipment is adaptable, but also costly. Few CPG companies have the technical expertise to operate and maintain it.
There is evidence that bundle wrapping is beginning to draw attention in the U.S. One barometer is equipment sales. Cerf says Polypack's sales rose 33% in 2007. The increase correlates directly to rising demand for bundle packaging, much of it from packagers and contract packagers running printed film.
Bundle-wrapping in action
Products to be bundle-wrapped are loaded onto an in-feed conveyor line directly on top of film. A wrapping bar disperses film around each unit of sale as it moves down the line. Next, a sealing bar melts the edges of the film together at temperatures of about 375˚F to 400˚F, creating a seal.
Bundle wrapping requires somewhat slower line speeds—about 35 packages/min, compared with up to 120/min on shrink-wrapping lines and 60/min on shrink-sleeve and shrink-band lines.
Product security and branding impact are two benefits that Snapple Beverage Corp. enjoys with bundle packs. Market Resource Packaging (www.mrppackaging.com) arranges glass bottles of Snapple teas and juice drinks into six- and eight-packs in printed film that bears the brand logo.
"Bundle wrapping allows Snapple to eliminate the use of the historic chip bottle container, the kind you'd buy beer or soda in, and to save money there," says Joseph Jaruszewski, president of Market Resource Packaging. "It also gives them a very strong container that won't rip as easily. Bundle wrapping is somewhat puncture-proof because of film weight."
With flexible packaging lines, contract packagers can switch out products quickly and pack many configurations and groupings of products on the same line, requiring minimal changeover time. Rainbow and variety packs often are bundle-wrapped. A rainbow pack could be a mixed package of raspberry, orange, and grape soda. Packaging a rainbow pack requires more time and labor than a nonmixed pack because it needs to be manually assembled before proceeding through a shrink-wrap machine, says Hans Blom, vice president, sales and marketing, California Hi Lites (www.hilites.com).
California Hi Lites' seven shrink-wrap lines include a Shanklin shrink-packaging system used for bundle wrapping to provide quick changeover time.
"From one size tray to another, it's a 10-minute adjustment and you're done," Blom says.
Half of the co-packer's business is packaging club-store items, including bundle-wrapped multipacks of soda, canned items, and jars of baby food.
"We definitely have more requests for bundle wrapping than we did four or five years ago," Blom says. "We get an average of 10 to 12 calls a year from people coming out with a new product that ask for bundle wrap."
To which Jack Bershtel, president, WePackItAll (www.wepackitall.com) adds: "Co-packers are equipped to be nimble. They take on the capital expenditures that larger companies prefer not to. They want to spend their money more in tune with what they're good at."
A matter of education
Cost is another reason to consider bundle wrapping. Even with the need for a tray, Polypack's Cerf estimates, a film-bundled multipack is about 20% of the cost of a multipack in a carton. He also estimates that film packages enable 15% more product capacity in the same pallet configuration, compared with cartons. However, when superior stacking strength is crucial, cartons may provide better results in building pallets. Cerf advises knowing your needs prior to selecting materials.
As bundle wrapping seeks wider favor in the U.S., one hurdle for the packaging format has been overcome. Traditionally, the film has carried a slight mist that prevents it from being transparent—which is a drawback for retailers and marketers, who want shoppers to see what they are buying.
"You can now reverse that negative by using printed film that wasn't around a couple of years ago," Blom says.
For all these reasons, bundle wrapping seems ready to play a bigger role in consumer packaged goods. So what holds back U.S. product manufacturers from adopting it? Primarily, it seems: education.
"In the U.S. packaging market, everyone had enough money and a lot of trees, so that cost reduction hasn't been an issue like in Europe and Latin America," Cerf adds. "But now, other options are worth considering." [CP]
The author, Jean Thilmany, is based in
St. Paul, MN. Contact her at [email protected].
Most-frequent uses
Companies in this article