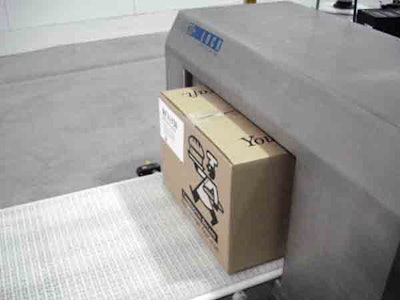 For Fitzroy Alexander, owner of Traditional Breads in Lynn, MA, inspecting breads for contaminants is the "last line of defense" before the product enters the warehouse for shipping.

The process begins with the dough, which is mixed and formed into loaves. Next, it is placed in a proofer oven where it rises, at which point it is baked. After cooling for about two hours, the bread is flash-frozen, ready for packaging.
Loaves are manually packed into plastic liners and then hand-packed into corrugated cases. After the cases are sealed with a Little David case sealer from Loveshaw (www.loveshaw.com), they are ready to enter the metal detection system for a final check.
From dough to downtime
A reliable inspection system is paramount, but the company's finicky metal detector was giving out false readings, which frequently brought the line to a grinding halt. "It wasn't very accurate," says Alexander. "Every two minutes it would give me a positive reading when it wasn't positive, and that was enough to make my hair stand on end." When the machine gave a false reading, the case of bread in question would have to be removed from the line and each loaf of bread had to be run through the machine individually. With an average of 30 loaves per case, the process was extremely labor intensive. "You'd put them through and find there's nothing wrong," says Alexander. "It really slowed things down."
Dependable service
The company decided it was time to invest in a more reliable system and bought two Lock Met30+ digital metal detectors from Lock Inspection Systems (www.lockinspection.com). Lock also supplied the company with heavy-duty stainless steel conveyors. Both the conveyors and metal detectors were custom-engineered to save production line space and to integrate seamlessly into the production line.
The detectors inspect each case of bread and automatically reject any products that have metal contamination, including ferrous, nonferrous, and non-magnetic stainless steel. "The Met 30+'s digital filtering technology will tune out difficult product signals," explains Mark D'Onofrio, VP/general manager, Lock Inspection Systems, "and bread products are typically difficult due to the high temperatures and moisture content." Once the optimal settings are found, the product is stored in memory for instant recall, he explains. The Met 30+ can store up to 100 products, he adds.
Traditional Breads uses Lock's ADC software feature. "ADC is a valuable diagnostic tool that allows the customer to plug in a laptop computer for real-time viewing of the detectors' electromagnetic field," says D'Onofrio. "ADC will show the precise signal size of each type of metal compared to the signal generated by the product itself. When the metal signal breaks through the detection envelope, the product is rejected."
Alexander says he still gets positive readings—but now they're accurate. "My downtime has dramatically improved by about 60 to 70%," he says. "I can sleep at night knowing that whatever goes on in my bakery [my product] is safe and secure."
Companies in this article