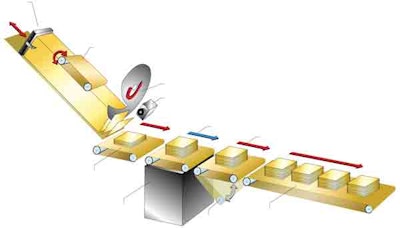 Weber (www.weber-net.de) is a leading food slicing machine manufacturer from Breidenbach, Germany, with subsidiaries in two other German locations and in Kansas City, MO. Under the name Slicer, the company develops and produces a range of high-performance cutting machines for industry and trade. The systems process sausage, ham, meat, and cheese. Weber slicing systems can be extended to form automatic processing lines: feeding, scanning, cutting, portioning, weighing, sorting, buffering, and automatic transport in packaging machines.
The company's slicing machines slice up to 2.5 tons of sausage or cheese per hour, which is the equivalent of 8,000 slices per minute. Weber manufactures and assembles approximately 80% of all parts used in their machines, including the "hygienic screws" used in food slicing machines. The electronic parts and technology for their latest machine, the Slicer 904, are supplied by Elau (www.elau.com), an automation solution provider for machines in the packaged goods industry.
The Slicer 904 MCS with overlapper joins the portions cut next to each other and places them on top of each other. The portions are then fed into the packing machine on a fully automatic basis. The machine is equipped with Elau PacDrives C400 and C600 for all motion control, logic, and technology functions in the slicer. Up to 17 frequency inverters by Lenze (www.lenze.de) are connected to the machine's CAN network. Furthermore approximately 100 digital inputs and 100 digital outputs by Wago (www.wago.de), the check weigher by the company Wipotec (www.wipotec.de), and the optical weigher by the company Wente & Thiedig (www.wente-thiedig.de), are networked via a CAN network extending approximately 50-m (164'). Up to 20 seven-digit weight displays are Weber's own development. These displays indicate the package weight and are located above the packaging machine, where the machine operator can check whether to add or take off slices to get the weight 100% right. These displays are networked via a second CAN network. CAN is thus used to operate vital parts of the food processing.
As higher-layer protocol, Weber uses a mixture of Canopen and a proprietary application layer implementation. The network is operated at a bitrate of 500 kbit/s, and Weber uses three PDO channels for the slicer. The CAN software library for the machine is a combined product of Elau's software library and Weber's own development. They used Elau's library as example and programmed the protocol library for the devices of all other manufacturers. Weber staff also integrated the system and updates the software when necessary. The system integrators like the Elau software tools, especially those for the synchronous operation of he machine modules.
Alexander Burk, Development Manager Electronics/Software of Weber, says: "It was Elau's idea to program our machines synchronously, not time-triggered. Their software tools and devices have helped us to program complex functionality and sophisticated motion-control tasks. With their PacDrives we have increased performance of our machines and thus simply improved them."
The functionality of all machines and machine options is represented in a software program, which is used for each type of Weber's machines, such as slicer type software, or in-feeder type software. The software is adapted only by parameter setting to individual customers. This simplifies the machine builder's job of adding further machine modules to an existing slicer. The complete control software was programmed by Weber and is also continuously developed by them. The central industrial PC by the company TCI (www.tci.de) used in the network automatically recognizes the drives, which are connected via Ethernet. Since all individual modules are represented in software, they can be activated via the HMI panels on the machine. Service staff remotely transfers updated software versions to the iPC. Weber's service staff and end-users can thus use the very same program version, which simplifies service and maintenance of the slicer and thus shortens machine downtimes. Remote service also shortens installation time of the machines or re-fitting of parts. Programming time is thus reduced to a minimum.
Reprinted with permission from CAN Newsletter, published by CAN in Automation, www.cancia.org.
Companies in this article