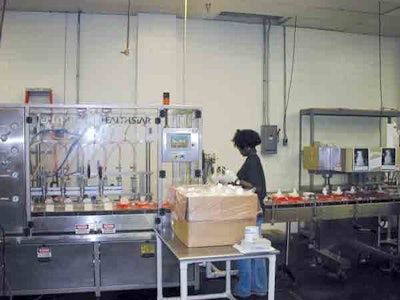 At Cincinnati-based Kutol Products Co., filling bags with foaming hand soap is a whole lot more efficient since the firm replaced its in-line piston filler with a PureFil 1000 filler from HealthStar Inc. (www.healthstaronline.com)
Also eliminated is hand-torquing of manually applied foaming pumps. Instead, a PureCap 500 cap torquer, also from HealthStar, performs the task of torquing.
To fully appreciate this packaging upgrade, it helps to review how things used to be done. First, an operator would attach six pre-made bags to a 30" long holder that Kutol designed in-house. "The bags have a 38/400 opening, which is a good size," says plant manager Greg Nichols. "But the holder supported them in a position that made filling much easier."
The filler would index one bag at a time and an operator would hit a foot switch to trigger the piston filler to dispense product. "It was slow and cumbersome," says Nichols.
Filled bags exited the filler and had a foaming pump dispenser applied by hand. It was also torqued by hand. "That created a problem with people's wrists," says Nichols.
When all six bags in a tray were capped, an operator would then empty the tray and carry it back to be refilled with six fresh bags.
At Pack Expo International 2004, Nichols met with representatives from HealthStar and began working with the equipment supplier to design a filler for its 1-L bags. HealthStar responded with a PureFil 1000 system that incorporates a walking beam flow-meter filler and custom-made bag holders.
While the bags are still placed into the holders manually, the machine does not stop, allowing the bags to move continuously down the line. The filler detects missing bags for a no bag/no fill operation. "You can miss one or two and it won't make a mess if someone wasn't fast enough putting those bags on those holders," says Nichols.
The machine has a laminar flow nozzle to fill the foaming hand soap at a high rate of speed. "It restricts the amount of material that comes through so you can control the flow," explains Nichols. "The end of the nozzle was designed to create the least amount of turbulence so that it doesn't cause a foaming issue."
The line is continually moving, says Nichols, unlike the previous filler that would stop and start. The filling heads move along with the line and return to reset over the new bags. The machine fills 30 bags a minute. "Before, we were lucky to do six bags a minute," he says.
After the foaming pumps are hand-applied, the bags continue to a HealthStar PureCap 500 cap torquer for tightening. "This helps us to eliminate any carpal tunnel issues down the road," says Nichols. Once the caps are applied, the bags are removed from the line and packed into cases of six for loading onto pallets.
The new filler has resulted in increased line efficiency and speed. "We've cut our labor about 60%," says Nichols. "We had 18 to 21 people running the line across three shifts, with six to seven people per shift. Now we do it on one shift with six people."
The flow meter fill control also allows the company to adjust fill volumes for multiple size containers. "Before, we were filling different size bags on different pieces of equipment," says Nichols. "It's freed up our equipment to run other things."
Companies in this article