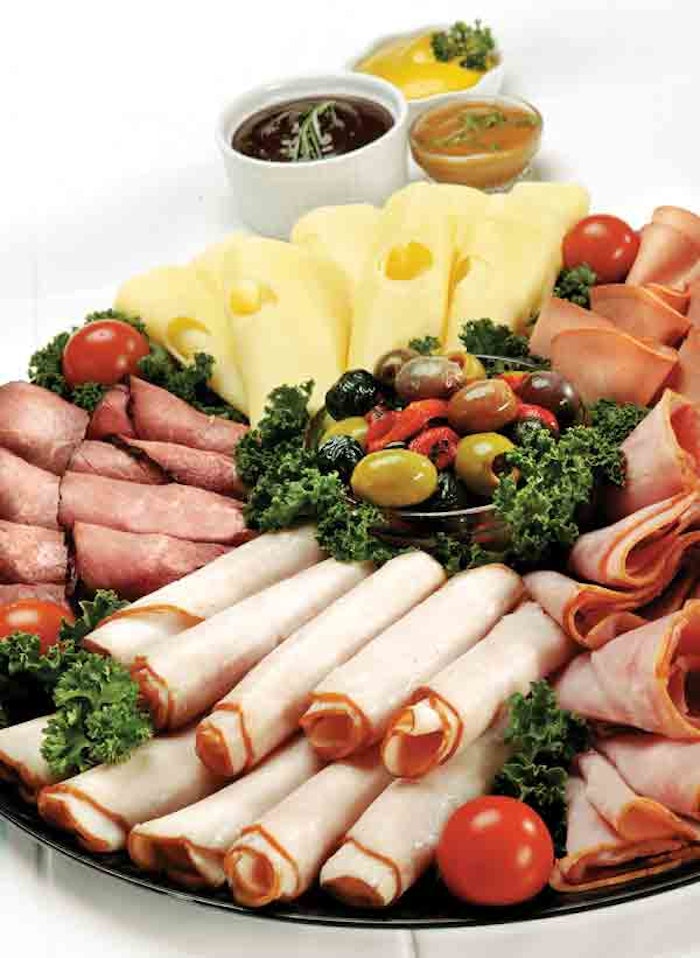 Ready-to-eat deli meat marketers are clearing room in their garbage cans for packaging and labeling they will have to toss out if the U.S. Department of Agriculture (USDA) moves forward with its intention to change its rules for use of the term "natural" on labels of meat and poultry.
The USDA's Food Safety and Inspection Service (FSIS) sent out letters in December to numerous companies such as Farmland Foods giving them a couple of months to prove that the sodium lactate they add to products labeled "natural" is used only for flavoring, not as a preservative.
Jesse Waller, manager of labeling at Farmland Foods, a division of Smithfield Foods, acknowledges that the sodium lactate in the company's eight ham products does indeed function as a preservative. "All types of things will be precipitated with regards to packaging as a result of this," he states. "We have no choice, our packaging will be rescinded."
Randy Huffman, vice president, scientific affairs, American Meat Institute Foundation, does not know exactly how many other companies are in Farmland's boat. "But it is definitely more than one or two," he adds. The growth in use of sodium lactate in deli meats to control Listeria has been quite significant in recent years. The FSIS encourages its use as an anti-microbial. Companies can continue to use it for that purpose, but they will not be able to put a "natural" label on their package.
The FSIS's impending cancellation of some "natural" labels reverses a policy the agency announced in August 2005 when it said companies could use sodium lactate in products labeled "natural."
Hormel Foods forced the reversal by submitting a petition to the USDA in the fall of 2006 arguing the FSIS had erred in allowing sodium lactate because it is a refined chemical synthesized using a separate chemical manufacturing process that therefore corrupts an otherwise natural product.
The original 1980 FSIS policy memo on use of the term "natural" says that an ingredient that has been "more than minimally processed" cannot be included in a product with a "natural" label on it. But as sodium lactate became popular over the past few years, the FSIS started approving its use in natural products on an ad-hoc basis. It translated those ad-hoc decisions into formal policy in August 2005, and is now reversing it under pressure from Hormel.
Hormel's alternative
Hormel has competitive reasons for pressing the FSIS to withdraw approval of sodium lactate. The company uses an anti-microbial process called high-pressure pasteurization (HPP) to increase shelf life of its natural products. HPP, a post-packaging pasteurization step, uses approximately 87,000 pounds-per-square-inch of water pressure to denature pathogens such as Listeria monocytogenes.
It is the technology behind the "all natural, no preservatives" claim on Hormel's new Natural Choice line of luncheon meats that were rolled out last May. Perdue Farms also uses HPP in some of its Short Cuts line of ready-to-eat sliced turkey and chicken breast strips.
The FSIS's response to the Hormel petition is just the first step in an upcoming rulemaking which will plumb numerous other issues related to a "natural" claim. This rulemaking could have even wider packaging implications, according to Bob Hibbert, a Washington attorney for flavor manufacturers and a former top FSIS official.
Hibbert says that the carbon dioxide added to meats when companies use modified atmosphere packaging (MAP) could be ruled an unnatural chemical ingredient, on a par with sodium lactate.
Effects on processors
The immediate concern, though, is to companies that use sodium lactate, and indicate that fact on their labels and packaging. All meat and poultry retail labels need to be pre-approved by the FSIS, which has threatened to cancel all past approvals for all labels for "natural" products that include sodium lactate.
Robert Post, the current director of the FSIS labeling and consumer protection staff, declined to be interviewed about this issue.
Farmland's Waller explains that his company has eight active product codes devoted to all-natural classic ham products that use pressure-sensitive labels and are vacuum-packed. All are formulated with sodium lactate.
The products are only a small part of the company's 3,000 active codes, but an increasingly important part, as Farmland and its rivals bid for the expanding demand for those products, especially from the giant "club" stores. "We will have to get rid of all our current labels and packaging for those eight codes if the FSIS goes ahead with this," says Waller.
Other new techniques
Explaining the agency's change of heart on sodium lactate, the FSIS's Post, at a meeting in Washington, DC, on December 12, 2006, cited a growing number of requests by manufacturers to permit the "natural" claim on products that are made via processing techniques that were not available in 1980 when the
original FSIS policy allowing only minimal processing was written.
"For example, techniques have evolved such as high-pressure processing, packaging methods such as modified-atmosphere packaging and multiple-function ingredients such as sodium citrate and sodium nitrate that are regulated as flavoring agents and have anti-microbial effects," he explained.
Now that Hormel has opened up this can of worms, the company itself is likely to come under scrutiny. Deb O'Donnell, director of research and development for Kayem Foods, wonders whether Hormel's HPP process violates the "more than minimally processed" policy. This is a question asked by a number of other attendees at the FSIS December meeting.
Kayem markets an Al Fresco line of all-natural chicken-based sausages, and has for eight years. The product does not contain sodium lactate, nor does the company use HPP. O'Donnell says the company has extended the shelf life of its vacuum-packed line of Al Fresco sausages from 18 days initially to 35 days today without adding chemicals, but by altering cooking temperatures, handling procedures and by tweaking its packaging line, which it declined to identify.
"But now we have a lot of pressure on us to have more shelf life as we grow across the country," she concedes. "A product can get lost in a warehouse for a week. Customers want shelf life that is endless."