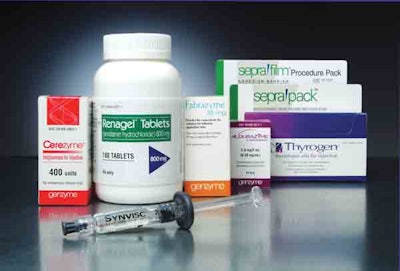 New packages and drug delivery methods for over-the-counter (OTC) drugs and both nutraceutical and cosmeceutical products are appearing on retail drug and grocery store shelves.
A recent example is NatureSmart LLC's Disney Winnie the Pooh Nutri-Stix multivitamin and mineral supplements (see www.packworld.com/view-22457). The printed carton contains 30 powder-filled "stix." The idea is to tear the colorfully printed stick pack open at the top and pour the product slowly and directly into the mouth. Another example: Adams Respiratory Therapeutics' Junior Strength Mucinex mini-melts expectorant. The Mucinex carton holds 12 bubble gum-flavored granules in a tiny plastic packet.
The NatureSmart and Adams' products illustrate how savvy packagers in the healthcare market can look to retail packs for food and beverages to take cues on popular delivery techniques.
Edible strips represent another delivery technique that's catching on with nutraceutical products and OTC cold and flu remedies. Among the earlier packaged strips to reach the market were Novartis Consumer Health's Thera Flu strips for adults and Triaminic Thin Strips for children. Del Pharmaceuticals' Orajel for kids sore-throat relief strips carton carries printed Cartoon Network/Scooby-Doo graphics, and holds 20 sugar-free strips in small, easy-to-tear-open flexible packs whose graphics match the outer carton. Open this flexible pack, and inside is a pocket-sized rigid plastic container that holds the strips.
Packaging patches and pumps
Another drug delivery method to watch for is high-tech patches, such as the PassPort patch developed by Altea Therapeutics, a firm that focuses on drug and vaccine delivery via the skin. Altea's PassPort patch contains a drug reservoir and uses thermal energy to create a micro-pore channel in the skin's surface.
Eric Tomlinson, CEO of Altea, envisions the patches being packaged in a metallic woven foil pouch. Needle patches may also be packaged in individual pouches made of a polyethylene/aluminum lamination to prevent oxygen permeation and drug loss.
Secondary packaging will need to protect needles. If the needle loses its sharpness, it may not make a pathway into the skin. The pouches could be stored in a hard plastic case made of polyethylene or polypropylene. As with syringes, the packaging must protect the needles in transit, and also aid in their disposal to avoid accidental needle sticks.
Pfizer's Exubera inhalable insulin powder is an exciting drug delivery medical device that was approved for use by the Food and Drug Administration (FDA) early last year (see www.packworld.com/view-20740). Exubera represents a first for diabetics because it requires no insulin injection.
The mechanical Exubera device has three sub-assemblies: a base assembly with a mechanical pump, a chamber, and an insulin-release unit. The components are made of a variety of injection-molded plastic materials, including polycarbonate, acrylonitrile-butadiene-styrene, nylon, and styrene acrylonitrile.
Packaging challenges for biologicals
Among the more promising developments in the healthcare community are biological and biopharmaceutical products. The FDA Center for Biologics Evaluation and Research (CBER) Web site describes "biological products, including those manufactured by biotechnology," as products that "tend to be heat-sensitive and susceptible to microbial contamination. Therefore, it is necessary to use aseptic principles from initial manufacturing steps, which is also in contrast to most conventional drugs."
"Many biologicals and tissue-based products have stringent requirements for storage and handling, which are dictated by mandatory stability testing," says Richard Azaroff, packaging engineer for Cambridge, MA-based biotechnology company Genzyme. "These requirements can be particularly challenging when you have to ship the product over long distances and there is a need to protect the product from exposure to conditions that could reduce its potency or effectiveness.
"You have to understand the product's distribution chain, the product's materials, the potential interaction of the product with the packaging materials, and the mechanics of how to keep the product and packaging sterile during packaging and filling, and develop the understanding of how to validate your filling equipment, filling procedures, shipping processes, and dozens of related procedures," Azaroff says.
Sensitive biological-based products such as proteins, nucleic acids, and cells are not likely stable enough to withstand the rigors of today's packaging line, sterilization, and distribution processes.
Michael Drues, Ph. D., and president of Grafton, MA-based Vascular Sciences, points out that placing a biologic—a protein such as a monoclonal antibody, a nucleic acid such as a gene perhaps inside of a virus, or a stem cell, for example, on a medical device is harder than adding a drug to a stent. These products, he suggests, may require sterilizing the device first, then adding the biologic(s) and drug(s) before packaging.
"It may not even be possible to put certain biologics on devices in advance," he says. "Instead, they could be applied to the device at the patient bedside, just prior to implanting the device into a patient."
Combination products
For manufacturers of combination products, whether they're drug/medical device, biologic/drug, medical device/biologic, or a combination of all three, it's important to work with the FDA's Office of Combination Products (www.fda.gov/oc/combination) to determine the product's Primary Mode of Action (PMOA).
The PMOA determines which FDA center has the primary regulatory responsibility. The Center for Drug Evaluation & Research or CDER is for drugs, the Center for Biologics Evaluation & Research or CBER is for biological products, and the Center for Devices & Radiological Health or CDRH regulates medical devices.
Drug-eluting stents are among the most recognized combination products on the market. Beyond metal stents and drug-eluting metal stents, companies are now developing stents that are broken down within the body and do not leave a metal stent in the patient.
In late October, Abbott Laboratories delivered encouraging news regarding the initial results of a clinical trial involving its Absorb bioabsorbable drug-eluting stent for the treatment of coronary artery disease. The stent is made of a polylactic acid that an Abbott press release says, "is designed to be fully absorbed and slowly metabolized by the coronary artery." The stent is coated with a drug called everolimus that's released into the artery and then slowly absorbed over time. The goal is to leave a healed natural vessel behind.
Initially, Abbott responded to questions about how the Absorb stents are packaged, but later declined, indicating that it was too early in the process to divulge details.
Personalized medicine
Advances in combination products, biologics, pharmaceuticals, and/or medical devices will continue to address individual patient conditions and treatments—personalized medicine, if you will.
Personalized medicine appears to be years away, however, a press release seen at Pack Expo in Chicago last fall indicates the time may be sooner than some believe. From supplier Maverick Enterprises Inc. (www.maverickinc.biz), the release touts Maverick's Nutri-Pac equipment as "a custom dispensing and packaging system for the health and wellness industry."
The press release says the system can pack 50 custom packs/min, slow compared to larger-volume equipment perhaps, but it handles up to eight different tablets per pack. It can print customer, tablet, and company information on each pouch. "It's a fully automatic tablet mix and dispens[ing] center allowing individual customization of tablets into pouches," says the company's literature.
Personalized medicine and combination products are just two developments for manufacturers to consider—beyond the challenges of researching and developing products that advance the health of patients while also satisfying stockholders, keeping up with regulations and validation issues that have an impact on packaging procedures, equipment and materials. Addressing these topics requires time and financial investment.
Yet with the U.S. Census Bureau projecting that the U.S. population would top the 3 billion mark by January 1, 2007, and with the baby-boom generation requiring more healthcare products, these challenges will also provide abundant packaging opportunities. And that's a healthy prognosis!
Companies in this article