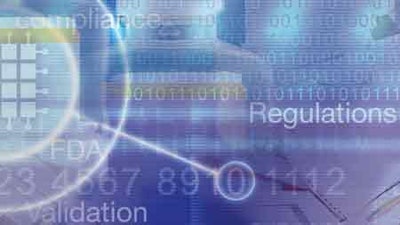 Surely one of the most interesting developments to unfold lately in the healthcare product manufacturing arena is the formation of the Coalition for a Stronger FDA (www.fdacoalition.org). The coalition came together officially on Sept. 25 with former government officials, patient group representatives, consumer advocacy organizations, and industry associations bringing it into existence.
"You wouldn't have believed it if you hadn't seen it: A combination of former government officials and diverse interest groups forming a coalition aimed at strengthening the U.S. FDA," states Eric Greenberg, attorney-at-law and columnist for Packaging World (PW) and Healthcare Packaging (HCP).
"You would have expected consumer and medical patient advocacy groups to be part of this, and they are, but so are some of the major industry trade associations, such as the Consumer Healthcare Products Association," he continues. That association, it should be pointed out, includes well-known drug manufacturers, the very firms that are regulated by the FDA. So it's a bit ironic that they'd be in a coalition seeking to, in a sense, sharpen FDA's teeth.
The Coalition for a Stronger FDA is co-chaired by Tommy G. Thompson, Donna Shalala, and Dr. Louis Sullivan, the last three Secretaries of the Dept. of Health and Human Services (HHS).
"The Coalition wants to make sure FDA has 'sufficient resources to protect patients and consumers, and to maintain public confidence and trust in the agency,'" says Greenberg. "The disparate interest groups, and the fact that the former HHS heads worked in both Democratic and Republican administrations, signals bipartisanship. And the group formed even before the dramatic results of the November
elections drove up the odds of the parties working together," Greenberg states.
One of the industry groups supporting the coalition is the Biotechnology Industry Organization (BIO) (www.bio.org). Jim Greenwood, president and CEO of BIO, explains, "Securing adequate support for the FDA in the coming years is particularly important as the agency prepares to address the coming wave of exciting new biomedical advances. Without appropriate resources at the FDA, new therapies for major diseases could be seriously slowed if the agency were to become a bottleneck for the approval of new products. Companies could face increased difficulty obtaining funding for innovative research and development without a clear review and approval timeline, jeopardizing U.S. leadership. Consumer confidence in food and drug safety would erode."
With that as a backdrop, this story reports on some of the key issues and trends for packagers of healthcare/life sciences products.
Validation
Since we launched HCP digitally in Jan. 2005, readers surveyed about critical issues continue to list validation as the most challenging. One survey, for example, asked respondents which of five issues would likely have the most impact on their company's packaging operations. The results: 58% indicated validation, 17% said counterfeiting and security, 15% combination products, and 6% said
personalized medicine.
Validation involves the facility, processes in the facility, and packaging materials and machinery. HCP's Sept. 29 weekly newsletter survey revealed that inspection/vision systems were reported by 44% of respondents as the most challenging packaging equipment for validation, followed by sealing at 26%, labeling at 18%, and filling at 8%.
The terms "validation" and "qualification" were used sometimes interchangeably at the 4th Annual Cold Chain Distribution for Pharmaceuticals forum Sept. 25-28 in Philadelphia. The global forum focused on temperature-controlled packaging, shipping, distribution, and storage for pharmaceuticals and biopharmaceuticals. The prevailing view was that "validation" is the more appropriate term for a process conducted in a controlled environment, typically at the point of manufacture. Once product is shipped from the manufacturing site where the environment may not be as controlled, a process would likely be considered "qualified." As with many of the issues listed in this article, your best bet for advice is to visit www.fda.gov.
"If you look at the FDA's revamp of current good manufacturing practices, it's based on process control, materials control, and validation," says Ed Bauer, now retired as director of global packaging for Bausch and Lomb. Inducted into the 2006 Packaging Hall of Fame at Pack Expo International 2006 in Chicago, Bauer has held positions at American Home Products/Wyeth Ayerst Laboratories, Ross Products Div. of Abbott Laboratories, and others.
"What you need to be able to do is identify independent and dependant variables of anything you have," he says of a company's processes. "When you do, you have to be able to go back and
[document] that you can produce each individual component [of the process] within a specific tolerance that is acceptable for your product."
Challenging as that may be, the growing global implications of counterfeiting may be the scariest issue lurking out there.
Counterfeiting
"This is probably the scariest topic out there," believes Bauer. "Counterfeiters have become very sophisticated. When I was with Ross, we discovered a guy who was using powdered milk to simulate infant formula. He was actually packaging this in cans, running off fake labels. There are laws in place that a drug is supposed to have a pedigree. Part of the problem is that you have so many entry points into the distribution system that people can find ways to interject counterfeits."
He endorses the prevailing advice that using two or three different technologies—some overt, some covert—would help fight counterfeiting. Yet despite technological advances such as holograms and nano-based materials for covert inks, he detects a reluctance among manufacturers to deploy some of these technologies.
"Everybody talks about it strongly, everybody wants to do it, but nobody wants to spend the money for it, with the exception of Pfizer for Viagra and a couple of other products," Bauer says.
At an October 31 conference session during Pack Expo in Chicago, investigative reporter Katherine Eban detailed her three-year investigation into how counterfeit drugs are increasingly moving into the legitimate supply chain. Her research culminated in the writing of "Dangerous Doses: How Counterfeiters Are Contaminating America's Drug Supply."
Eban told her Pack Expo conference audience that everyone bears responsibility for counterfeits. "You have to know who you sold it to," she admonished her audience. "You can't let it fall into a black hole."
Several technologies are creating the "chain of custody" that can help track and trace the movement of a product from manufacturer through the distribution chain to the consumer. In January, 2006, another HCP survey asked which of the following technologies had the greatest chance to deter counterfeiting. Radio-frequency identification (RFID) was listed by 42% of respondents, followed by holograms at 21%, nanotech-nology at 19%, bar coding 9%, and covert inks 4%.
The FDA has touted the merits of RFID, and companies such as Purdue Pharma and Pfizer have been among the leaders in employing RFID. Pfizer's plant in France, for example, produces Viagra and is one of five pharmaceutical pilot implementations of an item-level serialization RFID technology with "parent-child" association software. Known as the Total Integrated Packaging Solution, TIPS works in conjunction with serialized item-level RFID to protect products throughout the supply chain via a parent-child approach to the electronic pedigree chain of custody. This initiative was introduced in late 2005 by vendors Systech Intl. (www.systech-tips.com), Tagsys (www.tagsysrfid.com), and SupplyScape Corp. (www.supplyscape.com).
Ingenia Technology Ltd. (www.ingeniatechnology.com) uses a proprietary, patented technology that it calls Laser Surface Authentication. "Using new, proprietary, and patented technology, the LSA system rapidly analyses the surface of any item and reads a unique digital serial code for the item," says the firm through its Web site. "This code, which has been described as being like a fingerprint or DNA sequence for the item,
is unique for every [pack] and can be used to uniquely and unambiguously identify the item. The serial code is naturally occurring and is not added by any manufac-turing step." A detailed process description is available in the "how it works" portion of Ingenia's Web site.
Cold chain challenges
At the 4th Annual Cold Chain Distribution for Pharmaceuticals forum in Philadelphia, global distribution issues remained at the forefront, particularly as more pharmaceutical and biopharmaceutical firms ship temperature-sensitive products worldwide. Speakers called for greater cooperation among firms at all points along the distribution chain, from suppliers to manufacturers to third-party logistics firms and even to end users such as pharmacies and hospitals. The "last-mile" portion of the distribution chain, where packaged product gets to the end user and to the individual patient, is an area of concern in terms of keeping the product at the correct temperature.
Considerable attention was given to the subject of excursions, or temperature fluctuations during transport and storage that can affect drug product stability. The most challenging shipping temperature range continues to be in the 2º to 8º C (35.6º to 46.4º F) range, which is the common range for product kept in a refrigerator. Cold Chain exhibitors showcased insulated containers, refrigerants, temperature and humidity indicators, data loggers, storage and courier services, nested boxes, and phase-change products to maintain or monitor temperatures of packaged products in transit, whether by air, land, or sea. Often, these monitoring devices track temperature and time, and can be linked to a computer so that the drug or biologic manufacturer can track temperatures.
Warning lights or signals can indicate if a temperature excursion exists. That allows the manufacturer to take appropriate action to rectify the situation. Doing so can be critical. For example, a pallet load of product can be worth millions of dollars. If it's subjected to unacceptable temperatures, it may no longer be effective, and may possibly be dangerous. An important consideration when monitoring temperatures: A carrier may be able to qualify the temperature inside the truck, but that temperature will vary. For example, outside air that gets into the truck through its back doors may cause temperatures that differ from other areas in the truck. Perhaps most important, what is the temperature of a product in a pack somewhere inside a pallet compared with the temp outside the pallet in the truck?
Part II in February 2007
This report continues with a look at challenges related to biologics, trends in drug delivery, and emerging combination products.
Dr. In K. Mun, director of biomedical research with HCP, Inc., an operator of hospitals and health systems, referred to the cold chain "as more of a problem than a business opportunity." He noted that although hospitals have worked hard and invested considerable financial resources to reduce medication errors, "hospitals have difficulty admitting mistakes with lawyers all around." He said bar coding and RFID are being used more frequently, but there is much progress to be made. Mun said it's the hospital that gets hit first when a patient gets sick or dies from a medication error, but it was pointed out that the hospital will have a major partner, referring to the medication manufacturer whose name is printed on the bottle or package.
Companies in this article