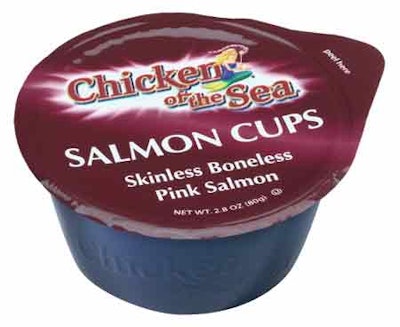 Convenience is by no means the only performance characteristic driving food and beverage packaging these days. Sustainability is increasingly crucial, while trends in smart packaging and aseptic filling are also poised to re-shape the marketplace as we know it.
But the emphasis on convenience drives so many food and beverage packaging developments today, it may have a greater influence on the packages we see in the future than anything else out there.
You thought tuna in a pouch was convenient? Say hello to shelf-stable retorted peel-and-eat cups of tuna and salmon from San Diego-based Chicken of the Sea Intl. The 2.8-oz portions were rolling out nationwide this fall in eye-catching two-packs selling for $1.85 (chunk light tuna) and $2.79 (chunk white tuna or salmon). Why launch cups when retorted pouches already have enormous convenience advantages over steel cans? Because cups are perceived as even more convenient and on-the-go than pouches, thus opening up a whole new usage occasion.
Chicken of the Sea is mum on machines and materials involved, but the cups are believed to be essentially the same as those used for wet cat food recently introduced by Meow Mix of Secaucus, NJ (see packworld.com/view-21971). That product comes in a cup thermoformed by the Rampart Div. of Printpack (www.printpack.com). Lidding material is from Oracle Packaging (www.oraclepackaging.com). The Meow Mix cup structure is a five-layer coextrusion of polypropylene/tie layer/ethylene vinyl alcohol/tie layer/PP. Peelable retort lidstock is a three-layer lamination of 48-ga polyester/foil/PP sealant film.
The Meow Mix cups are contract packaged by Thai Union in Thailand, which uses equipment from Italy's Mondini, represented in the U.S. by Harpak (www.harpak.com). Chicken of the Sea is a unit of Thai Union, so it's reasonable to assume that the peel-and-go tuna and salmon cups are packed by Thai Union, as well.
Meow Mix and Chicken of the Sea may be harbingers of things to come. Consider, for example, this year's Sonoco (www.sonoco.com) booth at Pack Expo, where there was a special emphasis on retortable bowls and tubs that were positioned in response to food processors' demands for plastic packaging that runs on existing filling equipment with little need for filling-equipment modification.
Another cup with convenience written all over it is the "fun squeezy pot" launched in October of this year by Fonterra Brands New Zealand for its Splatz brand of yogurt. Clearly kid-oriented, this package requires no spoon. Peel the lid and the accordion-like package lets you squeeze the yogurt into your mouth­—conveniently eliminating the need for a spoon.
The Crushpak technology behind Fonterra's Splatz container is owned by New Zealand's Inveratek Ltd (www.inveratek.com). That firm, with design input from Dow Design (www.dowdesign.com), also of New Zealand, developed the technology and licenses it to major manufacturers on either exclusive or non-exclusive terms. Fonterra, which is the first to commercialize the technology, produces Splatz on an Erca-Formseal (www.erca-formseal.com) thermoform/fill/seal system. Inveratek president Paul Adams describes the forming stock as "rubberized polystyrene." Four-pack paperboard sleeves sell for about US$ 3.10.
Time to vent
Food packages that self-vent in the microwave oven are another convenience-driven packaging format that is picking up some steam. In France and Belgium, Nestle is marketing cooked, chilled pasta dishes with 28-day refrigerated shelf life under its Buitoni brand in a tray-plus-lid concept developed by the Swedish company McVac (www.micvac.com). In the consumer's home, a patented valve in the peelable lidding material releases steam and oxygen. The valve also produces a whistling sound.
Since July, General Mills' Green Giant unit is packaging several frozen vegetables, typically weighing about 8 oz, in a Simply Steam pack that also has a self-venting feature. Bemis Co. (www.bemis.com) showed the pack at its Pack Expo booth, and both the forming and non-forming films are provided by Bemis. Material specs and other details were not available at press time.
What about fresh produce packaging? Will the past summer's e coli issues have any long-term impact? Jerry Welcome, executive vice president business development at the United Fresh Produce Association, says no. "It was never really a packaging issue to begin with," he points out.
One trend in fresh-cut produce packaging Welcome does see building is an increase in the use of rigid plastic containers. Wal-Mart, he observes, has shown an interest in packaging made from renewable resources, including polylactic acid. Most PLA applications at this point have been in rigid, as opposed to flexible, containers. Says Welcome: "It makes you wonder if we'll see more produce in those trays."
Jeff Brandenburg, president of food packaging consultancy JSB Group LLC (www.jsbgroup.com), agrees that rigid trays for
fresh-cut produce will grow in popularity. One development currently underway that will accelerate this development is what Brandenburg calls "the breathable tray." He says a number of patents in this area are pending. Once such materials become readily available,
respiring produce will find its way into them more frequently, he says, because they will have a longer shelf life than rigid containers that aren't "breathable."
Brandenburg also predicts that eventually the U.S. will begin to catch up with Europe where chilled ready meals and fresh-cut produce are concerned.
"They're way ahead of us," he observes. "In fresh-cut, for example, they offer mango, kiwi, passionfruit, eggplant. A lot of it is driven by the retailers, who exert considerably more influence over packaging than retailers in this country."
He says that a big part of the challenge with fresh-cut produce is getting it from the fields to the packer and the consumer without having to pick it while it's still unripe. Ongoing work in this area is gaining momentum, he says.
PET's still popular
PET's popularity, meanwhile, is also likely to continue. Conversions from other materials to PET won't be as numerous as they have been in the last decade or so, simply because most of the low-hanging fruit has already been plucked—or converted, to be more precise. But it seems certain that PET will continue to find its way into new and innovative applications.
A 1-L bottle for Baltika Beer, for example, is said to be the first PET beer bottle with a champagne base. This Russian brewer, which blows the bottle in-house, felt the champagne-style base would add a differentiating touch of elegance to its PET beer bottle. A heavy preform weighing 48 g, precise distribution of the material during blowing, and extensive use of Finite Element Analysis software that permits rapid computer modeling of a container's chemical, thermal, and mechanical properties—these were among the design and manufacturing techniques deployed by Italy's PET Engineering (www.petengineering.com) in designing the container. Shelf life provided by the bottle, which takes a threaded closure, is six months.
PET will also play a role as aseptic filling of low-acid beverages in rigid plastic containers finally begins to gain some traction in the U.S. over the next few years. Aseptic Solutions, a contract manufacturer and packager in Corona, CA, hopes to receive a letter of non-objection from the FDA that will permit the use of oxonia as a sterilant for PET bottles (see packworld.com/view-21964). The firm will then use its 70-valve Procomac (www.procomac.it) aseptic filling system to fill both PET and HDPE bottles with both low- and high-acid beverages in either PET or high-density polyethylene bottles.
Also on the drawing boards is a $359 million, 880,000 sq' factory and distribution center that Nestlé is building in Anderson, IN. It's expected to go into production in 2008, and though Nestlé isn't saying much about what equipment it will house, industry observers are fairly certain that low-acid products aseptically filled in rigid plastic containers will be a central focus of the plant.
And then there is Bravo! Foods Intl., which announced this fall that it has signed a six-year production agreement with H.P. Hood. Chelsea, MA-based Hood, which recently installed an 81-valve rotary aseptic filler from Shibuya (www.shibuya.co.jp), is one of only three dairy processors in the U.S. to have overcome the FDA hurdles that must be encountered before being allowed to fill low-acid beverages in rigid plastic containers in the U.S. The deal with Hood will bring Bravo's total contracted production capacity close to 160 million units, says Bravo CEO Roy Warren. Bravo's aseptically filled milk-based drinks include its own Slammers brand as well as co-branded products done through exclusive partnerships with both MD Enterprises and Masterfoods, a division of Mars Inc. Warren sees a bright future for shelf-stable milk drinks in aseptically filled plastic containers (for more on Roy Warren, see page 27).
Nitrogen flushing
Elsewhere in the dairy industry is a nitrogen flushing technology that's bringing a few extra days of shelf life to fresh milk in extrusion-blown HDPE bottles. According to Ray Platter, executive vice president at Borden's Milk, one of the firms now using this technology on its ½- and 1-gal bottles, the hopper holding the resin pellets in the extrusion blow molding system is suffused with gaseous nitrogen. Additional, though undisclosed, steps are taken in the extruder barrel to again reduce absorbed oxygen in the resin. Blown bottles drop from their molds and are conveyed straight to the filling lines. Immediately after filling, at the point where the snap-on cap is being applied, is a chamber that's constantly flushed with nitrogen gas. So as the cap—
compression-molded of HDPE by Portola Packaging (www.portpack.com pushed on at speeds of 120/min, nitrogen displaces ambient oxygen in the headspace.)—is
Platter says the technology is licensed from Shelf Life Solutions (www.plasticsolutionsmolding.com). That firm installs all necessary equipment in exchange for a licensing fee.
"This has enabled us to go from 14 to 18 days on our sell-by date," says Platter. He says he expects this technology to catch on in the near future. "Portola is teaming up with Shelf Life Solutions to push this forward," says Platter. "That will put some sizeable assets behind it."
Progress in glass and metal
Expect glass and metal to remain strong contenders as package designers choose which material they'll use. Not only do glass, steel, and aluminum have a good story to tell from a sustainability standpoint, they're also capable of being transformed into some gorgeous packages when in the right hands. For evidence, look no farther than the 1-L glass container for Oronoco rum from Diageo. Produced by Vitro, it won this year's Supreme Gold Award in the Starpak Awards competition sponsored by the UK's Institute of Packaging. It elicited some rave reviews from the Starpak judges, too, who wrote that the bottle was "a stunning pack combining technical difficulty with real shelf presence. It features a unique use of materials blending a heavily embossed map of Brazil on a leather sheath wrapped around a beautifully designed and technically clever glass bottle—a tactile pack that just has to be touched and owned."
Developments in metal also bear watching. Whether impact extruded by France's Boxal (www.boxal.com) or produced using drawn wall-ironed canmaking technology by Ball Corp. (www.ball.com), aluminum bottles are popping up with greater and greater frequency.
Steel is shaping up, too, as evidenced by the three-piece hourglass food can with easy-open end produced by Crown Food Europe (www.crowncork.com) for Cross & Blackwell's Waistline-branded low-cal soup. High-impact graphics and a shrink-sleeve label complete the attractive pack.
Just as exciting are the twin coil-to-can lines built recently in Batavia, IL, by DS Containers (www.dscontainers.com). Marvels of power and precision (www.packworld.com/view-21262), they produce two-piece steel cans with no side seam to mar sidewall graphics. The containers feature a unique application of polymer coating to tin-free steel, which comes by way of Corus Packaging Plus (www.corusgroup.com). And the coil-to-can technology imported from Japan's Daiwa Can Co. permits short runs and fast turnaround time compared to the conventional three-piece can-making technology that is the alternative. The can took first place in the aerosol category at the 2006 International Cans of the Year competition sponsored by The Canmaker magazine.
Into the future
Some packaging transformations currently underway will probably take a little more time before they emerge in commercial applications. But they're still worth keeping an eye on, says John Floros, professor of food science at Penn State and the 2006-2007 president of the Institute of Food Technologists.
"Sustainable packaging will remain an essential focus, but I think the question that needs to be addressed is how do we make some of the new materials that are emerging really work for food packaging," says Floros. "Take PLA, for example. It just doesn't have the properties of the polymers we're used to using, whether it's barrier, or machinability, or strength, or whatever. I think one way to bring those properties to these new materials is through nanotechnology and nanocomposites. People are working on such things. It won't happen tomorrow, but it will in the next few years."
Floros also predicts progress in the development of certain smart packaging technologies, specifically in sensing and detecting. "It could include all kinds of things—pathogens, chemicals, toxins—and it may involve a way of having warning signals sent electronically, like an RFID signal is sent, for example."
Like packaging solutions based on nanotechnology, says Floros, these smart packaging solutions are down the road a piece. But the groundwork, he says, is being laid today. "In several years," he adds, "we should be able to take a good look at these kinds of things."
Also impressed with smart-packaging developments nearing
commercialization is Barry Goldberg, director of packaging consultancy Tappa Group International. Goldberg delivered a presentation on smart packaging October 31st at The Conference at Pack Expo International 2006. He sees real potential in time/temperature
indicators (TTI).
Among the suppliers of such technology is a company called Temptime (www.temptimecorp.com) (see packworld.com/view-20444). Another such sup plier is FreshPoint Quality Assurance (www.freshpoint-tti.com). It's OnVu™ TTI is activated by UV light and can even be printed on a package substrate.
Goldberg in his Pack Expo International presentation described freshness indicator work being done by Food Quality Sensor Intl. (www.fqsinternational.com). Unlike a TTI that measures time and temperature as an indicator of food spoilage, FQSI's freshQ TM label is an absolute measurement of product freshness, says FQSI. The label is applied, for example, to the inside of the flexible lidding material that goes on a rigid tray of ground beef. In the label is a filter paper containing a chemical indicator solution. As the meat ages, bacteria colonies grow and give off gases called biogenic amines. If these build up and reach a certain level, they react with the chemicals in the freshQ label's indicator and cause the indicator to go from orange to bluish purple, thus indicating that safety of the meat in the pack is no longer assured. Now underway, says FQSI, are tests by Los Angeles-based Unified Western Grocers, a leading independent distributor, and Premium Protein Products, a leading organic beef brand out of Lincoln, NE.
Time and space constraints prevent us from delving any further into other technologies out there that are likely to shape food and beverage packaging in the near future. If we've missed some we shouldn't have, please let us know.
Companies in this article