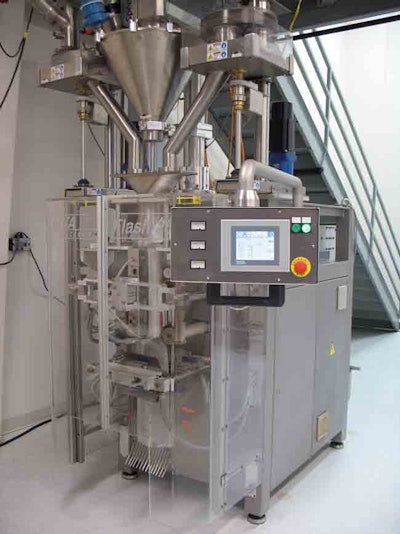 By moving from pre-made bags to vertical form/fill/seal equipment and a new dosing system, a Sanford, FL-based firm called The Nutty Bavarian has increased productivity, reduced labor and materials costs, and positioned itself for continued growth.
Established 17 years ago, The Nutty Bavarian is the brainchild of entrepreneur David Brent, who licenses a nut-roasting system and colorful wheeled carts to licensees who roast and sell nuts at malls, fairs, ball parks, airports, and other venues. Licensees purchase nuts—typically in 2-lb bags—from the Florida-based firm, and it's the packaging of these nuts that has been upgraded at the Sanford facility.
The firm used to use a two-lane scale to dose contents into premade bags. Nuts went in one scale; sugar and spices were premixed and placed in the other scale.
Among the disadvantages to this dual-lane arrangement is that spices and sugar had to be pre-mixed in relatively small batches of 100 lb.
"With only two hoppers," says company founder and president David Brent, "the nuts went in one hopper and the sugar/spice mix went in the other. Basically we devoted one operator's time to keeping those two hoppers full."
With the new equipment in place, nuts still have to be dumped into a hopper much as they were before. But there's no need to premix sugar and spice in small batches. Instead, these components come in large 2,000-lb supersacks that are suspended above the new dosing system.
Volumetric filling
All three ingredients—sugar, spices, nuts—are now dispensed volumetrically by a Spee-Dee (www.spee-dee.com) three-lane dosing system. It sends ingredients down the feed tube of a UVA Packaging (www.pmb-uvainc.com) Flash 250 vf/f/s bagger that draws 4-mil polypropylene film over a forming collar and pulls it through sealing jaws that form pillow-style pouches.
The Spee-Dee dosing system consists of a central auger filler flanked by two cup feeders, one on each side. All three units send their contents down the same tube and into a waiting pillow-style bag formed by the vf/f/s system.
The auger filler handles spices. With each turn of its screw, it dispenses the proper amount of cinnamon or whatever other spice is called for.
As for the cup feeders, one handles nuts—almonds, pecans, cashews, peanuts—and the other handles sugar. Each operates in a similar fashion. Product drops by gravity from an overhead feed tube into cups mounted on a rotary turntable. When signaled to do so, the turntable positions a cup full of product over the feed tube leading down to the bag that's being filled. The product drops out and the turntable rotates again so the next cup can dump its contents.
The PLC that governs the operation of all three feeders is networked with the PLC that drives the bagger below. With each completed cycle of the bagger, a signal is sent to the dosing system's PLC, which in turn signals the auger filler to release another charge of spices and the two cup fillers to release their contents, too. In this way, bags are synchronously formed, filled, and sealed.
"The move from pre-made bags to rollstock cut material costs in half," says Brent. "And we now can do 15 bags a minute instead of only 5. Plus we don't have to have our operators walking up and down stairs to dump the sugar-and-spice mix into a hopper, so there are ergonomic advantages, too. This system will permit us to keep growing as steadily as we have been without having to worry about a second shift."
Companies in this article