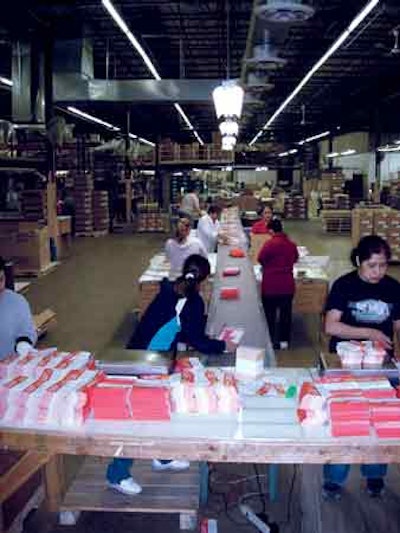 To understand where Assemblies Unlimited Inc. (AUI) fits in the spectrum of outsourcing services, consider the analogy of a general contractor that selects the right subcontractors to build a custom house. Although AUI doesn't actually fill and package products itself, it relies on a variety of partners for contract packaging services, labeling, designing, printing, and thermoforming to deliver custom packaging to consumer packaged goods companies.
Then AUI assures that production, warehousing, and distribution timelines and needs are met. From its headquarters in Bloomingdale, IL, AUI makes all this possible through a national network of vendor partners—including more than 40 raw materials suppliers and 40 hand-assembly and packaging plants in the United States and Mexico.
"The vendor base is the anchor," says Randy Shaw, company president. "We select partners based on flexibility, performance, quick turnaround, and doing what we ask them to do. The partners who perform for us end up with more business from us, and both parties win.
"When you work with suppliers over time, you begin to build a culture. Our San Diego office has a customer in Florida that wants product to run in California, where it will be distributed. This is how an established national vendor base can save customers a lot of money."
AUI's network includes two sales offices, in addition to its suppliers and packaging plants. The company's stable of vendors that supports sales and marketing operations works as a closed-loop supply chain. These vendors include contract packagers, labelers, and suppliers of blister packs, folding and corrugated cartons, displays, and clamshells.
In 2005, services for consumer packaged goods companies accounted for 75% of AUI's total revenue. These services include blister packaging, shrink-wrapping, skin packaging, overwrapping, polybagging, clamshell RF sealing, and gift sets. AUI also provides primary food fill, chemical packaging, and nutraceutical packaging services.
To round out the logistics portion of the supply chain, AUI represents several third-party logistics (3PL) companies, including Champion Logistics Group, Northlake, IL, and California Distribution Inc., Santa Fe Springs, CA. These 3PLs fall under AUI's fulfillment services category.
"We market and promote the broad capability of our national network as each new opportunity for a custom package is brought to us," Shaw says. "We take into account turnaround requirements, location, and capabilities, so we will always put the same square peg in a square hole. This is something that a customer is just not able to do themselves."
For example, Shaw says, many contract packagers are all about pack-and-ship operations using inexpensive labor. They don't know how to market their services, and few employ in-house direct-sales reps. So AUI acts as the marketing and sales staff for many contract packagers, promoting the strengths of each individual company as a dedicated or direct representative would.
"Contract packagers want to supply the labor, have raw goods supplied to them, and then build it and pack it out," Shaw explains. "Many of them don't want to be in on design and procurement. For AUI, contract packagers are the labor component of our closed-loop supply chain, which often starts with design and ends with drop shipping the final product to the end customer."
Targeting the inventors
AUI manages this tight-knight system for more than 300 customers marketing products from food to housewares to medical supplies and chemicals. However, few of them are Fortune 500 product companies. AUI's target customers are known in marketing circles as "virtual marketers." These are small, nimble companies that create niche products and market them—and outsource the entire packaging function.
"A lot of our customers are great inventors. All of our customers supply us with the artwork, and we package what they invent to maximize its marketing impact at the retail level. We are looking for the person who has patented something, has a design in mind, and maybe has some commitment from retailers. But they need someone to take them to the next level and complete the supply chain for them," Shaw says.
Phelps Industries, Wakefield, MA, is such a marketer. The company distributes its Plink Garbage Disposal Cleaner & Deodorizer in Wal-Mart; Bed, Bath & Beyond; and Linens & Things stores. Phelps had developed a lemon-scented deodorizing ball, as well as the design for a blister card package, but needed a "point" company to manage the entire production process out of the Midwest.
Phelps supplied AUI with the deodorizer balls, and AUI's vendor network created a thermoform blister tray based on Phelps' design, which holds 10 balls per package. AUI also sourced the printed blister card, using existing art. Phelps wanted to focus on promoting its product at retail rather than on manufacturing, so it needed a complete turnkey packager with the capability to "tool" the project, produce each component, and drop ship the finished goods to its customer, all within a short timeframe.
"We bought and managed the tooling for this project. We sent it to our contract packager, and then drop shipped and sent them the thermoformed blisters and the printed cards to do the job. The contract packager does the blister assembly and pack-out, and then ships the completed product in two weeks," Shaw says.
The range of co-packaging services for the Plink brand also includes a 48-pack version, attaching 12 units to a clip strip, and packaging completed blister units into a 12-count "PDQ" counter display.
Most of the projects that AUI manages are custom. They involve hand assembly when it is cost-prohibitive to build a machine with custom tooling for special packaging jobs.
Case in point: the assembly and pack out of custom folding cartons for Washburn Guitar Polish and String Cleaner, produced for U.S. Music Corp., Mundelein, IL, and distributed to Target Stores.
The carton's triangular design creates shape differentiation on the store shelf. It also serves as the nesting place for a polishing cloth, which is held in place atop 4-oz bottles of petroleum distillate-free guitar polish and alcohol-free string cleaner.
Detail work
Contract assemblers face many challenges in packing out the twin-pack cartons. The polishing cloth must be folded and then accurately positioned in between the two bottles. Both bottles appear through separate 1 7/16"x3 1/16" die-cut windows in the carton's front panel, with the cloth held securely between them. The front labels of the bottles need to be oriented to appear squarely in each window.
The project included the procurement of raw packaging materials (bottles, labels, folding cartons, and master cartons), blending and filling of two different formulas and several raw ingredients, bottle labeling, carton design, printing, hand assembly, and pack-out.
For U.S. Music, AUI did the blending, filling, and labeling with one local vendor and the hand assembly of the retail units with another vendor. AUI sourced and procured the raw packaging materials, including bottles, labels, printed folding cartons, and master cartons.
Once a project such as the one for U.S. Music becomes real, AUI establishes a timeline and completion date with the customer. The "finish" date is a commitment that drives the project because packaging timelines are often tight, Shaw says.
AUI uses proprietary software in designing retail cartons, intermediate, and master cartons. The software defines an efficient pallet pattern and pack-out of the product through a 3-D computer model, assuring that the pallet cube is optimized and that it also minimizes shipping costs.
"This software gives us options from most efficient to least efficient, based on parameters we plug in," Shaw says.
Shaw believes the company's vendor network, combined with its proprietary design software, positions it well to serve its niche—entrepreneurial companies—saying: "We believe the growth industry probably will always be the great inventor who has a product but needs someone to manage the supply chain and for procurement, and then to build it, warehouse it, and ship it. We deliver a custom and complete packaging solution—as a general contractor." [CP]
Anatomy of a kit assembly
Educate Products approached Assemblies Unlimited to produce retail packaging for its Hooked on Phonics Get Ready to Read kit for kids ages 3 to 5 years.
After recently purchasing the company, Educate Products wanted to expand into Costco and Sam's Club and expand on its national distribution.
Educate Products provides the raw packaging components for the kits and AUI handles the "labor component." This entails precise hand packaging of exact SKUs into each sub-kit as well as the final master kit. AUI also manages distribution, warehousing, and fulfillment.
The suitcase kit contains a fifth panel covering the left half of the front panel of the carton. The fifth panel's inside panel displays each component contained in the kit. The right half of the suitcase's front panel is exposed, with a die-cut window showing a paperboard panel inside the suitcase that's printed with likenesses of the three workbooks and two DVDs in the kit.
The inside of the suitcase divides into two sides. On the left side is a blue carton containing the Letters and Sounds components. On the right side is a yellow carton holding the Letter Names components. Workbooks and many other components are packaged in front of the two interior cartons.
These components need to be packed in the same sequence and in the same order—by hand—into each suitcase.
Many of the raw packaging components are imported from Asia, so Educate Products required that the assembly and fulfillment be done on the West Coast. California Distribution Inc. (CDI), a member of AUI's vendor network, ran the assembly work.
AUI supplied the polybags from Diamond Flexible Packaging and the master cartons from Orange County Container.
How logistics works into the mix
Assemblies Unlimited represents multiple third-party logistics (3PL) suppliers nationally. These suppliers operate using advanced technology to enable online placement of orders, tracking shipments, and accessing real-time inventory levels.
These suppliers are warehousing and distribution companies that can provide turnkey, pick-and-pack operations. They can import products, unload, inventory, assemble, and ship finished goods to consumer products companies or to distribution centers, while arranging all transportation.
Related services include: order fulfillment, pick and pack, labeling, repackaging, EDI technology, drop shipping, point-of-purchase display assembly, on-line order tracking, repair and refurbishing, reverse logistics, and warehousing.

The author, Jim George, is the Editor-in-Chief of Contract Packaging magazine.
Assemblies Unlimited Inc.
877/273-6259 | www.assemblies.com
Companies in this article
Videos from Universal Labeling Systems, Inc.