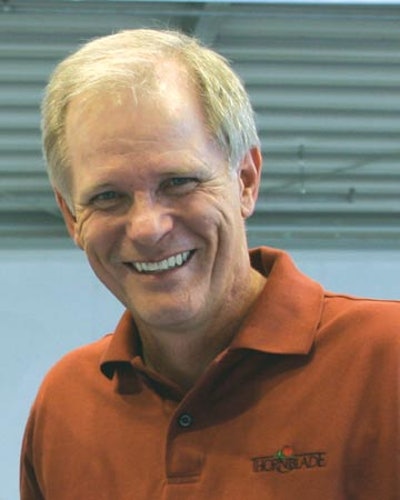 Editor's note: When Pack Expo International opens October 29 in Chicago, it will be the 50th anniversary of this important show. To mark Pack Expo's continued value and admirable longevity, we're running a series of Q&A spotlights on key packaging technologies. This fourth installment comes from Bernard McPheely, CEO of Hartness International.
PW: What's driving the increasing need for quick changeover features on packaging machinery?
McPheely: Consumers are demanding a greater variety of packaging options. So making new and existing packaging lines more rapidly adaptable to product and package changeovers is absolutely essential to the future well-being of most brand owners.
Retailers are also driving the trend on multiple levels. First, stores like Wal-Mart and Costco often request exclusive packaging or size options for products sold in their stores. They are also seeking to reduce their inventories and achieve just-in-time delivery. For brand owners, this translates to shorter lead time and fulfilling more frequent, smaller orders.
To accommodate these demands, end-users are seeking increased flexibility from their packaging machinery that allows them to introduce new products without having to install entirely new lines.
PW: How can packaging operations benefit from increased flexibility?
McPheely: Quick changeover increases manufacturing flexibility and the ability to react to evolving customer demands and competitive pressures. It also enables brand owners to speed the cycle of new product introductions--a critical benefit in today's competitive marketplace.
As flexibility increases, the need to maintain large inventories decreases. In addition, brand owners can sustain smaller product runs, as customer needs drive production rather than quantity goals. Other key benefits include additional capacity and less waste.
To add some perspective, costs due to lost production can approach $2 million a year on some lines. With that figure in mind, it becomes clear why quick, simple to manage flexible changeovers become so critical.
PW: We've been hearing a lot about lean manufacturing in recent years. How does the flexible manufac-turing line fit into this philosophy?
McPheely: The MEP Lean Network defines lean manufacturing as "a systematic approach to identifying and eliminating waste (non-value added activities) through continuous improvement by flowing the product at the pull of the customer in pursuit of perfection."
Lines need to be designed with the lean philosophy in mind. And it starts with the layout—fitting more machinery into less space, minimizing the walking distance for operators from machine to machine. For example, consider designing the line in a cube format, not simply a straight line. Also, look at ways to use vertical space, not only horizontal. By having more lines that operate more efficiently in existing space, the need to build new plants is reduced. It's also essential to minimize use of materials.
PW: What role do manufacturers have to play in this changing environment?
McPheely: Manufacturers have to anticipate customer needs to stay one step ahead in the development of packaging machinery that helps their customers achieve key business goals. Specifically, we have to focus on all the features mentioned above—the development of flexible lines that accommodate the multitude of shapes and sizes required today, while minimizing line pressure, maximizing efficiencies and maintaining competitive pricing. Accomplishing this delicate balancing act will be challenging, but machinery manufacturers must strive to achieve it.
PW: What are machinery manufacturers doing to increase
production efficiencies?
McPheely: It goes back to designing flexible machinery that can changeover quickly, accommodates a variety of product and package sizes, and when changeover does take place, starts up and operates efficiently from the very first container. It's also important to minimize space using lean principals, maximize operator skill and always consider ergonomics and safety as top priority. By anticipating future needs, machinery manufacturers build operating enhancements into the capability of machinery. —Pat Reynolds
Companies in this article