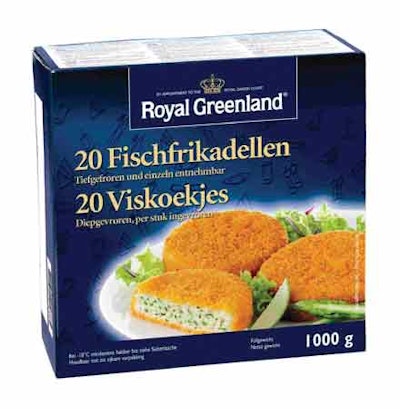 Under its own brand and some private labels, Nuuk, Greenland-based Royal Greenland Seafood GmbH processes a broad range of boxed fish fillets, fish cakes, fish burgers, and fish fingers coated with bread crumbs, flour, or batter, as well as some uncoated products at its Wilhelmshaven, Germany plant. Until last year, all except the fish finger products were manually packed.
In late 2005, to respond to increasing sales and ever tougher competition in the frozen seafood market, Royal Greenland Seafood installed two robotic top-load packaging lines at the Wilhelmshaven facility. The lines were custom-designed and built by Bradman Lake (www.bradmanlake.com).
Choosing the right equipment
The robotic packers needed to be versatile to handle more than 100 different products/packages in varying shapes, sizes, surfaces, and pack patterns. And Royal Greenland wanted to achieve this versatility with a minimum amount of end-of-arm tool changes. After evaluating various options, the processor determined that Bradman Lake offered the versatility and technical expertise needed to accomplish the transition.
Thomas Enter, technical director for RGS, says, "If you are looking for a robotic solution based on a vision system, the circle of potential and experienced suppliers is quickly reduced to three or four. If you add further criteria of which companies have realized similar projects in the frozen food industry, the numbers get still smaller. The reason that convinced us to work with Bradman Lake, in addition to its technical concepts and expertise, was the fact that the company is part of a bigger packaging group, the Bradman Lake Group, and could provide most of our packaging equipment needs from within the group. This offers the advantage that we will always have only one supplier contact for simple, single-source communication."
How the lines operate
Each of the two new high-speed (up to 65 strokes per minute) lines integrates a sequence of six BL pick-and-place robots, a product-locating vision system, BL-AMI carton erector, high-speed BL carton closer, and BL wraparound case packer. The vision system is manufactured by IMT Robot AG (www.imt-robot.de), and uses special "ULIXES" software to accomplish synchronization of the six robots and one vision system on each line.
One line handles regular retail-size folding cartons in 15 sizes (minimum 106 x 100 x 22mm and maximum 250 x190 x 105mm). The other handles larger clubstore-size hot-glued cases in 18 sizes (minimum 240 x 160 x 110mm and maximum 556 x 205 x 250mm). Carton and case size changes and pack-pattern changes are accomplished in about 30 minutes by two people and require a minimum number of end-of-arm tool changes.
Products are conveyed from the freezer, lowered to the packaging line interface, and aligned via a BL-built product orientation feeder (POF), which puts them into single rows. Product is distributed as evenly as possible on a 600-mm picking belt for equal distribution to six Model IRB 340 vacuum-cup FlexPickers™ from ABB (www.abb.com/robots). The FlexPickers feature advanced motion-control systems from Adept Technology, Inc. (www.adept.com). The vision system recognizes the position of each fish piece and checks its geometry.
"Carton and case size changes are accomplished in about 30 minutes by two people and require a minimum number of end-of-arm tool changes."
The regular retail-size, lock-style folding cartons or larger clubstore-size, hot-glued cases are automatically formed by BL-AMI servo erectors at speeds up to 210/min (for the folding cartons). Erected boxes then are transported via a precise-positioning BL Carton Management System (CMS) parallel to the BL picking belt. Servo control provides exact positioning of the boxes. PLC-controlled transport speeds adjust to meet the arriving product as it flows to the cartons and cases for top-loading.
After top-loading, the boxes are fold-locked or hot-glued by two high-speed BL closers and conveyed to wraparound case packers from Europack, another Bradman Lake Group company. Toward the case packers, the boxes are checkweighed, metal-checked, and coded, ready for shipment/distribution.
Supreme success
Knut Guhr, Royal Greenland's director of operations, calls the new robotic packing lines "the biggest single investment our company has ever planned." The system also is the biggest single order in Bradman Lake's history. Royal Seafood believes the lines represent "the most modern and efficient packaging technique for frozen fish in the whole of Europe."
Companies in this article