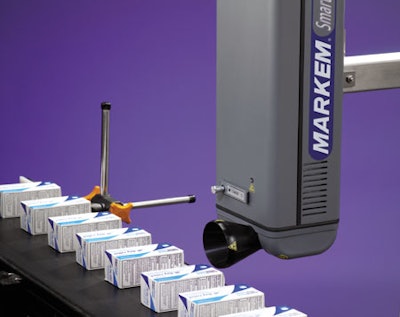 Contract packager Reed-Lane Inc.'s Web site says its "mission for the past 46 years has been to provide the pharmaceutical industry with high-quality packaging. Attention to detail, creativity, and flexibility have been our hallmarks in supplying the industry with innovative solutions to their packaging needs in both primary and secondary packaging."
The Wayne, NJ-based company's attention to detail helped it notice limitations in some of its ink-jet codes. "The ink did not always set up well on the substrate," says Richard Wrocklage, manager of technical services. "We had smudging problems with some of the labels and the plastic bottles that we were running. We also had a glass bottle that wouldn't allow good ink adherence. We couldn't have just changed substrates without changing our processes, so we looked to a new coding method."
Reed-Lane's search, Wrocklage says, involved "discussing it with some industry contacts who provided very positive feedback on the" Markem (www.markem.com) SmartLase® 100 Series "laser coders in terms of their reliability and ease of programming. The first one was installed and running about three years ago; the next two in the following 12 to 18 months."
Wrocklage explains that the three SmartLase coders are established on three different product lines. One is on a dedicated product line that codes primarily onto chipboard cartons, while the other two are used to handle whatever job is running. Although the majority of its customer applications are solid-dose pharmaceutical packages for retail sale, Reed-Lane does provide prescription trade and physician samples and hospital unit doses.
The laser coders may code labels, plastic and glass bottles and jars, thermoformed blister material, and cartons. "We find that the units are very versatile," says Wrocklage. He notes, "They can hit a moving or a stationary target (such as an intermittent-motion labeler on a bottle filling line). The ink-jet coders can only hit a moving target."
In all, Reed-Lane's 134ꯠ sq' facility houses 40 packaging lines. The three lines equipped with the Markem SmartLase coders typically run on a two-shift operation, five days a week, although six- or seven-day, three-shift operations occur when needed. "It's contract packaging, so no two days are the same," says Wrocklage.
Justification
"Economically, we justify the switch to lasers partly due to the savings from no longer having to invest in the fluids necessary for ink-jet coding," says Wrocklage. "The other justification is uptime on the lines, which improves our manufacturing capabilities. We also free up members of the technical staff to be working on other lines, which increases our throughput throughout the building. And then there's the savings in maintenance in labor and repair. I don't have specifics, but our return on investment for these machines is in the 18-month to two-year range. We're really happy with that."
The same attention to detail that led to Reed-Lane's initial investigation into alternative coding methods is causing the contract packager to evaluate its future marketing plans. "We're dramatically expanding our bottling capabilities," says Wrocklage. "So we definitely have plans to use more of these laser coders in the future. We're also looking at every application where we do use ink-jet to see if laser is a good fit."
Wrocklage notes that one of its cosmetics customers, "after seeing the laser units in operation at our facility, went out and bought a couple themselves. They were happy."
Pleasing its diverse customers is critical to Reed-Lane. Ron Radwin, the company's president and CEO, summarizes it succinctly: "A contract packager can't just be a contract packager. We are in the service business. If you don't service your customers well in all aspects of the packaging and development process, they won't need you." With the SmartLase laser coders, Reed-Lane is able to provide better service and further strengthen its customer relationships.
Companies in this article
Videos from Universal Labeling Systems, Inc.