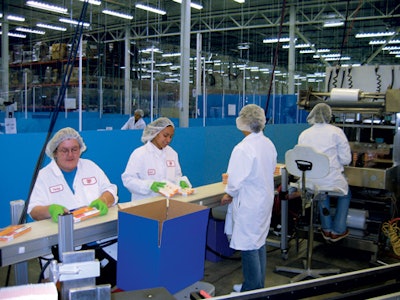 A small group of contact packagers service the growing pharmaceutical industry. Anderson Packaging is one of those companies, and its ahead-of-the curve approach to packaging development enabled the company to grow by a whopping 400% from 1999 to 2005.
The Rockford, IL-based company has gained a reputation as an innovative pharma product-launch specialist. Consider some of the steps that Anderson has taken to warrant such status. The company has:
· identified "hot" growth areas.
· formed the right partnerships to seize opportunities.
· purchased the right equipment to produce cutting-edge packaging.
Anderson is both a contract manufacturer and a contract packager. Its core business is form/fill/seal technology, working with blister packs, bottles, pouches, and vials. It also does product blending and compounding and package filling, usually purchasing packaging materials and components.
The company was founded in 1967, and about 90% of its business is in pharma and the rest is in health-care and oral-care products. Anderson completed 60 product launches between 2000 and 2005.
"It's pretty demanding. You're talking about somebody's blockbuster new drug. They're not going to give the project to just anyone. Launching new products is our business and we are very successful at it. That's the reason a lot of our customers come to us," says Justin Schroeder, marketing and business development director.
Significant in Anderson's success is the company's tracking of both packaging trends and pertinent consumer trends in serving its customers. The company sees immediate opportunity in what Shawn Reilley, vice president of sales and marketing, describes as "compliance-prompting" packaging. Recent studies, such as one published Ohio State University report, show that compliance-prompting packaging successfully drives patient adherence to drug regimens and actually leads to healthier outcomes. The need for compliance-prompting packaging, also called regimen packaging—as well as packaging that combines two or more drugs—will be acute as the massive baby boomer generation ages and requires more prescription medications.
Fast-rising share of business
"We think compliance-prompting packaging is a win-win for patients and physicians," Reilley explains, adding that regimen packaging has increased from just 10% to 40% of the company's business over the past several years.
Creating compliance-prompting packaging is no easy task. The structural design has to be both intuitive and easy to open and operate. The print needs to be large enough and offer enough visual contrast in order to be read. If the package is a multipack that meters out multiple medications, its contents have to be filled in the correct sequence in the package. Failure in any of these steps could result in packaging that the patient can't read or open, or—worse—medicines being consumed in a regimen other than what the physician prescribed, or not at all.
Avoiding this pitfall takes a coordinated effort in package design, development, and filling. That's where forming the right partnerships with vendors and purchasing suitable equipment become important. Anderson has invested more than $60 million in new facilities and equipment during the past five years, adding to its capabilities in primary and secondary packaging and kit assembly.
Packaging that comes off Anderson's production lines must adhere to both customer requirements and strict government regulations. In turn, the company meticulously qualifies vendors for adherence to requirements such as clean or sterile shop environments.
"The standards for supplying pharmaceutical companies are much more stringent than other industries," Schroeder says. "All of our suppliers are continuously examined to make sure they meet our standards, as well as those of our customers. A lot of our preferred suppliers are also our customers' suppliers."
Nimble operations
Anderson aligns with manufacturers to purchase the right equipment in accommodating a shop floor environment where product lines can run anywhere from one shift to three months without a changeover. However, Schroeder says it's not uncommon for some lines to require two changeovers per week.
Two of the most important customer needs are flexible packaging lines that are also ready to operate at peak efficiency with little advance notice.
For example, drugs need Food and Drug Administration (FDA) approval before they can be marketed. This requirement directly impacts package development. If a product manufacturer is first to market with a new drug, it might take the risk of ramping up packaging production in anticipation of FDA approval of the drug. Under different marketplace circumstances, a manufacturer might decide that package production in advance of FDA approval of its new product is not a risk worth taking. But Schroeder says that once the manufacturer in either scenario receives regulatory approval, it will expect the packaging lines to be humming quickly to get the product to market fast. Weekend shifts are becoming more common at Anderson in order to meet compressed time frames.
"We have to have our lines ready to start up production as soon as we get the word," Schroeder notes. "We offer forecast management and contingency planning so that if a customer has a spike in demand, we can offer that instant-on capacity."
Minimizing the risk
By scheduling with its materials suppliers to take delivery at the latest possible date, Anderson minimizes customers' financial exposure when opting for "at-risk" packaging plans. These demands put the onus on Anderson equipment and personnel to operate efficiently in order to minimize customer risk while successfully meeting their launch dates.
Anderson's work on new cartons and sleeves for TAP Pharmaceutical Products demonstrates how the co-packer optimizes relationships and resources to produce cutting-edge regimen packaging. Anderson collaborated with MGS Machine Corp. to develop a Stealth™ continuous-motion cartoning machine to handle specific packaging tolerances.
This special machine enables the production of Dosepak® cartons from MeadWestvaco Healthcare Packaging. TAP Pharmaceutical's Prevacid NapraPAC™ compliance package is an early application of Dosepak cartons. The blister packs hold two prescription medications, Naprosyn, used for arthritic pain, and Prevacid, which treats related stomach problems. Physicians often prescribe them together.
The Stealth cartoner enables both medications to be packaged in an easy-open yet child-resistant 2-in-1 pack. The slender carton contains a folded insert made of SBS with extrusion coating. The carton itself is 24-pt SBS. A thermoformed polyvinyl chloride tab on the insert prevents the blister card from being removed until a red circle portion is depressed on the carton to release it.
Anderson produces the thermoform foil laminate-backed blister pack, Tekni-Films supplies the blister structure, and Honeywell Specialty Films provides the film. Each pack contains a week's dosage. Four individual packs are multipacked to provide a month's supply.
Dedicated product feeders deliver each product to the individual product cavity, and then vision systems ensure that the proper medication was placed into each cavity. Packages that fail to meet the qualification criteria are rejected from the line. Independent systems verify that these packages were indeed rejected; they cannot re-enter the packaging stream.
Expansion means growth
Compliance-prompting packaging and the range of other services available at Anderson require a highly coordinated effort to service the co-packer's 50-plus customers. The ongoing addition of new facilities has swelled employment to 1군—and increased the resources available for a broad range of packaging and laboratory services.
Product launches revolve around the project manager. The in-house planning, purchasing, and design departments work with the project manager as part of a multifaceted team.
"Most of our customers use their own design agency," but with its own in-house package design team, "we can also come up with the design concept," Schroeder says. The range of design services includes simulation of the completed package with 3D prototypes using the actual packaging materials with color graphics.
During package development, Anderson has the competitive advantage of drawing upon knowledge from its stable of pharma product launches to advise customers on best practices in child-resistant package design and testing. Lab services follow the most stringent FDA requirements for maintenance, validations, calibration, and standards for analytical and microbiological tests.
Anderson's services and various certifications can particularly benefit customers such as virtual marketers. These highly specialized product companies often look to contract packagers because their very small staffs focus on the core competency—often, it's marketing—of the company. Product manufacturers in pharma often lack both operating-line capacity and knowledge about FDA regulations. For example, Anderson Packaging offers Consumer Product Safety Commission (CPSC) formal protocol testing for child-resistant and senior-friendly packaging.
The author, Jim George, is the Editor-in-Chief of Contract Packaging magazine.
See sidebar to this article: Objective: Constant audit-readiness
Companies in this article
Videos from Universal Labeling Systems, Inc.