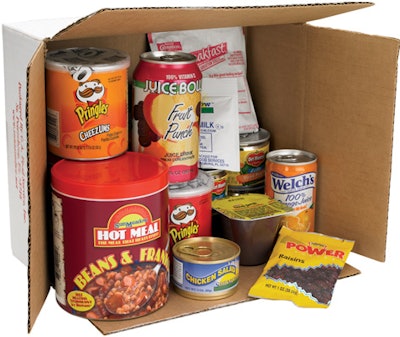 Responding efficiently in the face of disaster is no small challenge to any manufacturer. Consider how two firms in the Southeast—one an assembler and packager of shelf-stable ready-to-eat meal kits and the other a converter of folding cartons—rose to the occasion when disaster struck.
For GA Food Services of St. Petersburg, FL, the disaster in question was named Katrina. In the hurricane's wake, demand for GA's emergency meals went through the roof. The firm had already more than doubled its production capacity to fulfill several Katrina-related contracts when emergency management officials responsible for feeding thousands of relief workers asked the firm to ramp up another 400% in just three days.
Lacking both the equipment and the manpower needed in its packaging operation to handle the sudden surge, CEO James LoBianco contacted the Tampa division of Xpedx, a national marketer and distributor of packaging supplies and equipment.
"They were here in about an hour," says LoBianco. In short order, he adds, not only the equipment but even the added manpower needed to operate it was in place. "It was like the cavalry had arrived," says LoBianco.
The "cavalry" he refers to consisted of Xpedx service technicians from around the country. Xpedx also coordinated the dispatch of additional volunteers from Cryovac, a Sealed Air Division whose films are distributed by Xpedx.
The items being packaged—self-heating cans of stew, breakfast bars, cookies, fruit cups, shelf-stable breads like those used in the military, canned meats or fish or poultry—were combined in a variety of formats. Sometimes the components for a single meal were required, while other times three-meal kits had to be unitized (see photo above).
Equipment brought in by Xpedx included both new machines that GA bought as well as equipment that Xpedx rents. Among the machines were shrink wrappers, case tapers, and pallet stretch wrappers from machinery manufacturers like 3M, Lantech, and Shanklin.
When the dust settled, GA had leapfrogged from a firm doing 30ꯠ meals a day to one doing 80ꯠ. And they made the leap in a matter of days. In about six weeks, the surge was over, and GA went back to being the size it was before Katrina barreled ashore. But lasting benefits remain.
"There was no way we could have done it without the support of Xpedx," says John Hale, chief operating officer at GA. "Not only were we able to meet demand, we've trained a lot of people in the last two months and have a number of operators who have grown as a result of this effort. We all learned a great deal from the Xpedx technicians we had in here."
Says LoBianco: "It's all about the strengths and capabilities a supplier brings to the table to help you succeed in your business, and in this case, to achieve what we initially thought was impossible."
Fire fighters
It wasn't hurricane winds and rain that tested Colonial Carton last year. The Clayton, NC, carton converter had its facility ruined by an August 15 fire that destroyed all the equipment on site and shut the business down. Yet not only is the company holding its business and its 100 or so employees together. It hasn't missed a shipment. How? By relying on the 19 other converting companies that form ICG, or the Independent Carton Group.
"It's a purchasing consortium that was formed in 1983," says Joe Elphchick, who heads up Colonial. "The members don't have the buying power of bigger converters, some of whom are even vertically integrated in that they make their own paper. So we act as a buying group when it comes to paper, printing plates, presses, and so on. It brings our costs down by buying as a group of 20."
It also permits its members to rely on each other's available capacity in the event of a catastrophic fire like the one that just hit Colonial.
"Carton supply was uninterrupted in the wake of the fire," says Bob Russell, vice president of operations at Monticello, a marketer of over-the-counter pharmaceutical products and a customer of Colonial Carton.
Colonial continued meeting customer needs by outsourcing production to its ICG partners from the day of the August fire to January of this year. But as Packaging World goes to press, the firm is putting the finishing touches on a new plant, one that will house the same offset printing, die-cutting, and folding/gluing operations that occupied its predecessor.
Companies in this article