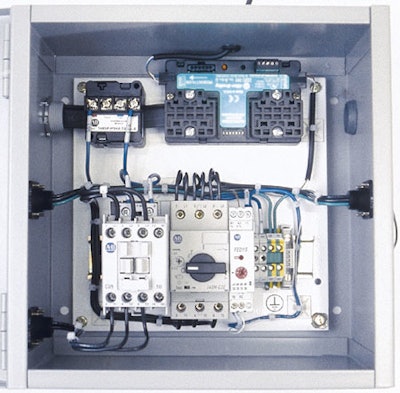 A new Motor-controlled Zero-Pressure Accumulation (MZPA) pallet conveyor from Alba Manufacturing eliminates pneumatic clutches and their associated devices, replacing them with plug-and-play zone-control boxes from Rockwell Automation. Photoelectric sensors directly control the MZPA conveyor's 230/460 VAC motors, and every accumulation zone is driven with a separate drive, thus eliminating mechanical and pneumatic components and associated maintenance costs.
A key benefit is that the conveyor can operate at elevations much lower than traditionally possible because there's no longer any need to allow room for zone-to-zone chains running underneath. Because the chains associated with pneumatic-clutch conveyors are eliminated, the conveyor can operate at heights as low as 5.75" compared to the previous 18" minimum height limit.
In zero-pressure accumulation applications, pallets move from one zone to the next at just the right time, preventing a buildup of pallets and alleviating pressure on pallet loads being conveyed. Controlling each zone in the MZPA conveyor (five zones are seen in the model shown here) is an Allen-Bradley 22ZC zone control system. Each zone uses an Allen-Bradley zone control panel that controls individual zone motors, eliminating mechanical and pneumatic components. In addition, an Allen-Bradley power supply panel provides the 24V DC control power and the necessary interconnecting cables.
All of the devices required on each zone are preassembled and wired within the zone control panel, which also includes all of the cable and connectors needed to interconnect the zones. Allen-Bradley KwikLink and flat media serve as the 22ZC communication medium, and the panel connection system serves as the AC line power medium.
"We wanted to introduce a feature-rich machine that eliminated the problems associated with pneumatic conveyors yet remained affordable," says Tom Thomas, vice president of sales at Alba. "The MZPA conveyor standardizes on Allen-Bradley controllers that require less maintenance and training time because of operator and technician familiarity with Allen-Bradley equipment. As a result, this solution helps speed installation and lowers the total cost of ownership for end users."
Companies in this article