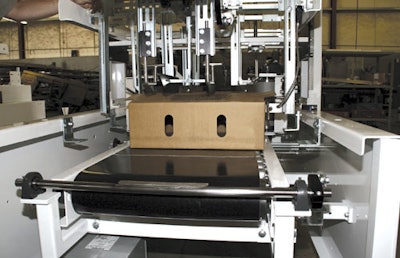 With these motor starters you don't need separate fuses or fuse holders, so that simplifies wiring and keeps the electrical cabinet smaller and simpler to integrate in the design of the machine."
That's how Ken Klippenstein of Klippenstein Corp. describes a key advantage gained when his firm began using TeSys® U-Line motor starters from Schneider Electric. The motor starter is a routine component used to regulate current loads rushing to an AC motor. Among the first machines at Klippenstein to be built with these new motor starters was the Model K503-SF case sealer, used primarily in the poultry industry for sealing side-flap cases.
"Shortly after moving to these motor starters," says Klippenstein, "we began moving to other packaging controls components from Schneider because we liked the idea of buying all these components from a single source. It's a more standardized approach."
In keeping with this drive toward standardization, Klippenstein specifies Schneider's Phaseo™ power supply. Streamlined like the motor starters, the power supply component is another contributor to the "clean-cabinet" approach that Klippenstein has adopted.
Sensors come from Schneider, too. The Model K503-SF's flap-tucking devices, hot-melt glue applicators, and conveyor drives all rely on inputs provided by sensors. Essentially, they tell the programmable logic controller where a case is at any point in time so that the PLC knows when it needs to signal an actuator somewhere in the machine. Three varieties of Schneider sensors—Osiris photoelectric sensors, Osiprox proximity sensors, and Osiswitch limit switches—are all used by Klippenstein.
A distinctive characteristic of the Osiris photoelectric sensors, says Klippenstein, is that they are "multimode" sensors able to handle four different sensing applications: diffuse, diffuse with background suppression, retro-reflective, and thru-beam.
"The sensor self-adapts to operate in any one of four sensing modes," says Klippenstein. "We build a variety of machines, and we may want to use any one of those four sensing modes in a certain application. By specifying this multimode sensor, we don't have to inventory four different photoelectric sensors."
PLCs used at Klippenstein are also from Schneider. The Twido® PLC used in the K503-SF shares the same compact design features as the motor starters. Yet it's perfectly capable of handling all the machine's I/O requirements.
Companies in this article